Making A 2015 Vision Board
Yesterday I shared my new year's resolutions with you. Today, I translated them into a vision board.
A vision board is essentially a collage that displays your goals and dreams in life. You're supposed to set it down in a prominent place where you're constantly reminded of what's on it. This helps you focus on your goals and is supposed to activate the law of attraction, as described in "the Secret". I haven't read the book and I have to admit I'm a bit of a sceptic when it comes to that, but it doesn't hurt to try and I think a vision board is a nice way to visualise what exactly it is you want from life.  So this year, I wanted to give it a try!
Your vision board can contain anything and everything, as long as it's positive and desirable. Don't be afraid to shoot for the stars here- would you like to live in a huge villa? Put it on there! Want to travel the world? Stick images of your dream destinations on your vision board. A wedding ring or baby, perhaps? A perfect figure?
Anything that you want to achieve or get in life, can go on your vision board.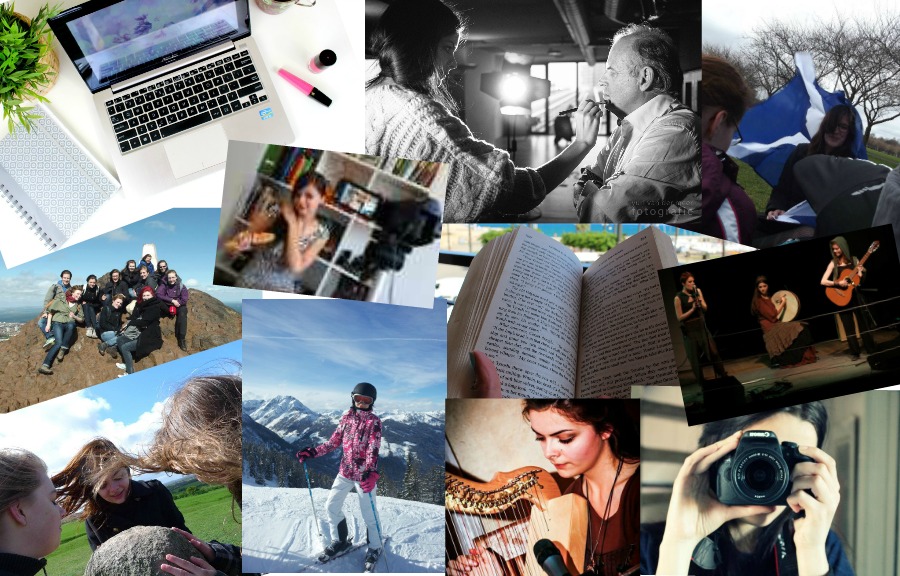 I decided to focus mine on immaterial things, and stick to 2015 goals, leaving out the long term ones. This ties in closely with my resolutions for this year, so let's go through what's on my vision board. (I used all private pictures so I could publish this on my blog. You can just google images or cut them from magazines).
In the top left corner is my blogging carreer, which I plan to invest a  lot of time and energy in next year. Next to that is a picture of me doing makeup for a video shoot. I started working as a makeup artist not too long ago and am hoping for more jobs. Next to that is a picture of my friend with the flag of Schotland, where I'd really like to travel again.
Below that is a photo of my band performing on stage. We'd like to get together more often and write a few songs this year. Next to that is a book, which represents blackout night. To the left is a photo of me that appeared in a Dutch newspaper a while ago of me filming a  video, which represents my YouTube channel. I plan to keep working on that and improving the quality of my videos. Next to that is a photo of my friends, who I want to actively keep in touch with.
In the bottom left corner is a photo of my friends and I holding Lia Fáil on the Hill of Tara in Ireland. This one I know is coming true: a trip to Dublin has been confirmed! Next to that is a photo of me skiing, which I'd love to do again this year. It also represents staying in shape generally. The picture of me playing the harp is pretty obvious: I need to practice more. Last is a photo of me taking a photo, which stands for my desire to learn more about photography.
And that's all that I put on my vision board this year! I encourage you to make one as well; taking the time to really think about and visualise your goals is a great and very positive thing to do. Good luck and have fun!