It was a lovely sunny day, so I wanted to use the opportunity and take Robbert out to shoot some outfit photos. I had styled an outfit around this new burgundy red faux fur vest that I bought in Austria. When I saw this piece in the store, I instantly fell in love. Burgundy is one of my favourite colours to wear, as I'm sure you know, and I love pretty much everything else about it as well. The length, the cut, the fact that it has no sleeves… When I tried it on at the store and my mom said "you have to get this", I said "yeah. Robbert's going to hate it though". I've always been a bit more daring with my outfit choices than your average Dutch girl. Jeans and a shirt is the norm here, wear anything more and people will think you're arrogant and pretentious. I'm kind of used to giving off a first impression of arrogance and pretentiousness, and I'm generally fine with it as this impression is easily melted away by a bright smile and a cheerful "hello".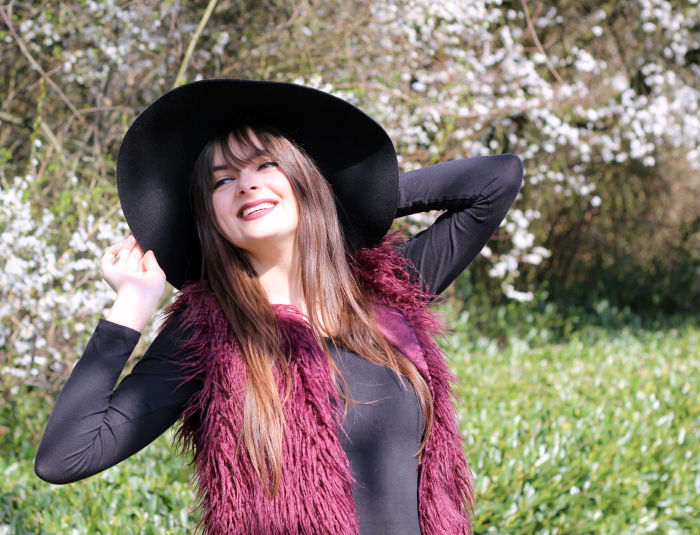 A bright smile and cheerful "hello" aren't always enough to make people like you better, though. As a teen I used to dress so out of the norm that I'd get, bluntly said, crap for it almost daily. Take your daringness in clothing beyond a certain boundary, don't have the attitude to pull it off, and it's a free pass for people to mistreat you. I've always kept up a strong facade as a teen and kept on wearing what I wanted to, as a matter of principle. I thought it was ridiculous that people would make the choice to intentionally hurt you, just because you're wearing something other people might not wear. I still think that now but I gave up the fight at around 18 years old, when I realised it's one I'm never going to win. I started dressing more normally and instead, walking the edge of acceptability. I quite enjoy exploring that invisible line between what's considered ok, and what's considered too much. This furry burgundy piece I felt, when I bought it, was right on the edge. Ok for some, too much for many. I was a little bit unsure if I could pull it off, but I loved it so much that I wanted to give it a go.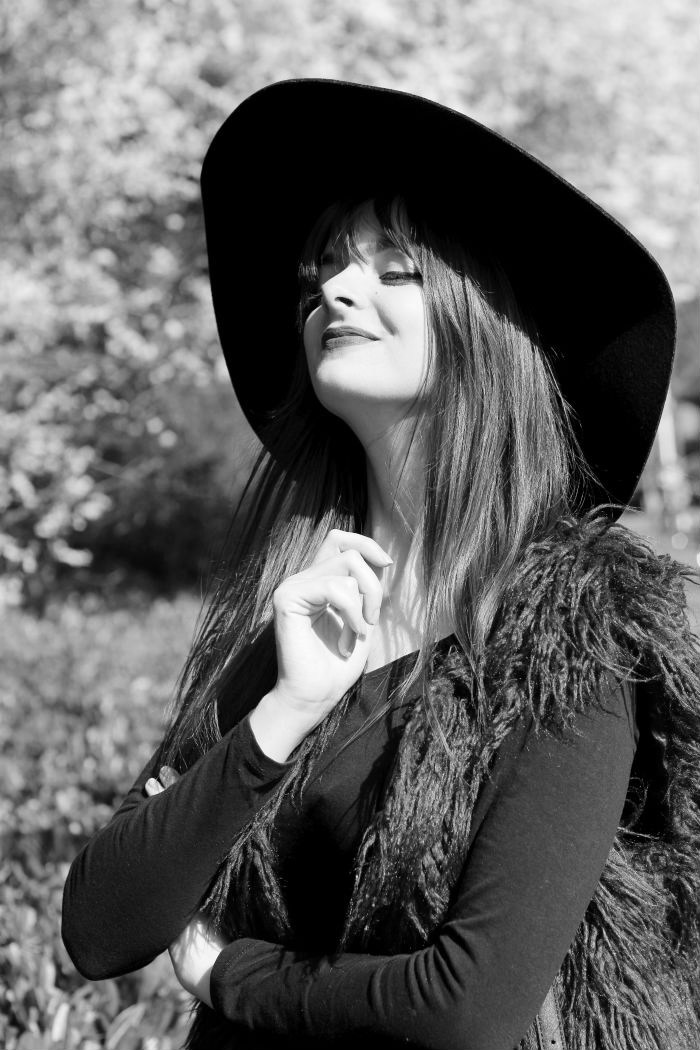 When I put the vest on on this lovely sunny day, Robbert mentioned this really wasn't his style. Which is completely fine, it happens a lot that I'll buy something "crazy" he doesn't like, and he never tells me I can't wear something. In fact he encourages me to wear whatever I like, I think it's a quirk of mine he appreciates. But today was different. It had been an emotional rollercoaster of a week: I'd had some enormous highs that I fell off smack on my face, I had lots and lots on my plate with deadlines and a pile of important emails containing the craziest messages; I can't even believe my life is my life right now. Coming back from holiday, having to leave my family behind in another country once more, and jumping straight into this insanity was a little bit too much.
Usually when Robbert says he doesn't like an outfit I put together I just say "HA, sucks to be you then!" and we laugh about it together. Today, his innocent remark made me feel like I'd stepped into "unacceptable" territory with my red furry vest. And I wasn't quite emotionally strong enough to take on any potential looks or remarks from strangers on the street, at this moment. I wanted to cancel the shoot, put on something else, but Robbert encouraged me to go with it and not care about what anybody else thinks. I was feeling really insecure but he talked some confidence into me and we headed out.
The sun was really bright and we couldn't find the right location with nice lighting, so it took a while before we took a good photo. I was feeling better and better, and then this young lady walked by us across the street. Cellphone up, pointed at me, and that look on her face that I've seen a thousand times. That look that says: "LOL you guys have to see this", and I could almost hear her friends collectively laughing on the other end of the group chat. I wanted to go after her, ask her what she's doing and why she's taking photos of me, but Robbert (being even more non-confrontational than me) told me to let it go. I don't think he realised at that moment how much it affected me, and I have to say it affected me way more than it usually would. I was already feeling very vulnerable that day and this just completely broke me down. Tears welled up in my eyes, I took everything off until I was wearing just black jeans and a simple long sleeve top, carried everything in my arms and hid behind the big pile of clothes as I walked home.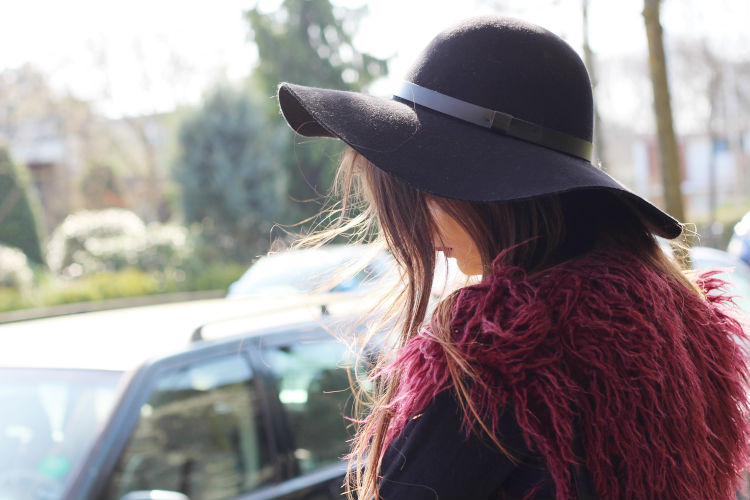 After a few moments of tears and Robbert's great care, ratio took over in my mind again and I started to regret walking away without any good photos. I also felt very weak and embarrased for having been so affected by a stupid girl who probably just found it hilarious that somebody was taking portrait shots on the street in a flashy outfit. The only reason why it did affect me so much was probably just because I was already stressed out and feeling small, and that her whole demeanor just took me straight back to highschool and reminded me of how I felt back then, when I was strong enough to soldier on in my weird clothes, but very much hurt nonetheless.
Now that I'm writing this, it's the next day and all I feel is a little anger and a lot of determination. No more sadness, no more weakness. A few hours after this happened we headed into the city centre to buy some things from a store, and I noticed all these people that looked way more notable than me in my burgundy furs, and that they didn't care at all if other people were looking at them. So, after my little moment of weakness, I'm going back to being that person too. I'm going to wear my furry vest which I bloody LOVE and think looks great on me, proudly. People are going to think I'm arrogant and pretentious and I'm going to melt their first impression away with a bright smile and a cheerful "hello".