Eyebrows are one of those things that are very susceptible to trends. When I was a teen, it was all about the super groomed, thin eyebrows. Then the world went through a wild Cara Delevigne phase, and now it's all about the crisp and bold eyebrows. I have quite unruly eyebrows that are naturally thick but sparse, so I can definitely use some help in the brow department.
Benefit recently launched a whole new brow collection, featuring some old favourites and a bunch of brand new products, all in cute matching packaging. I got invited to their launch event where I could try the products out and I completely fell in love with them. They sent two of the new brow products over and I'd like to share my thoughts on them with you today!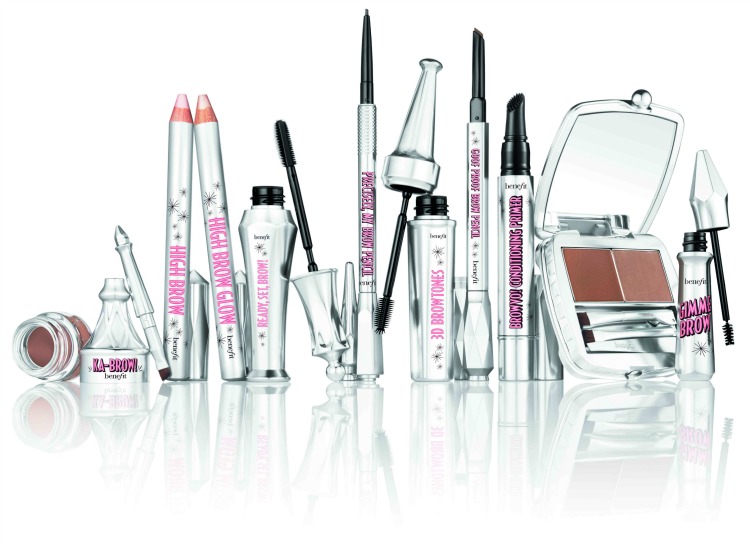 There are nine different products in the new collection:
Ka-Brow is a gel-type product which reminds me a lot of the Anastasia Dip Brow
High Brow is a highlighting pencil which comes in a matte and shimmery version
Ready, Set, Brow! is a clear setting gel
Precisely, My Brow Pencil is a fine-tipped twist-up pencil
3D-Browtones is a coloured gel which allows you to add highlights or lowlights to your brows for more dimension
Goof Proof Brow Pencil is a triangle-shaped brow pencil
Browvo! Conditioning Primer is a hair growth stimulating makeup primer
Brow Zings is a kit featuring a brow powder and setting gel, including some tools
Gimme Brow is a coloured gel with fibres
There are six lines of colours, and all products come in all colours so they're easy to match together.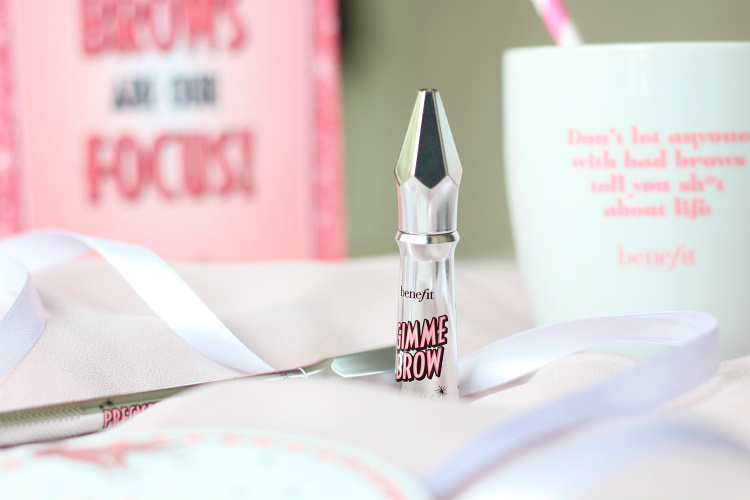 I received the Gimme Brow and Precisely, My Brow Pencil. First off let me say this packaging is absolutely gorgeous. Form meets function in the best possible way! It's super cute and I love how everything matches.
All products come with a handy instruction leaflet filled with tips.
Benefit Precisely, My Brow Pencil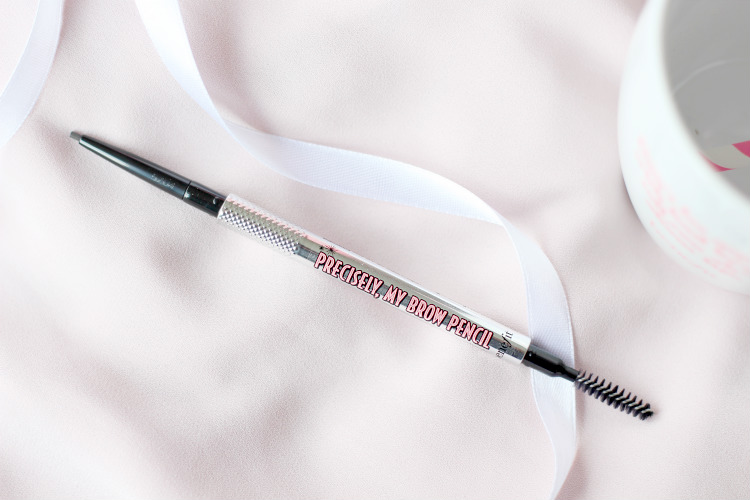 Alright then, let's have a look at the brow pencil! This one comes with the twist-up pencil on one end, and a spoolie on the other which is very helpful for blending and combing the brows into shape.
The tip is super fine, which makes it easy to work with and create little hair-like strokes for a natural look. I really like that this doesn't have to be sharpened as it just twists up. The handle is textured on this side for extra grip and control.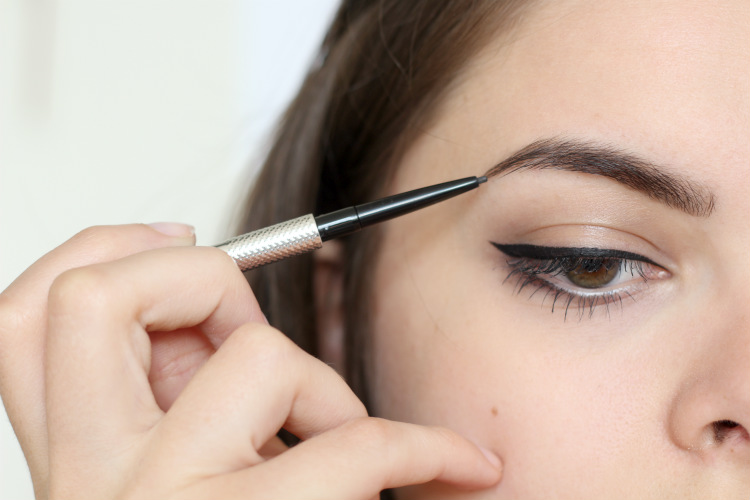 I'm matched to colour 6, the darkest cool colour. I'm really happy with the colour, it looks natural, not too warm and not too cool for me. The pencil has a nice texture, it's creamy but firm, as it should be. The formula is waterproof and supposed to last for 12 hours.
I use this pencil to outline & fill in my brows. I like to draw a line along the bottom of my eyebrow and one along the top, then extend the end a bit, and fill everything in, starting more heavily on the outside and using a lighter hand as I move along towards the inner part. Then I take the spoolie brush, which I use mainly on the inner part of my brow to blend the pencil.
Benefit Gimme Brow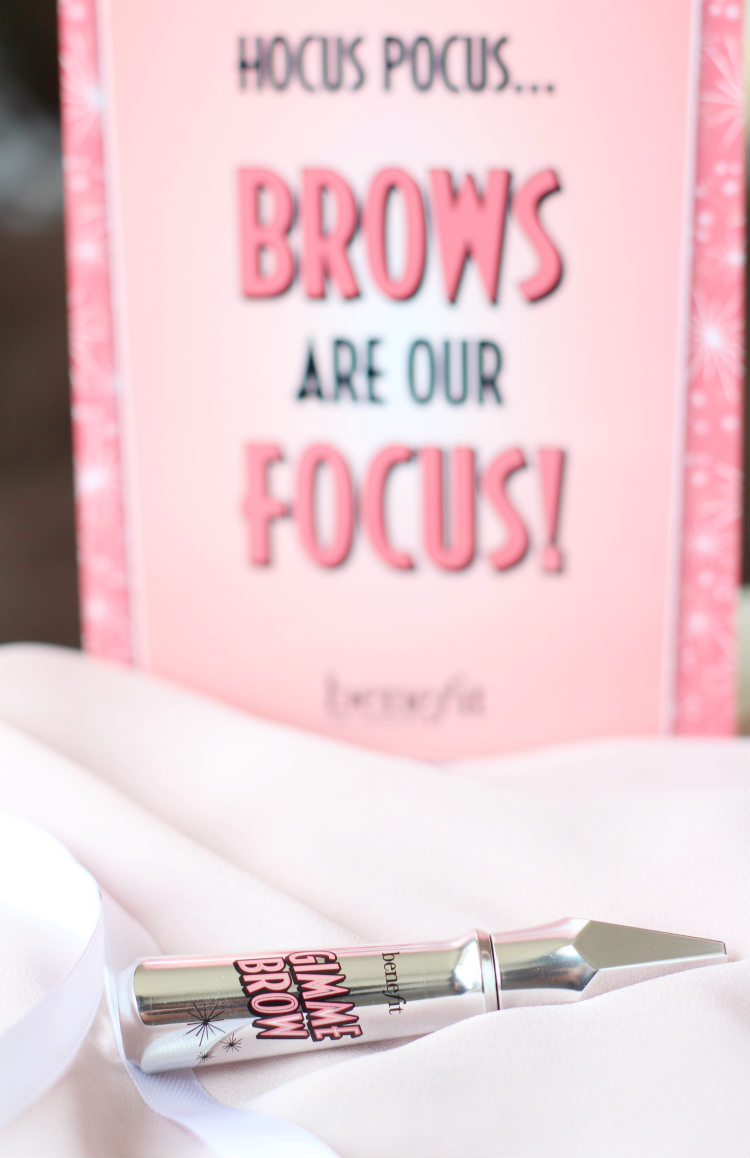 Next, the Gimme Brow! This tinted gel contains little fibres to make brows appear fuller and shape them at the same time. The applicator is a cute little spoolie, which is the perfect size to work with eyebrows. I always wonder why brow gels have such huge brushes that are way thicker than anybody's eyebrows, but this one is just right.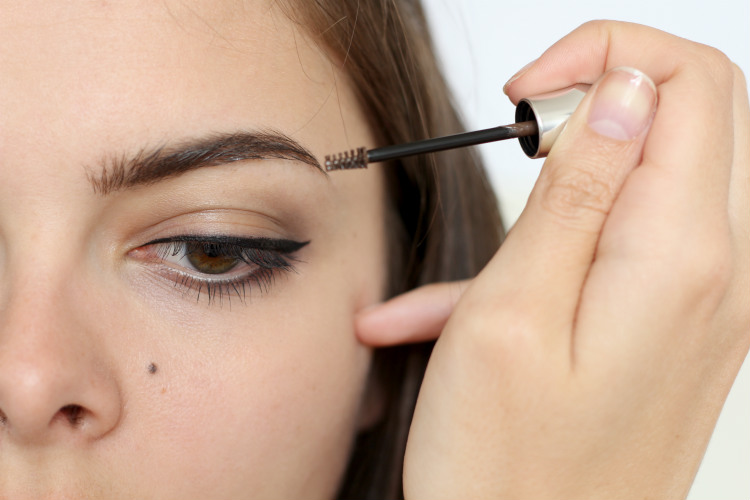 I find it hard to notice any fibres, to be honest. Maybe it's because my own eyebrows are so dark, and this gel is in colour 3? Anyway, I have noticed them on my skin, but they don't do that much to my brows. What I do love is the strength of this gel. Wow wow wow! This actually holds my very stubborn eyebrows where I want them to, and that's impressive.


Here's a little before and after: top picture is bare brows, bottom picture is using both Benefit products. I'm super happy with how this looks! My brows look groomed but natural, and I have a lot of control over how I want them to come out.
Really the only downside to these products for me is the price. They are quite up there and out of my price range, but then again Benefit is a more luxury brand, and the products are very good. If you've got the money to spare this is definitely a collection I recommend taking a look at!
The Benefit brow collection is available in the Netherlands at Douglas for €24 – €35
Precisely, My Brow Pencil is €26,50
Gimme Brow is €26,50