My Desk Setup & Organisation
You guys know I'm all about boosting that productivity. Work smarter, not harder is my motto and I'm always hungry for ways to improve the way I work!
Being someone who works from home, my workplace is very important to me. Not only is it the place I sit down to get into my workflow and reach the right state of mind, it's also right in the middle of my living and bedroom. Oh, the joys of living in a tiny studio… This does make me require the space to be as (multi)functional as possible, while also looking aesthetically pleasing.
Right now I've gotten my little office corner to a point where I'm really happy with it and it works well for me, so I thought I'd share it with you today!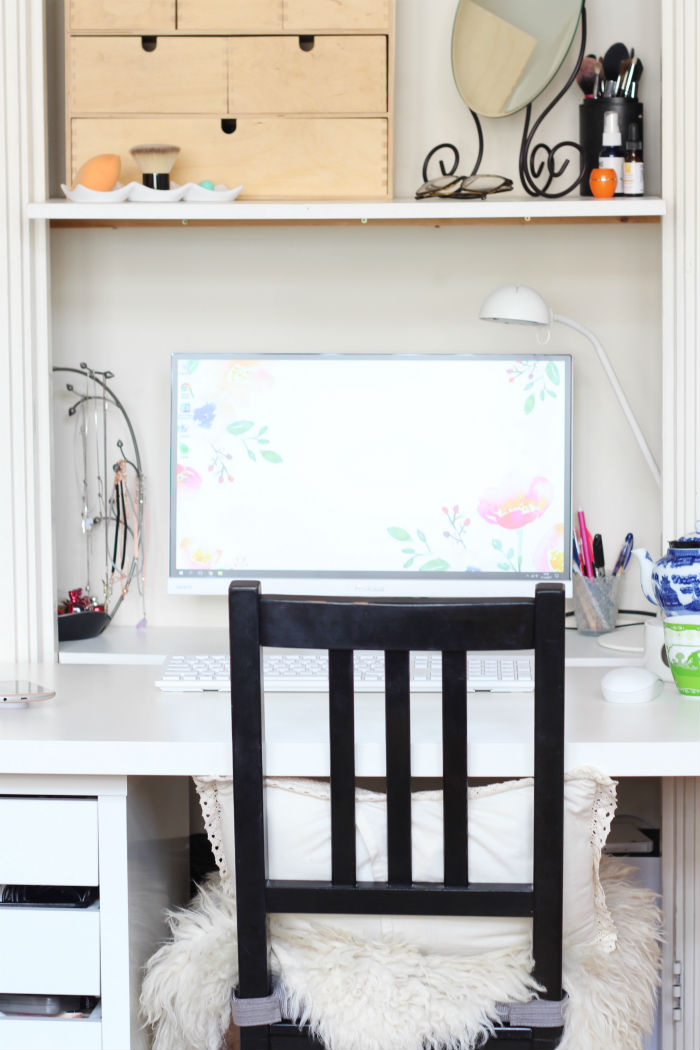 This is my little office/workspace. One of the walls in my room has this little built-in closet, that one of the previous owners took the door out of, and I'm pretty sure there have been desks standing in front of it ever since. It's the best (maybe actually only practical) place to put a desk in this space.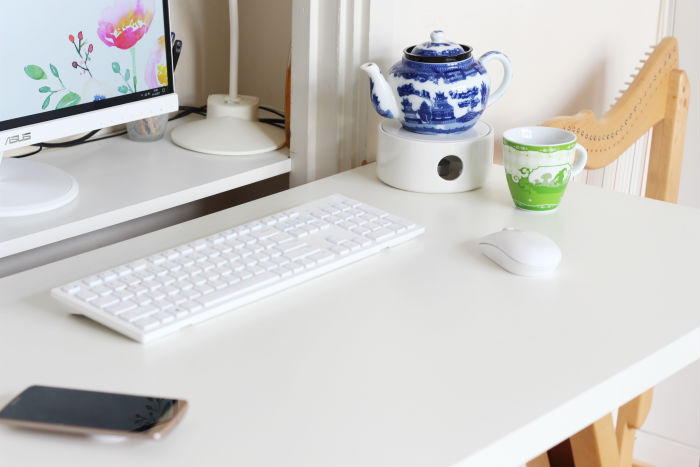 I maintain a clean desk policy. Growing up and all throughout highschool, my desk was always the messiest spot in my room and the once place I could never keep tidy. Now, because my desk has such a prominent place in my living space, I cannot bear to have any clutter on it. I always have my tea-warmer in the corner with a pot of tea on top, but that's the only thing that never has to leave. When I stop working at night the keyboard and mouse get stored beneath my monitor, and everything else gets returned to where it belongs.
My desk is the only table in my "house", which means it's also used for dining and Dungeons & Dragons. That's why I wanted all my electronics to be wireless, so my desk could remain portable and be moved to right beside my bed so six people can sit by it.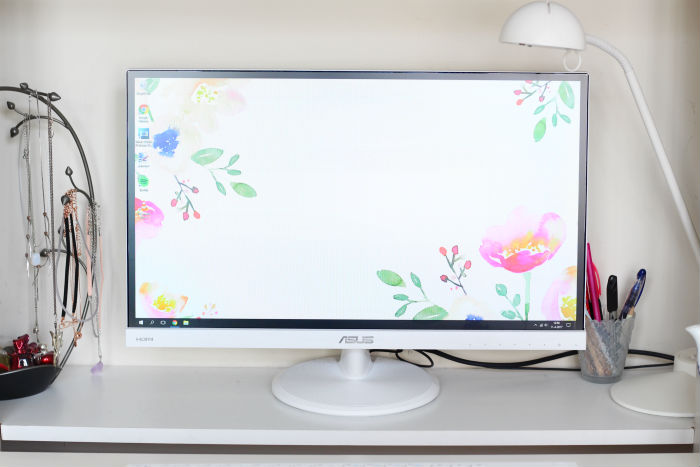 For years and years I've worked on my laptop, but for a long time now I've really been longing for a good desktop PC. I bought my laptop based on weight and size because I needed to carry it to school every day, so needless to say it was quite a nightmare to edit videos on. Looking back I honestly don't know how I kept it up for so long, and I don't even want to know how many hours I've wasted by editing on such an inefficient machine.
At the end of last year I was finally able to make my dream come true and get a great PC. My brother offered to build me one, so he recommended the parts I should get and then assembled and installed everything. I cannot even begin to tell you how much of a difference this has made to my productivity and joy in working. Editing on this thing is an absolute dream and I couldn't be happier with it.
As once again this is a very prominent spot in my room, I wanted the PC, monitor and accessories to all be white so they'd blend into the room as much as possible. This worked out really well in my opinion! I don't think the PC is too "present" in the room at all, which is something I was worried about beforehand. I think it turned out great.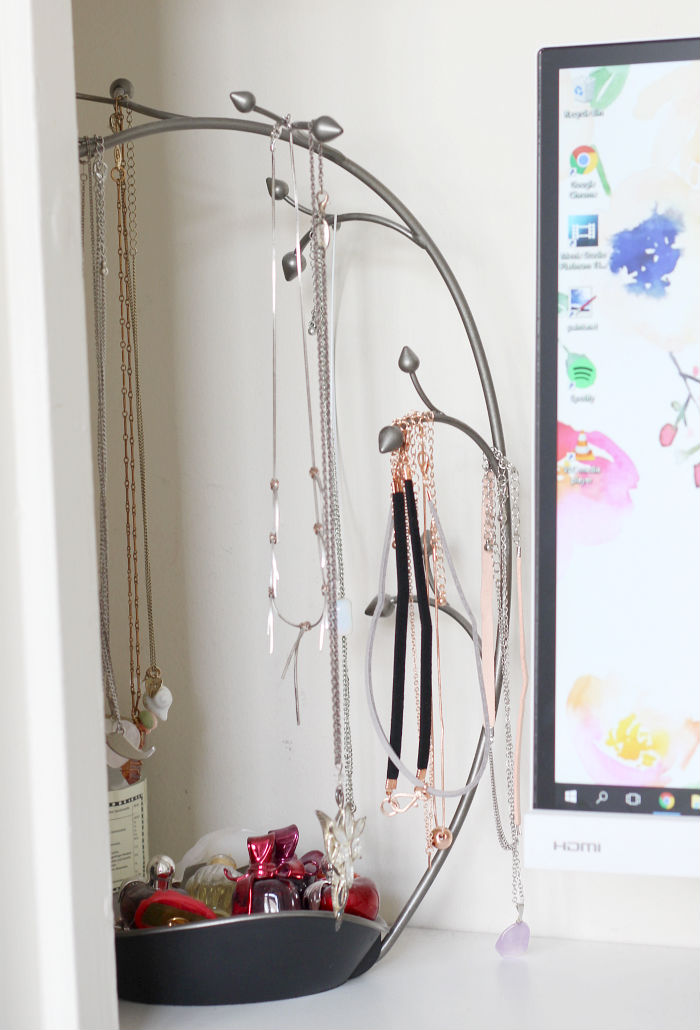 As I live in a tiny room, every bit of space needs to be used. So, I keep a jewelry stand next to my monitor! This holds my dainty necklaces and some mini perfumes. You can also see my beloved jar of coconut oil behind it 🙂
On the other side I just have an old candle jar with some pens and pencils, and a desk lamp.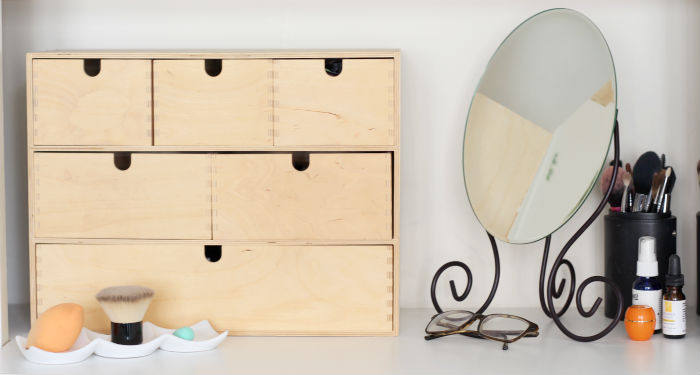 One level above is where I store most of my makeup. Not only is my desk the place I sit down to apply my makeup in the morning, I also really like having my makeup collection close when I'm typing up blogposts or video descriptions, or answering comments, in case I need to check what a specific product is called.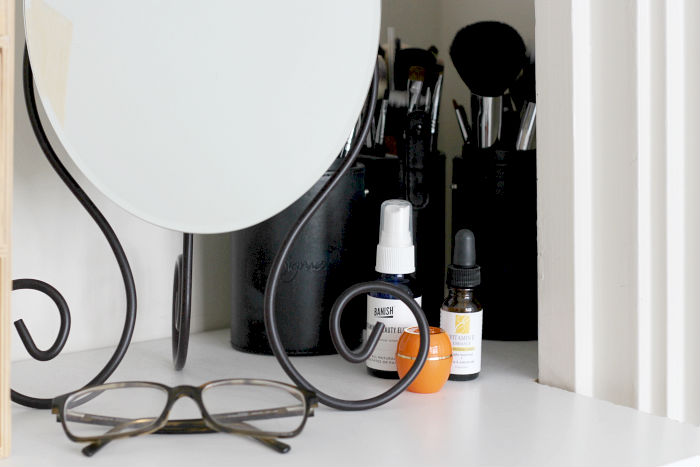 That semi-hidden corner is the place where I store most of my makeup brushes. I like how they're kind of out of sight, but kind of on display at the same time. I also keep my glasses here, as I can't see my monitor when I wake up in the morning and haven't put my contacts in yet 🙂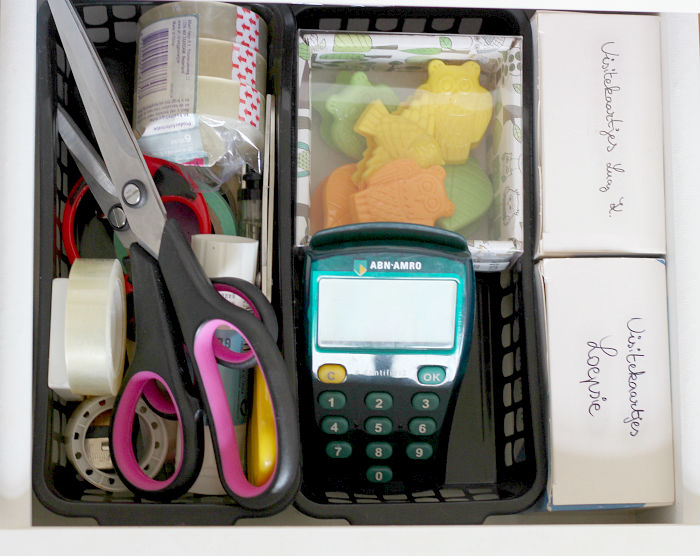 Underneath my desk I have a set of drawers, of which the top two are used for office supplies. The first one holds those typical items like scissors, tape and glue, but also paperclips, my online banking thingy, businesscards and sticky notes.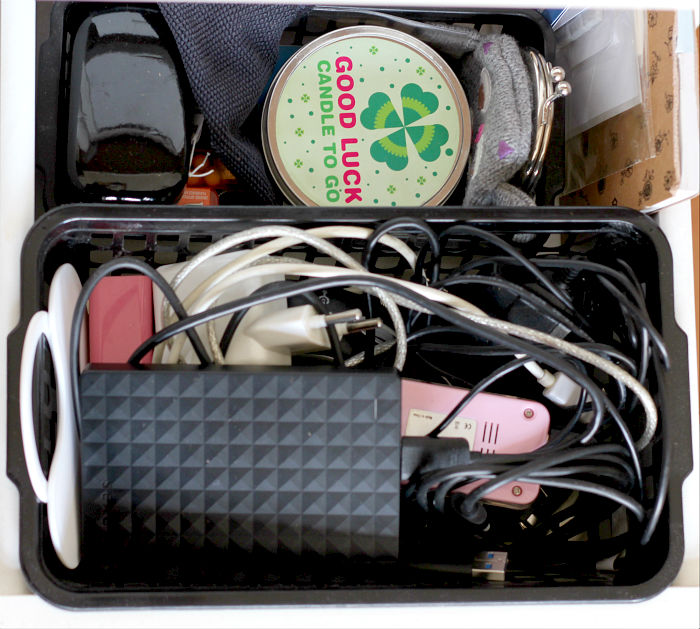 The drawer below that is… Organised chaos? This is in part my "junk drawer" and in part the place where I store office supply overflow and cables. There are some notepads here, my external harddrive, chargers, SD cards… Random stuff. We all have a drawer like this, right?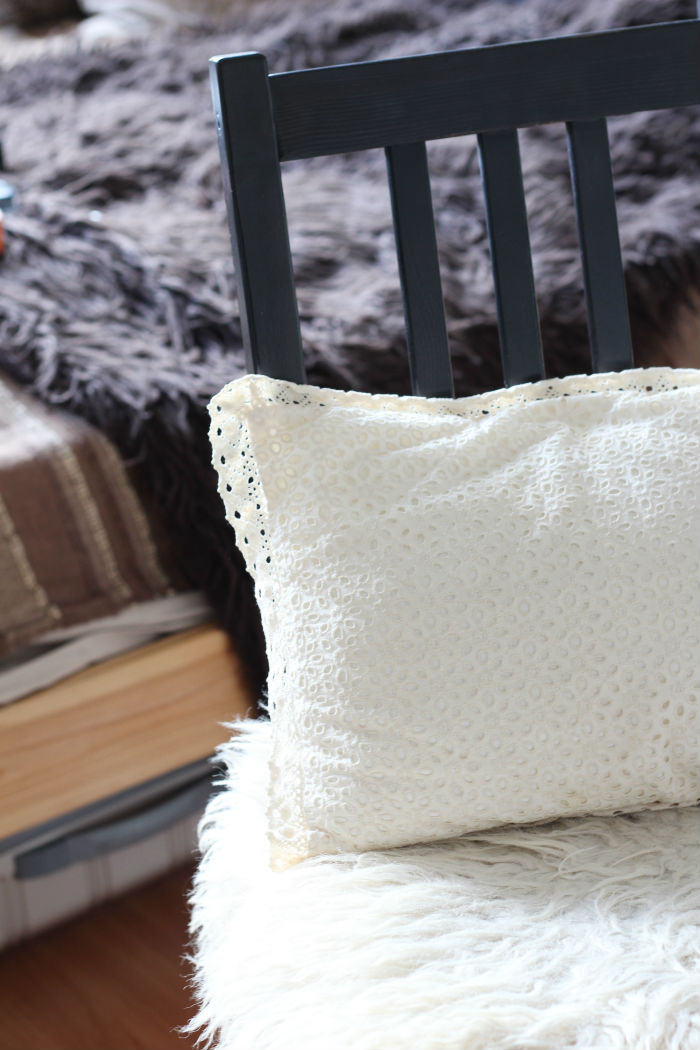 And last but not least, my desk chair! When I move house and get a proper, separate office space, I'd like to get a proper ergonomic desk chair, but for now aesthetics are more important. I've got my priorities straight, haha 🙂
I've covered the chair with a vintage sheepskin and have a little cushion to support my lower back.
And that's it! This is where I spend hours every day, happily typing away. Hope you enjoyed this little tour of my workspace!