The Innate Life Natural Hair Products
A few weeks back I received a package from The Innate Life, a Canadian brand of all natural & organic hair care. I used to be super big on natural hair care and exclusively use natural products in my hair, as you may remember if you've been following me for a while. A while ago I relaxed a bit and started using conventional products in my hair as well, but natural and organic products still have a special place in my heart and I'll always value them over non-natural products. So needless to say, I was really excited to give these three products a try. After the first use, I was already blown away. This stuff does amazing things to my hair, so I really want to share it with you, in case you need some serious hair repairing done and are looking for a new product.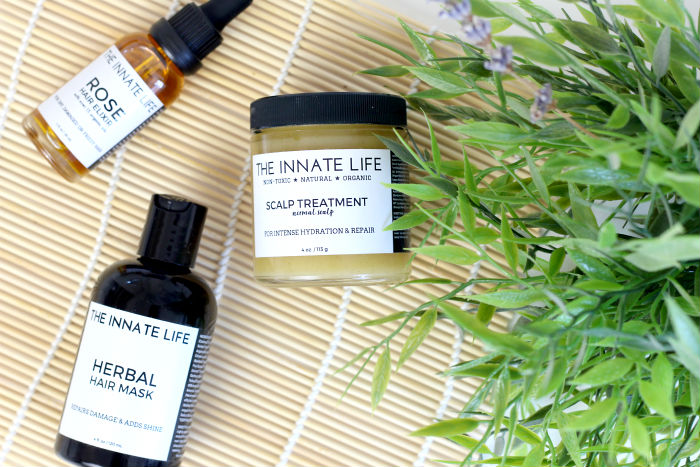 The Innate Life Rose Hair Elixir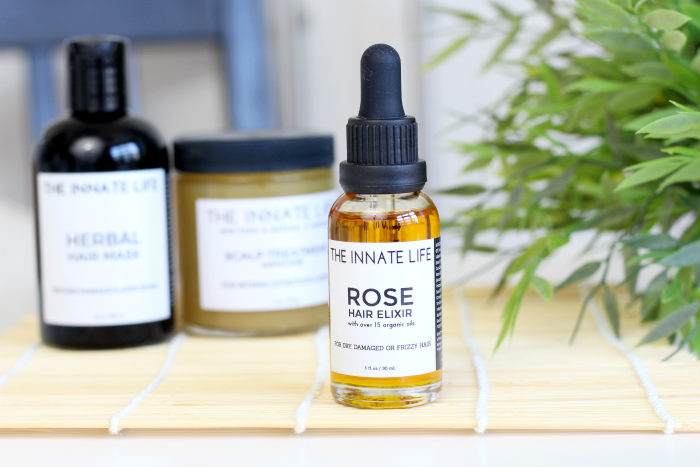 I'm going to kick off with my absolute favourite product. My hair has been in dire need of a good hair oil for a while, as I ran out of argan oil and my coconut oil is still too solid to use. I applied a few drops of rose hair elixir onto my lengths and ends and was instantly blown away by the result. This oil is perfect for my hair! Often oils are too heavy for my fine hair, but not this one. It nourishes, without making my hair look greasy or heavy, and it smells divine. This hair elixir contains over 15 different organic oils and only organic oils. My hair loves it and so do I. Serious "holy grail" candidate, right here.
The ingredients:
Argania Spinosa (Argan) Kernel Oil*, Cannabis Sativa (Hemp) Seed Oil*, Camellia Oleifera (Camellia) Seed Oil*,  Rosa Mosqueta (Rosehip) Fruit Oil*, Vitis Vinifera (Grape) Seed Oil*,  Curcubita Pepo (Pumpkin) Seed Oil*,  Helianthus Annus (Sunflower) Seed Oil*,  Persea Gratissima (Avocado) Oil*,  Oenothera Biennis (Evening Primrose) Oil*, Simmondsia Chinensis (Jojoba) Seed Oil*,  Macadamia Ternifolia (Macadamia Nut) Seed Oil*,  Prunus Dulcis (Sweet Almond) Oil*,  Linum usitatissimum (Flax seed) Seed Oil*, Azadirachta Indica (Neem) Oil*, Hippophae Rhamnoides (Sea Buckthorn) Fruit Oil*, Nigella Sativa (Black Cumin) Seed Oil, Tocopherol, Blend of Essential Oils*.
*organic ingredients
The elixir can be applied daily for optimal results. I use it after every wash, and whenever my hair is looking a bit dull or frizzy.
The Innate Life Scalp Treatment Normal Scalp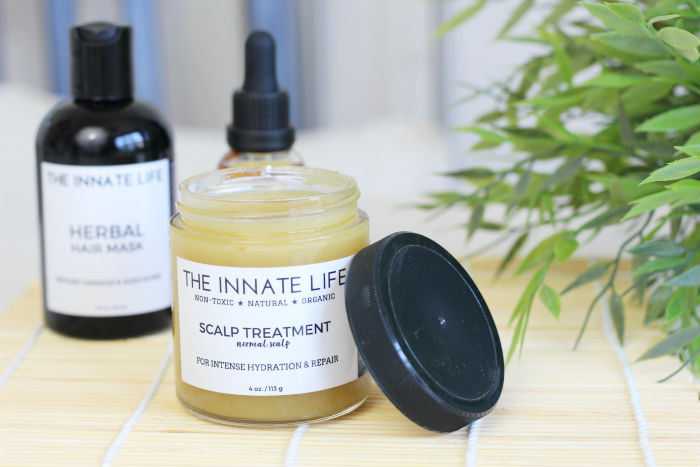 This is the first time I've come across a scalp treatment. This blend of natural oils and butters is meant to nourish your scalp and promote healthy hair growth. It's like a body lotion for your scalp! Even though I've never used a proper scalp treatment before, I did use pure castor oil on my roots for a while. This treatment is much easier and more pleasant to use. It smells like rosemary which I love, and it's easy to spread out and massage in. I've been using it once a week and I hope I'll keep it up. It is a little bit of a hassle to apply (you really need to get in there and reach inbetween all hairs) and I tend to get lazy when something takes too much effort, but we'll see. I have every intention of using this up so far, anyway.
The ingredients:
Coconut Oil*, Castor Oil*, Shea Butter*, Sweet Almond Oil*, Olive Oil*, Macadamia Nut Oil*, Mustard Seed Oil, Argan Oil*, Jojoba Oil*, Burdock Root Extract*, Amla Fruit Extract*, Bhringaraj Leaf Extract*, Brahmi Leaf Extract*, Tulsi Leaf Extract*, Shikakai Leaf Extract*, Neem Leaf Extract*, Dandelion Root Extract*, Horsetail Herb Extract* Rosemary Oil*, Peppermint Oil*, Lavender Oil*, Orange Peel Oil*, Cera Alba.
*organic ingredients
Apply to dry hair & scalp by sectionig the hair and applying the treatment on the parts. Can be used once or twice weekly for optimal results.
The Innate Life Herbal Hair Mask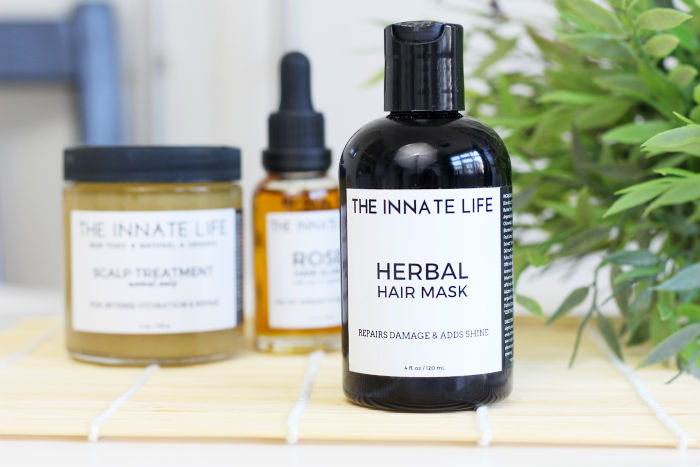 The last product I have from The Innate Life is their herbal hair mask. Like the other products, this is completely made up of natural, nourishing ingredients as well. It smells very herbal, as expected, and is supposed to repair damaged hair and add shine. I love applying this on my lengths and ends a few hours before I'm going to wash my hair for a deep treatment. My hair comes out super soft and shiny, especially when I pair this product with the rose hair elixir.
The ingredients:
Aqua, Cocos Nucifera (Coconut) Oil*, Butyrospermum Parkii (Shea Butter) Fruit*, Prunus Dulcis (Sweet Almond) Oil*, Argania Spinosa (Argan) Kernel Oil*, Simmondsia Chinensis (Jojoba) Seed Oil*, Arctium Lappa (Burdock) Root Extract, Emblica Officinalis (Amla) Fruit Extract*, Eclipta Prostrata (Bhringaraj) Leaf Extract*, Centella Asiatica (Brahmi) Leaf Extract*, Ocimum Sanctum (Tulsi) Leaf Powder*, Ulmas Fulva (Slippery Elm) Bark Extract, Taraxacum Officinale (Dandelion) Root Extract, Equisetum Arvense (Horsetail) Extract, Althaea Officinalis (Marshmallow) Root Extract, Rosmarinus officinalis (Rosemary) Oil*, Lecithin*, Potassium Sorbate, Cetyl-Stearyl Alcohol, Lavandula angustifolia (Lavender) Oil*, Citrus Aurantium Dulcis (Orange) Peel Oil*
*organic ingredients
Apply on dry or damp hair and leave on for a few hours before washing out. Use weekly for an intense treatment.
I was not expecting to love these products as much as I do. I'm very, very happy with them and will definitely continue to use them. Highly recommend The Innate Life if you're on the market for products like these!