Quinoa, Grape & Avocado Salad | Recipe
When you take a holiday in villages and small towns in central/eastern Europe, it's not too surprising that you'll have a hard time finding vegan dishes in restaurants. I'm glad to see more and more vegan options in the big cities every year though, and always very happy to try them. This summer, one night, we had dinner in a restaurant in Bratislava which had this dish on their menu: a salad with quinoa, grapes, avocado, pine nuts and aged balsamic vinegar. I ordered it and was very pleasantly surprised! It's a really simple dish, but the flavours go so well together and the meal is packed with nutrients. I recreated it at home and wanted to share the recipe with you even though it's super simple, as I think this makes a perfect lunch. I ended up using walnuts instead of pine nuts as the only pine nuts I could find were sold at €4,50 per 100g, and that's just ridiculous. Walnuts work great in the recipe, so you can run with either, depending on what you have available!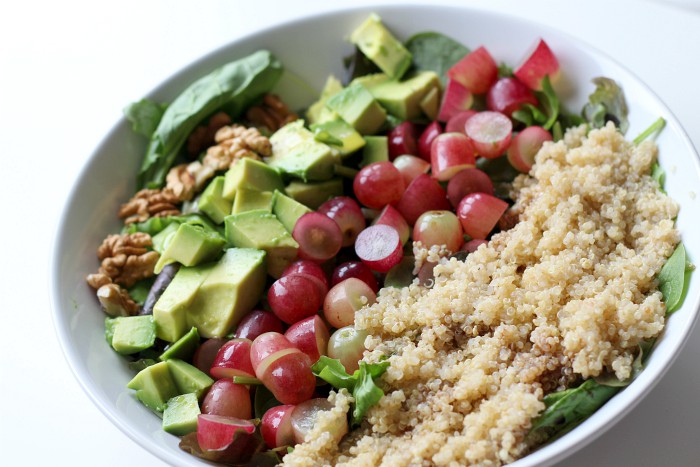 Ingredients
150g uncooked quinoa
80g mixed leafy greens
250g red grapes
1 avocado
handful walnuts
extra virgin olive oil
balsamic vinegar
salt & pepper
Serves 2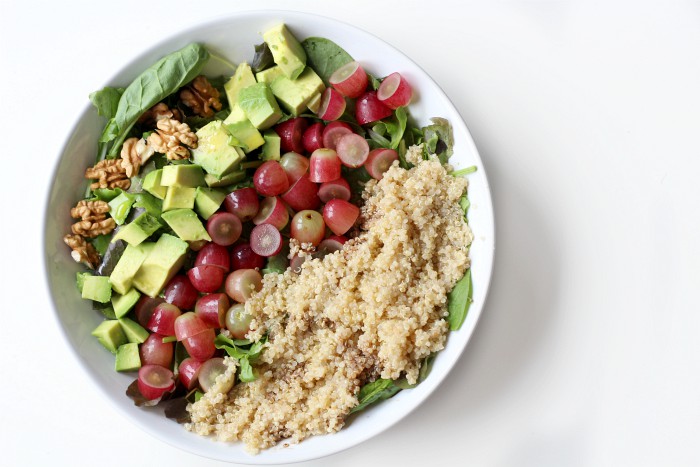 Start by cooking your quinoa according to the instructions on the packaging. Meanwhile, wash your mixed leafy greens (I used field lettuce, rocket and spinach). Wash the grapes, and cut the larger ones in half. Dice the avocado.
When the quinoa is cooked, drain it and season with salt & pepper. Arrange the mixed greens, quinoa, grapes, avocado and walnuts in a bowl and drizzle with olive oil and balsamic vinegar.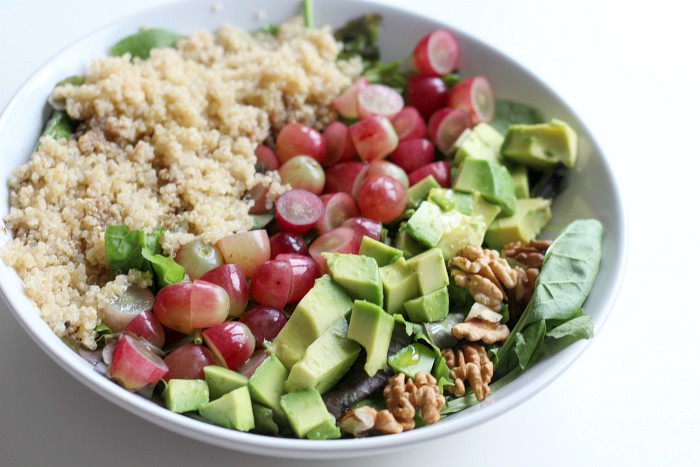 This recipe is really quick and easy to make, and a great way to use up leftover quinoa. You can serve the quinoa warm or cold, both work well. It's a good one to take with you to school or work, too. At the restaurant, the salad was served with fancy tiny dark grapes and super delicious 13-year-old balsamic vinegar. Consider this the casual version of a restaurant-worthy dish, or of course fancy it up with great quality products 🙂 Enjoy!