An Update From The HQ | Loepsie's Life
Happy Monday, everybody! As I sat down to type up my photo diary of last week, I realised I had taken a grand total of three photos this week. Three. That's not much to go on, haha! So instead of a photo diary, this week's Loepsie's Life is going to be a written update. With the solemn promise that I'll do better next week 🙂
I've been very preoccupied with several things this week. First and foremost, the move! November is coming closer, and with it Robbert's and my move to Amsterdam. I didn't really realise how much work is involved in moving, aside from the actual packing and unpacking. I let my landlady know I'll be moving out in November. She asked whether I knew anybody who'd like to move into my studio, so I asked around and found a few people who were interested. Someone already came to look at the studio, and they were really pleased so I think they'll be pursuing it.
The new apartment has a built-in fridge and oven, which means I'll have no more need for my current ones. I'd like to offer them to the next tenant of my studio, so I gave both of them a much needed scrub down one evening. I should've done this sooner, you wouldn't believe how much ice came out of my freezer! Actually, this was one of the photos I did take: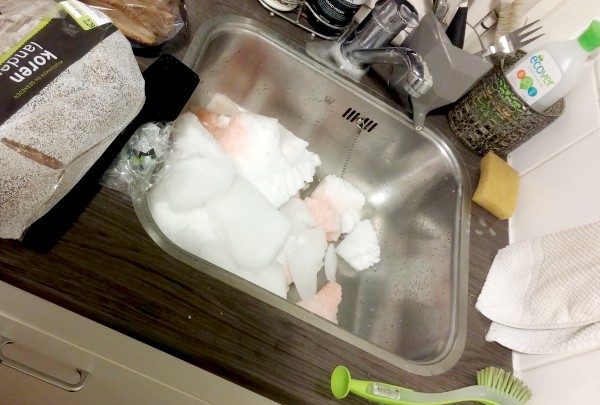 Yikes! I can hardly believe I was able to fit anything into that freezer anymore, haha! It feels great to have them all clean again. (The red isn't blood by the way, it's strawberry juice. Promise 🙂 )
I'm slowly doing my rounds of the entire place and sorting through my belongings, deciding what's coming to the new place and what I'm going to get rid of. I've already got a large bag of clothing that I'm planning to donate. Clothing is one of the biggest "problems" at the moment, as I'll be going from two closets (one in the studio & one at my parents') to one, and we probably won't have a whole lot of closet space at the apartment. I've put some pieces in the donation bag which were bothering me for a while: I felt guilty for not wearing them every time I saw them, but it didn't make me wear them. Just made me feel bad. I knew I wasn't going to wear them any more so it feels good to give them to someone in need.
There's also a really fun little project I've been working on. It's nothing major, but it involves a printed publication, which is BIG to this digital girl. My contribution needs to be 100% historically accurate and I'm putting a lot of pressure on myself to make it great, so it's taking up a lot of my time at the moment. I've found some amazing historical sources in the process which I'm very excited about, but reading everything (especially contemporary sources) to find useful information is a lengthy process. It kind of feels like I'm back in uni and I'm really enjoying it on the one hand, but yeah, the pressure. I've been putting it off because I found the project a little daunting and now it's giving me a bit of stress, haha! But it's going to be fine, I've already got a good deal done and there's plenty of time for revisions still. I'll be sure to let you know if/when it gets published 🙂
And then, of course, the show must go on on Loepsie as well! As always, most of my days are spent creating content for YouTube and this blog. I was planning to start working ahead so that I'd be able to focus on moving in November, but the little project prevented that from happening this week. As soon as I hand it in I plan to work ahead far enough so that I'll have at least a whole week off work when we move. I will still be documenting the whole process of course, but not having to edit the moving vlogs straight away would help a great deal.
Anyways, there's a lot of exciting stuff going on! I can't wait for the weeks to come. Hope you've had a wonderful weekend, see you soon!