Spiced Pumpkin Stew | Vegan Recipe
Nothing says autumn like pumpkins, am I right? For that reason I'm bringing you another pumpkin recipe to day. You can never have enough pumpkin recipes! Today's dish is a lovely hot stew featuring the warm, slightly sweet flavours of Northern African cuisine. I pulled out my ras el hanout spice mix again after a long time and I have to say, it works wonderfully with the creamy pumpkin. This recipe is a slightly modified version of a recipe clipping I found in my binder, originally from Allerhande. It's super simple, just the way I like it, healthy, and delicious!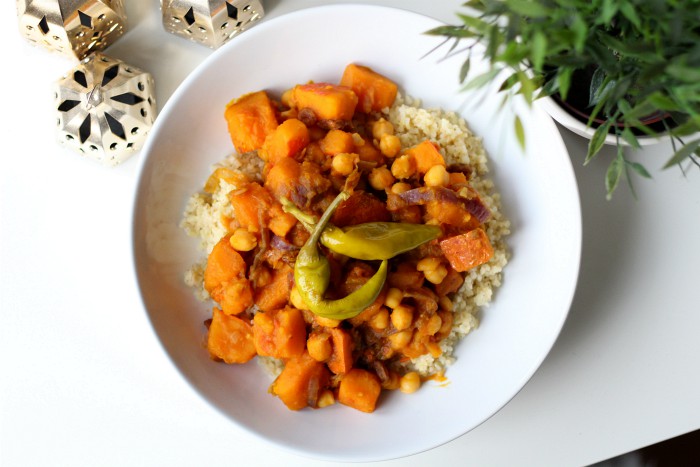 Ingredients
1 hokaido pumpkin
400g chickpeas
2 onions
2 large cloves of garlic
2 tbsp raisins
1 tsp ras el hanout
150g bulgur
1/2 lemon
black pepper
Serves 4
Wash the pumpkin, cut it in half, remove the seeds and dice the rest. Hokaido pumkin skin is edible, but if you're using another type of pumpkin, make sure to peel it too. I always like to place my pumpkin in the oven for a few minutes to soften, so that it's easier to cut.
Cut the onions into rings and finely chop the garlic. Heat up some olive oil in a large pot, and saute the onion and garlic until the onion goes see-through. Add the pumpkin, raisins and ras el hanout (North African spice mix) and cook for 5 more minutes. Then add 250ml of water to the pot, cover with a lid, and allow to cook for 10 minutes.
Meanwhile, cook the bulgur according to the instructions, and rinse the chickpeas. After 10 minutes, add the chickpeas to the pumpkin stew. Cook for 10 more minutes.
When the bulgur is done, drain it and season with black pepper and the juice of half a lemon.
Serve the stew with the bulgur. I also added some pickled green peppers, they go with the dish really well but are optional.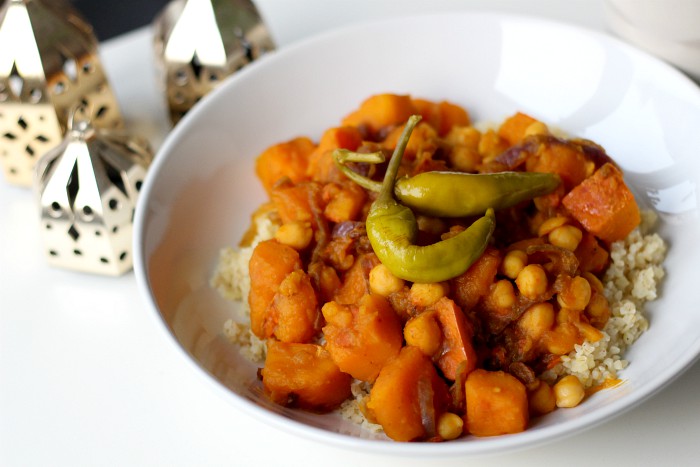 As this recipe serves four people, I currently have some leftovers in my fridge which I can't wait to heat up and enjoy tomorrow. This is a really good recipe to make in bulk and refrigerate or freeze for later. Definitely give the spiced pumpkin stew a go, if you're looking to try something new. Enjoy!