The store I regret not having in the Netherlands the most isn't Sephora, nor Victoria's Secret… It's Bath & Body Works. Yep. Since my first days on YouTube, I've always admired the cute scented three-wick candles in pretty much every beauty guru's background. Elle and Blair Fowler's Bath & Body Works candle hauls were among my absolute favourite videos ever and I've always said if I ever made it to the USA, Bath & Body Works would be the first place I'd head to, to fill up my suitcase with their famour scented candles. A few weeks back, I got an opportunity to shop there from my little home in the Netherlands. A package forwarding company called myMallBox offered to let me try their service and have a package delivered from the USA to the Netherlands. As soon as I read the email I knew what I wanted to do with this opportunity, haha! I'll tell you more about how the service works later, first let's take a look at what I bought at Bath & Body Works (still can't believe I'm saying this. That place is like Narnia to me)!
White Tea & Pear Scented Candle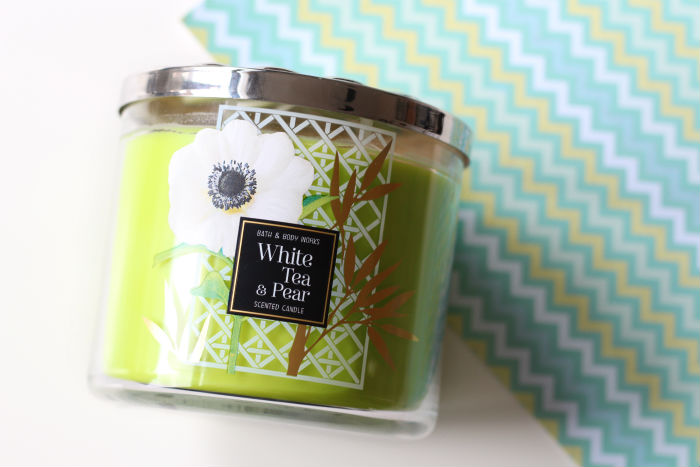 Fragrance notes: sweet white tea, crisp bartlett pear, sparkling bergamot
Ta-dah! Here it is, my first ever real Bath & Body Works three wick scented candle, in the flesh. I spent literally hours in the webshop, trying to decide which one to get. I went for this one in the end; the White Tea & Pear scent. The description sounded like heaven and I'm happy to report the real-life scent doesn't disappoint. It's a super fresh and light springtime scent that's very pleasant, exactly the way I like my home scents. You have no idea how excited I am to prop this up in the background of my videos, haha!
I love the jar itself as well, with the pretty lid and the cute design on the side. When I burn this up, the jar will definitely be repurposed one way or another.