A few weeks ago I experimented with a capsule wardrobe for the first time. I got tired of overpacking on my travels and still not being satisfied with my outfits. Wouldn't it be ideal if you could pull random items out of your suitcase, and know you'll end up with a perfect outfit every time? I decided to pick up the challenge of putting together a travel capsule wardrobe that would fit inside a hand luggage sized suitcase. I'd like to share my travel wardrobe with you today!
There are a few points you need to keep in mind when putting together a travel capsule wardrobe:
– All items must go together. Literally. Every item needs to go with every other item.
– All items must look awesome on you. In order to have a worry-free morning every time, you need to be able to rely on your pieces and know that whatever you pull out is going to look great on you.
– Mind the weather you're traveling to. I'd advise you to always bring some layering pieces, so that you're prepared for many different weather conditions.
– Don't bring more than you need. I'll list what I took for a 7 day trip below- use that as a reference. You really don't need more than that!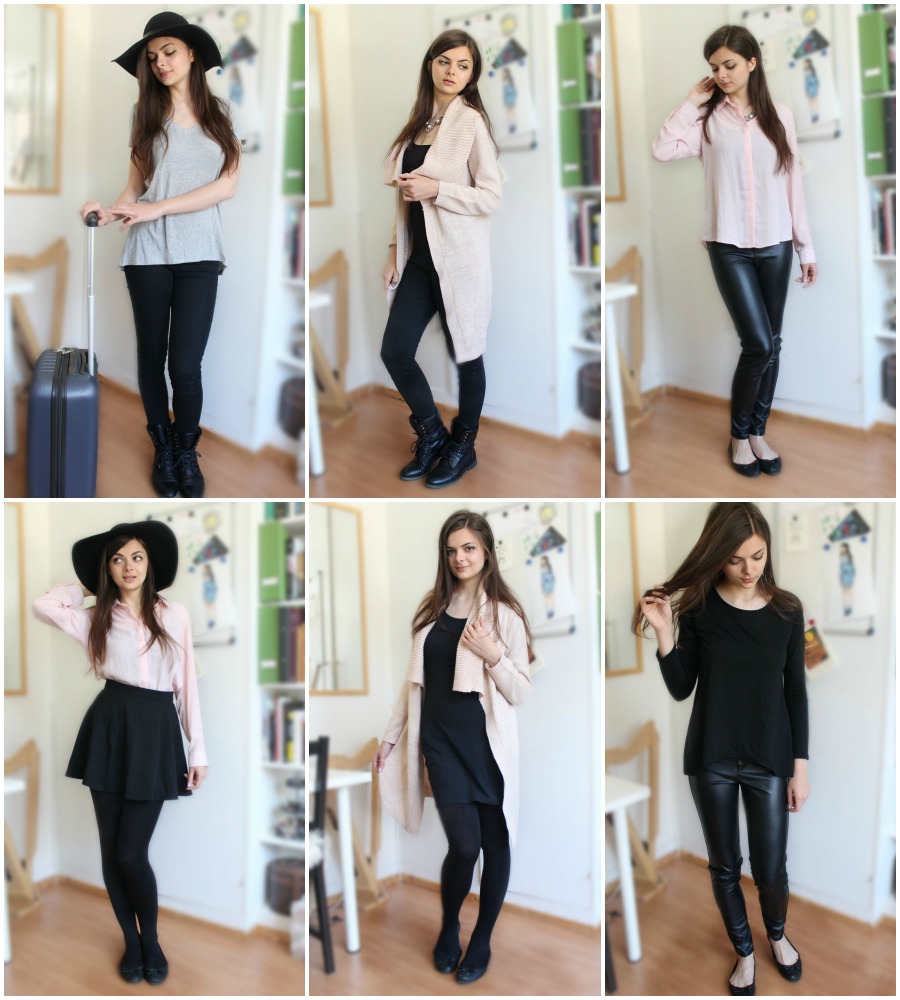 In this case, I was able to fit everything I need for a seven day trip to springtime Dublin in a carry-on suitcase with space to spare. These are the clothing items I packed:
Tops:
– 1 grey t-shirt
– 1 black longsleeve shirt
– 1 black tanktop
– 1 blush blouse
– 1 blush knitted cardigan
Bottoms:
– 1 pair of black pants
– 1 pair of black leather pants
– 1 black skater skirt
– 1 pair of black tights
Outerwear:
– 1 black coat
– 1 black hat
– 1 pair of black boots
– 1 pair of black flats
Other:
– 1 black knee-length dress
– 1 necklace
– 1 black scarf
– 1 black leather backpack
– 1 black leather clutch
And honestly, I could've easily gone by with less. As you can see, everything is either black or blush (besides the one grey t-shirt), which makes it very easy to combine everything. These are also colours I love and know look good on me, so I'll feel happy wearing them every day.
These pieces will get me through nearly all weather conditions (except for extreme cold) and many different activities and situations. I can dress casually or make it a bit more formal, depending on the combinations I make.
I traveled in the most chunky items to make space in my suitcase.
Allow me to demonstrate a just a few of the many, many outfits you can make with these items: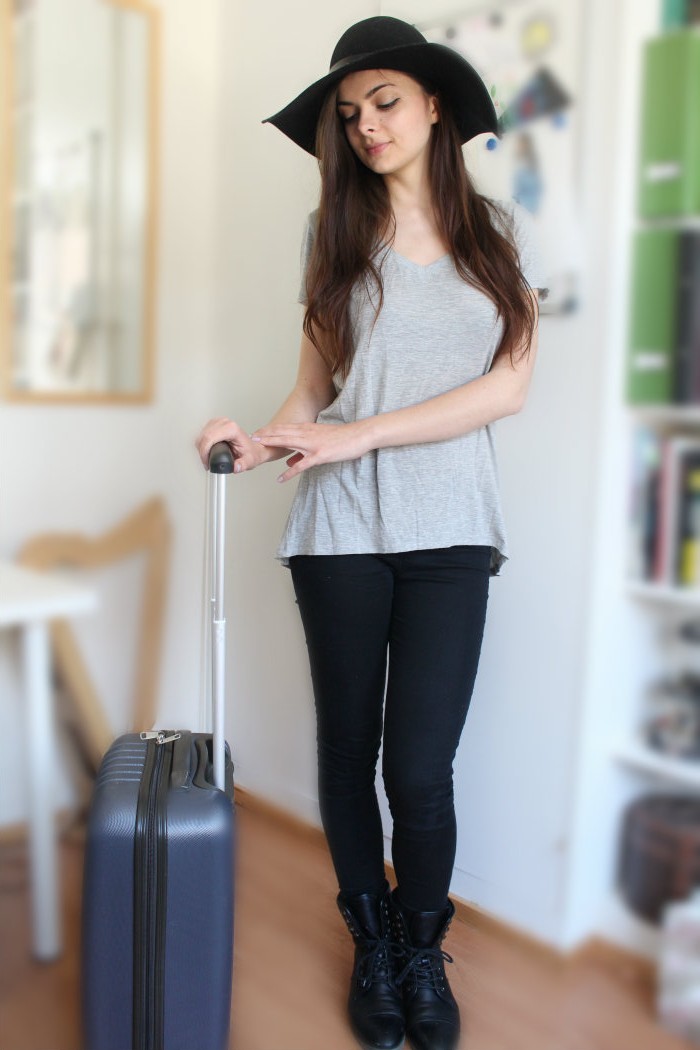 Hat, grey shirt, black pants, boots.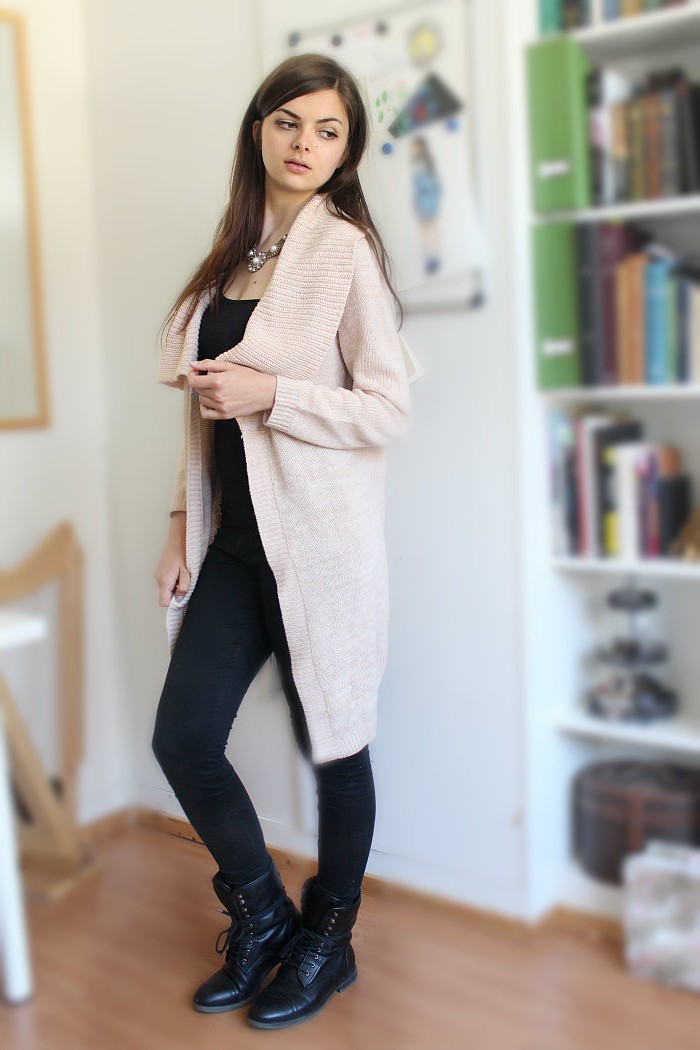 Black tank, black pants, blush cardigan, boots, necklace.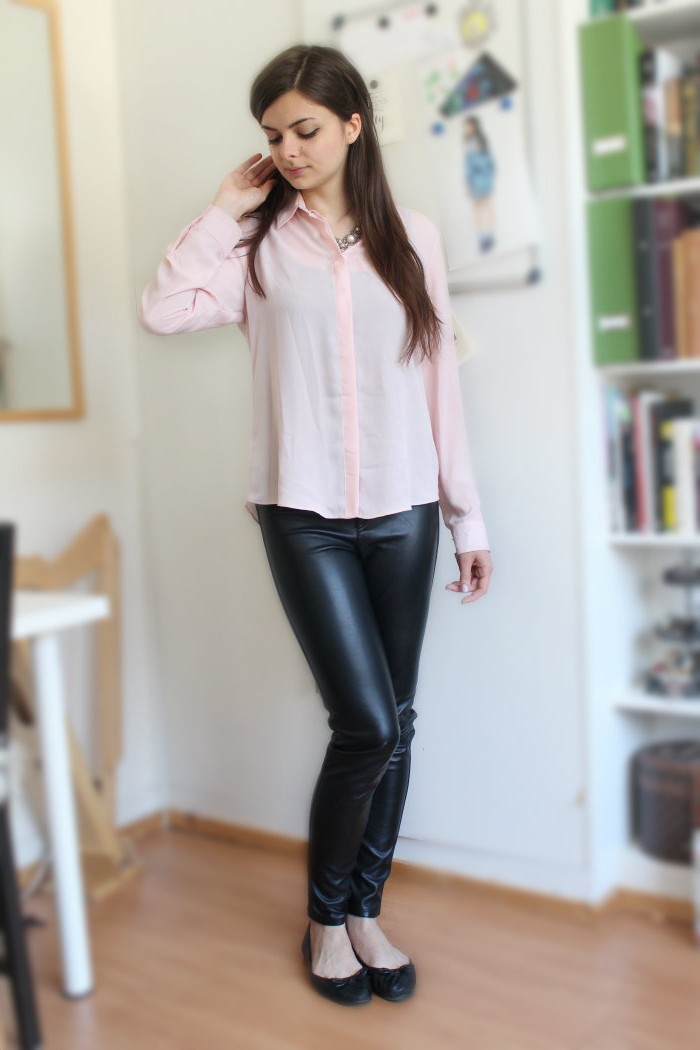 Black tank, blush blouse, leather pants, flats, necklace.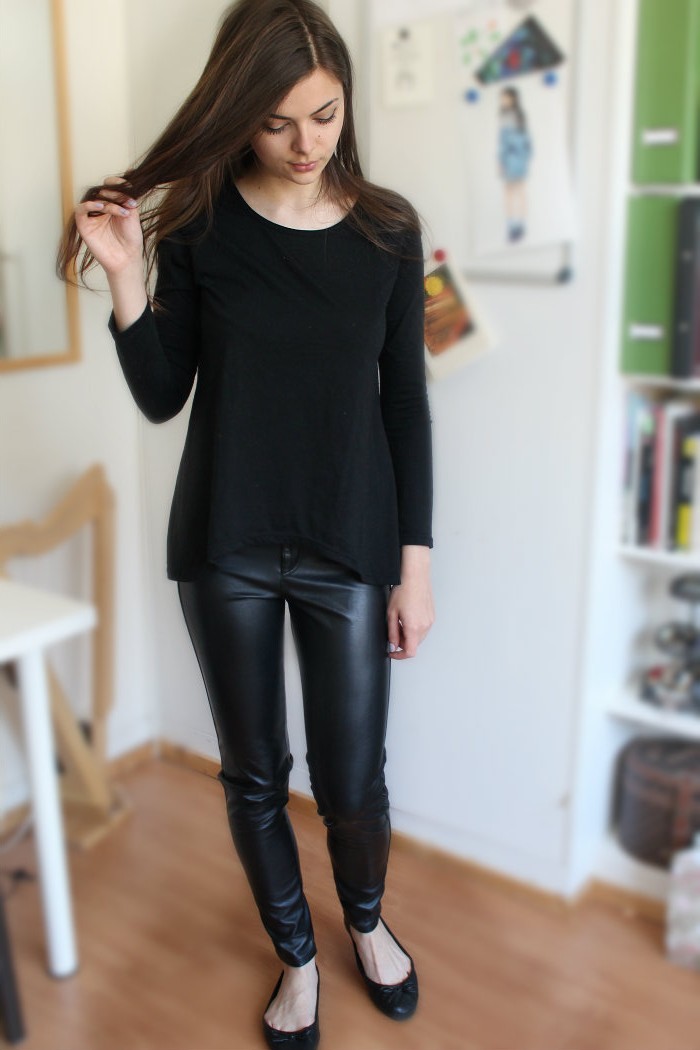 Longsleeve top, leather pants, flats.
Dress, tights, cardigan, flats.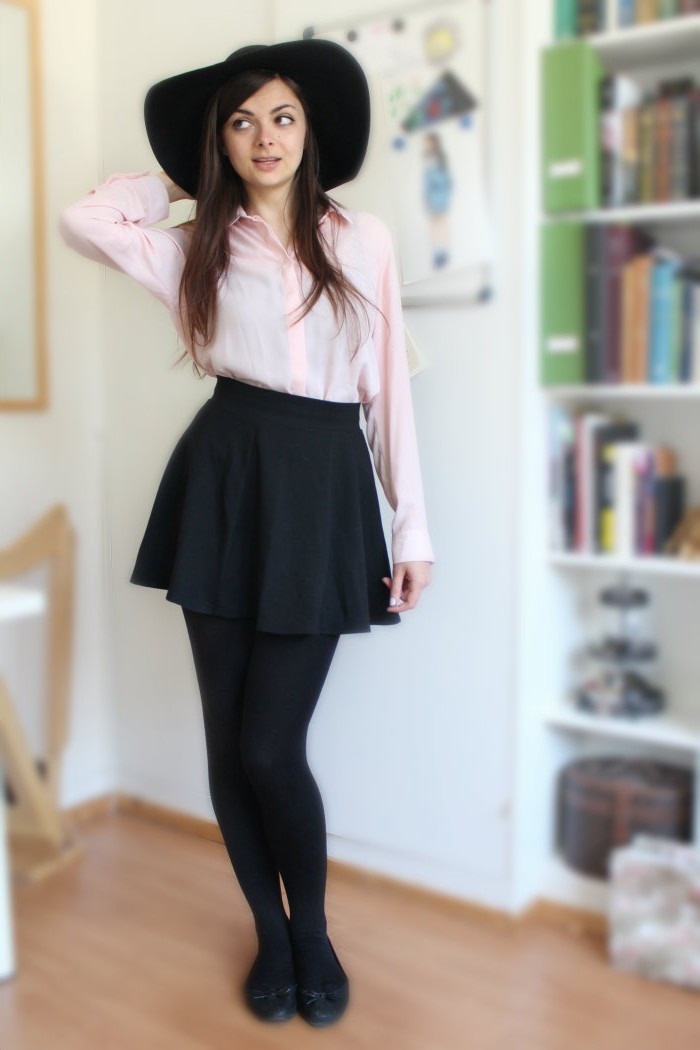 Hat, black tank, blush blouse, skater skirt, tights, flats.
I could've also worn the skirt with the grey shirt, the dress with just the necklace, the blouse with the dress, the cardigan with the longsleeve top…. I'm sure you get it by now; everything goes with everything. And I can't begin to tell you how awesome it feels to not have to worry about what you're going to wear in the morning! All you need to worry about is that you dress appropriately for the day's weather, and everything else is sorted.
I definitely recommend you to try putting together a capsule wardrobe next time you travel!