My phone case has been looking so sad lately. It used to be wood-print with white dip-dye at the bottom, which turned into yellow-dusty dip-dye, and the whole thing has big, white, scratches on it from when I'd put it in my bag along with my keys. I wanted to get a new phone case and I've been looking for one in several stores lately, but it turns out it's really hard to find a cute, inexpensive phone case for an older cellphone (I have a Samsung Galaxy SIII). And then it dawned to me; why not make my own? My old case is scratched, but otherwise perfectly fine, so why not just use it as a base for a DIY phone case? So that's exactly what I did, and I think it turned out really nice.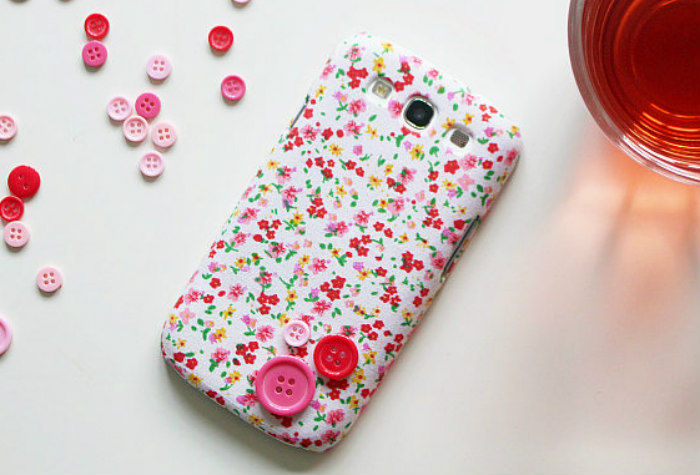 This is what it ended up looking like! I covered the case in a floral fabric and added some buttons to give it a cute, crafty feel. Let me show you how I did it!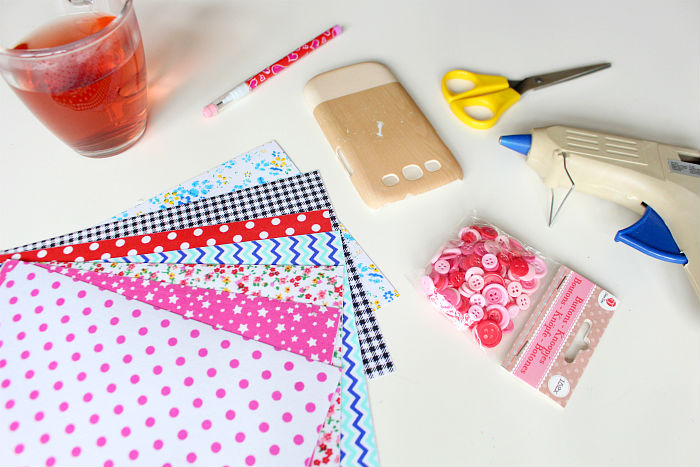 This is what you'll need. I found some self-adhesive fabric at Action for about €1,50, and I got my buttons there as well. If you can't find these things, use self-adhesive plastic sheets (might be a more durable option for a phone case than fabric anyway, haha!) and any embellishments that you like. You'll also need a hot glue gun, a pencil, scissors (I ended up using tiny nail scissors instead of these ones) and a phone case to use as a base. You can use an old one or buy a new, inexpensive basic one.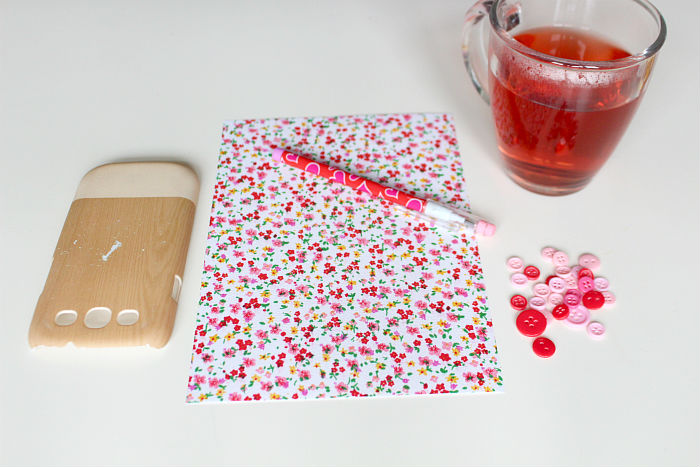 I chose this cute floral fabric to use.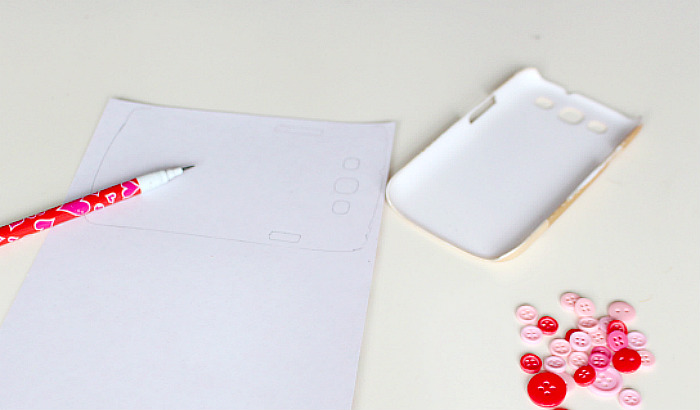 First, start by tracing your phone case onto the back of the sticker. Make sure to include the sides by rolling the phone case onto its side while tracing! And don't forget to trace all the holes for the camera & buttons.
Cut out your sticker, and cut out all the holes. Leave a little bit of a margin to flip around the edges of the phone case when you stick the sticker on, that will give a lot more of a polished look than seeing a little bit of the original phone case around the edges.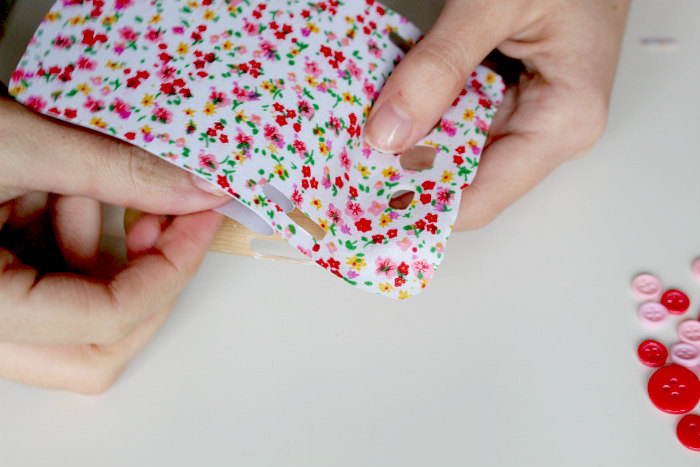 Next, allign your sticker properly and stick it onto the phone case. This is the hardest part, for sure. I ended up having to re-stick it about two times.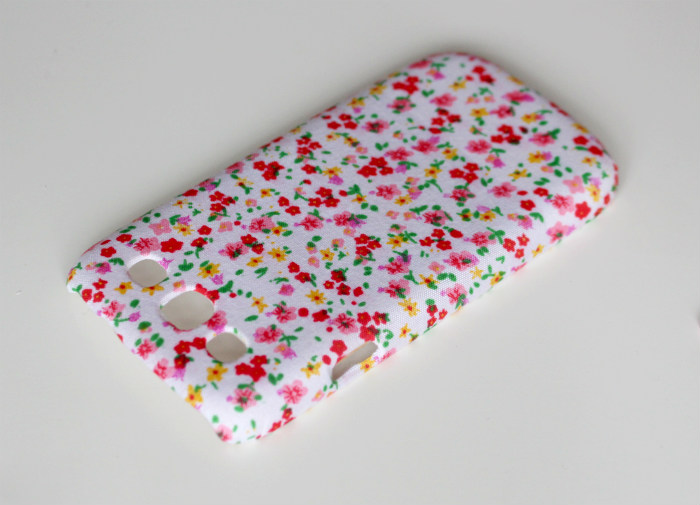 Wrap the excess material around the edges of the phone case, and you should end up with something that looks like this. Make sure to get rid of any air bubbles or creases in the sticker, and don't forget to press down the fabric onto the edges of all the holes.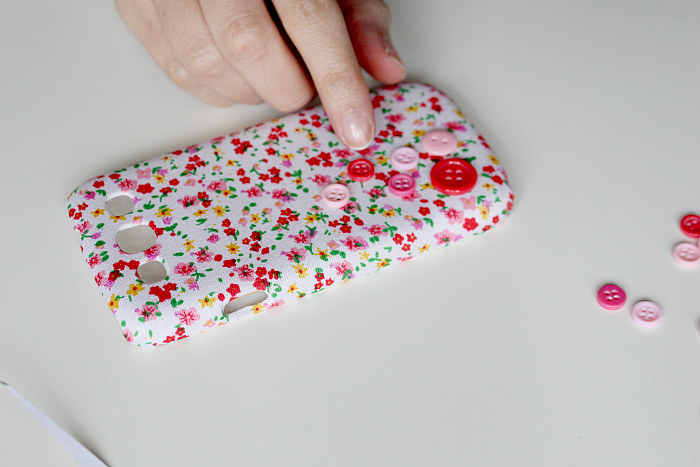 Next, it's time to arrange your embellishments. I went for little buttons and sat rearranging them for about 15 minutes before I found an arrangement that I liked. Play around with it!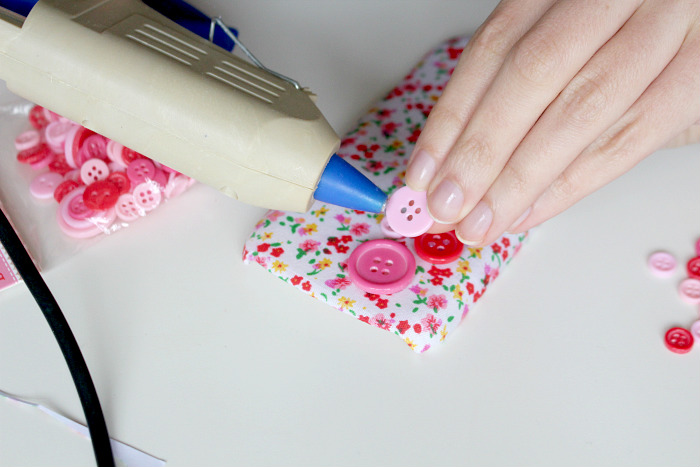 When you've finalised your design, stick the embellishments on with a hot glue gun, and you're all done!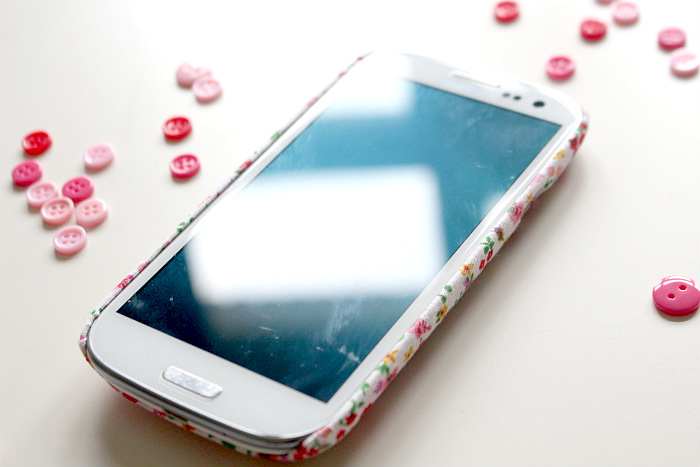 This is what it looks like from the front, when you've wrapped the sticker around the edges well.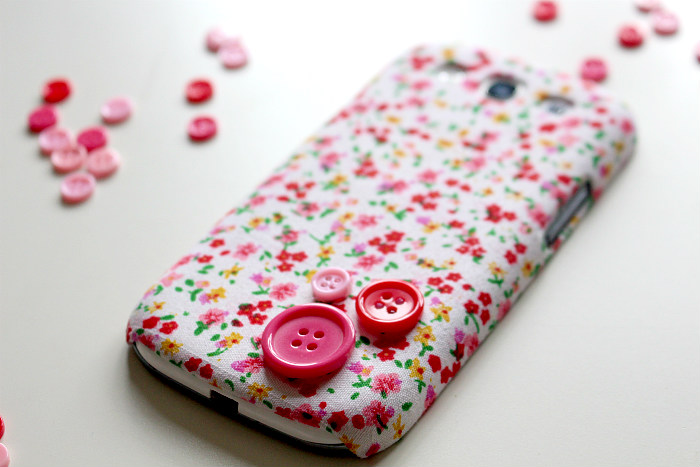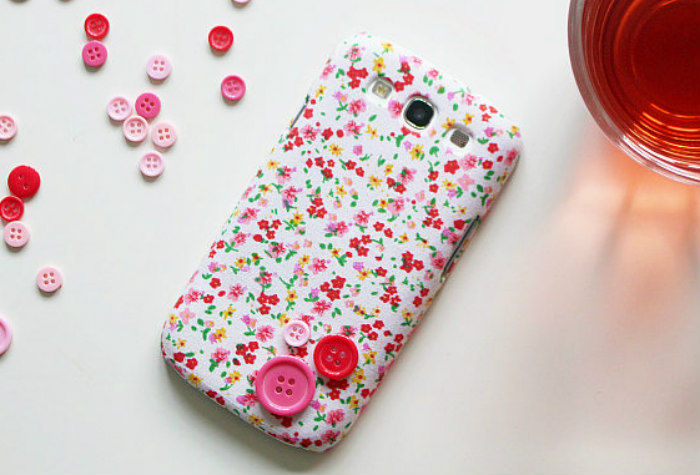 I LOVE my new phone case! I do realise that white fabric probably isn't the wisest choice for a phone case cover, but hey, maybe it'll surprise me. I've had it for over a week now and it's holding up well! I would advise you to use plastic though, if you can 😉