Snowy Gingerbread Apple Roses
A gorgeous image of apple roses has been sitting in my Pinterest feed for months, but for some reason I never dared to try to make them. Until now. And oh my, am I glad I tried it out! This recipe is actually really easy to make, and you can't beat how amazing these adorable apple roses look. I decided to tweak the recipe that I found for them a little bit, and make them more season-appropriate by adding some wintery spices and caramel. Guys, this is heaven. For real.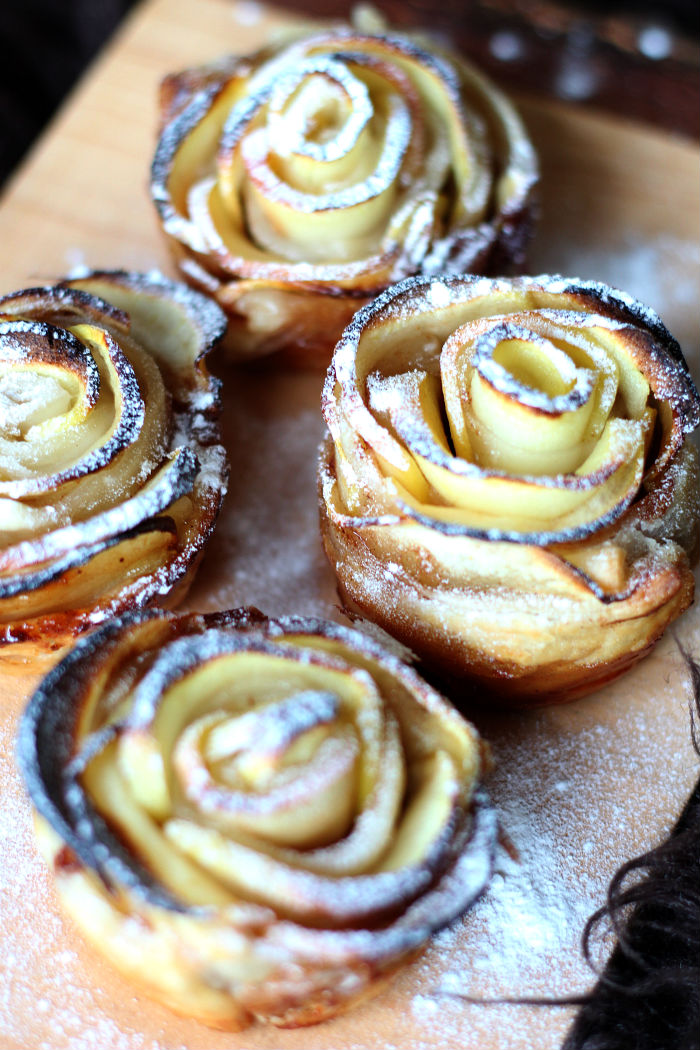 Ingredients

1 apple
4 sheets puff pastry
Sugar
Gingerbread/pumpkin pie/speculoos spice mix
Powdered sugar
I got four roses out of one apple, how much you'll be able to make depends on the size of your apple, how thin your slices are, and the size of your puff pastry. In the Netherlands, puff pastry comes in little squares. If yours comes in a large sheet, you'll have to adjust the procedure a little bit.
Snowy Gingerbread Apple Roses
Pre-heat the oven to 190°C.
Start by washing your apple, cutting it in half, and removing the core. Then, cut your apple into the thinnest slices you can make.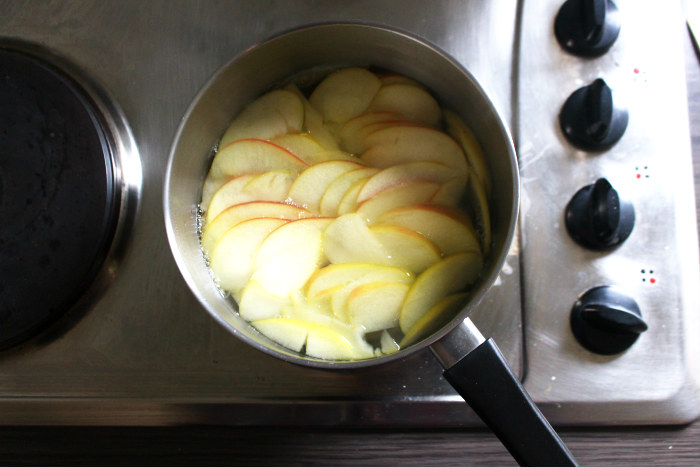 Cook the apple slices in a small pot of boiling water for a few minutes, until they're soft enough that you can bend them without breaking. Take them off the heat as soon as they're bendable, cooking them for too long will make them fall apart!
While you wait for the apple to cool down a bit, prepare your puff pastry. Stretch your sheet of puff pastry out until it's nice and thin, and cut it into strips. Since my puff pastry comes in little squares, I ended up cutting one in half and connecting the two halves on the short side, to make one long strip of puff pastry.
Now it's time to bust out the spices. Take your favourite kind of winter spice mix. I used "koek-en speculaaskruiden", which are used to make speculoos and are very similar to pumpkin pie spice. Gingerbread spices would also work awesomely with this recipe, or you could just use plain cinnamon.
Sprinkle a thin layer of spices onto the puff pastry, then go over with a layer of sugar.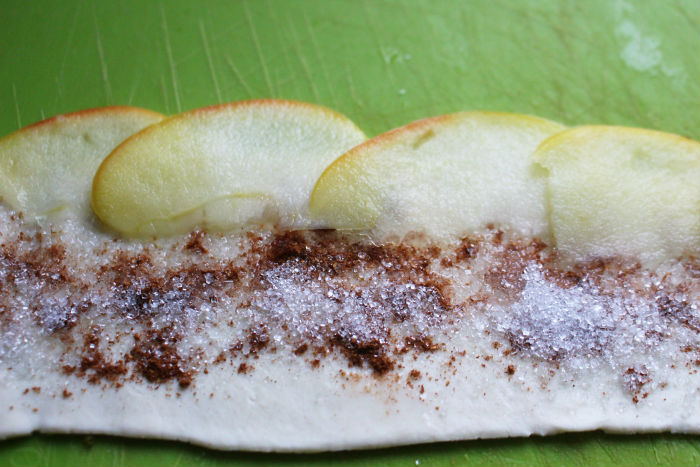 Now it's time to start placing the apple slices onto the puff pastry, so they stick out on the top. Make sure the bottom 1/3 of the apple is laying on top of the pastry.
Then, fold your puff pastry in half to lock in the apple slices and spices.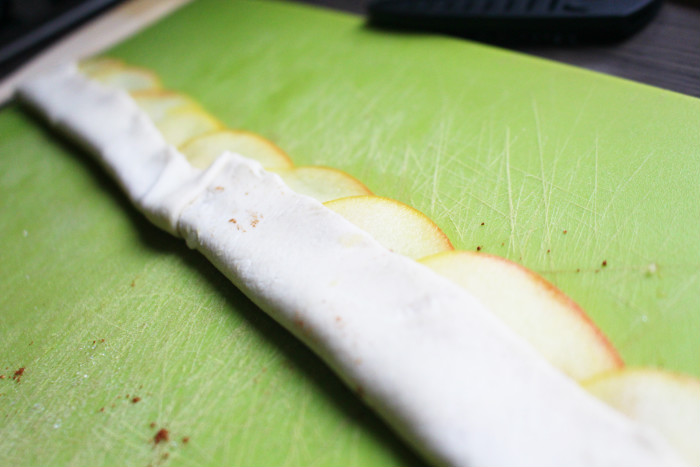 Now start rolling this up from one side, to form a little rose. Your apples should be soft enough to allow this. When you reach the end of your pastry strip, simply press the end of the puff pastry onto the roll to connect it. If it won't stick, wet it with a little bit of water first.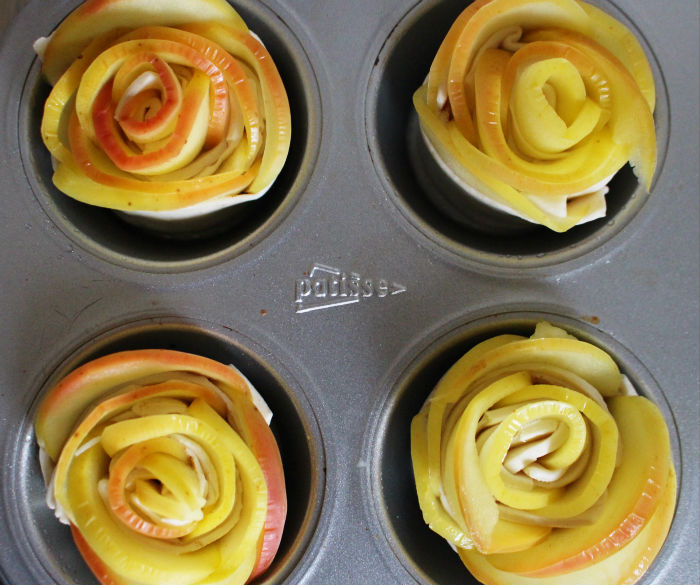 Grease a muffin tray and place your roses into it. This helps them preserve their shape. It also helps catch the caramel that will ooze out while it's baking, and form a gorgeous caramelly crust on the outside of your pastry.
Bake the roses for 20-25 minutes, or until all the pastry is done. Make sure to check the inside! If the roses are darkening too quickly, turn down the heat and bake a little longer.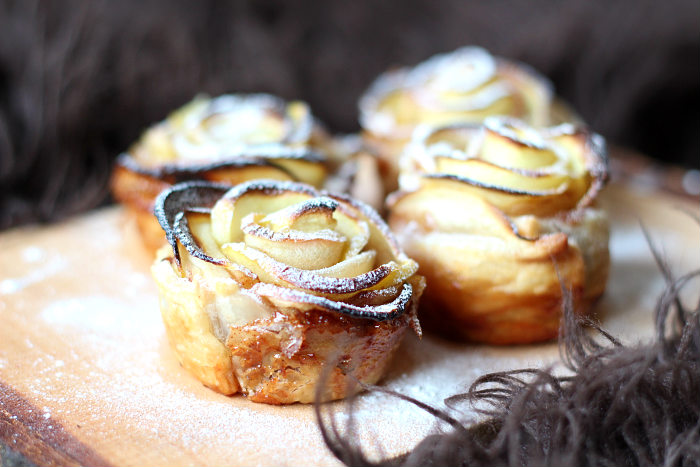 Since I'm a complete cave troll when it comes to baking, I burned mine. Oops. I swear to you I have never baked something from scratch successfully in my life… At least I can cook well, haha!
Anyways, these are really easy to make, and if you have a somewhat normal oven (mine isn't), you can make this. Even these burnt ones tasted absolutely amazing! The spicy caramel crust I mentioned is the best thing ever, and the combination with apple and puff pastry is just heaven. Plus, these apple roses look so gorgeous, they would definitely make heads turn at a party!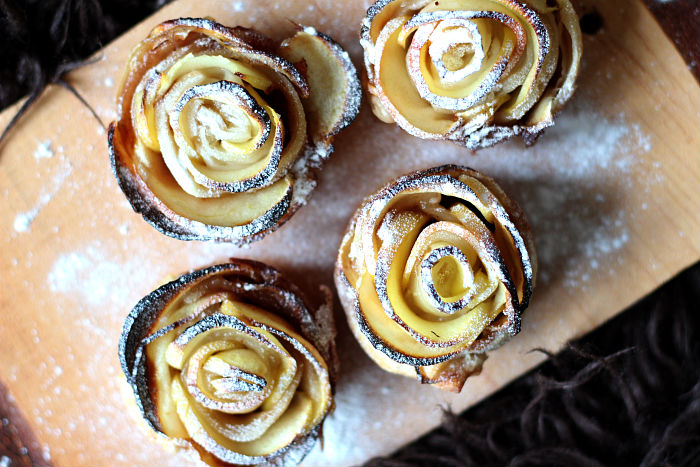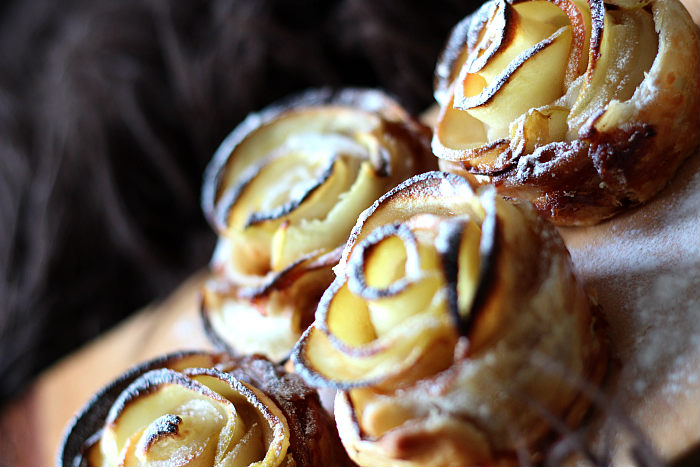 I really hope you try these out, they're definitely worth it. Good luck and enjoy!