Grilled Veggie Lasagna Recipe
It's recipe time! Last week I made this grilled veggie lasagna which turned out absolutely amazing, and I couldn't keep the recipe from you guys. I even measured out the ingredients I used this time, haha! Lasagna is one of those incredibly versatile dishes that comes in endless variations, so I thought I'd make one with grilled pepper and courgette. It's fully vegetarian and if you leave out the cheese and substitute the milk it can easily become vegan.
(Also, how did I manage to make such an incredibly ugly and hard-to-photograph dish AGAIN? I promise it tastes great, haha!)
Ingredients
12 lasagna sheets
3 peppers
1/2 courgette
250g passata di pommodoro
1 tbsp flour
200g grated cheese
1 small onion
1 clove garlic
1/3 cup milk
Olive oil
Oregano
Basil
Salt & pepper
Serves 4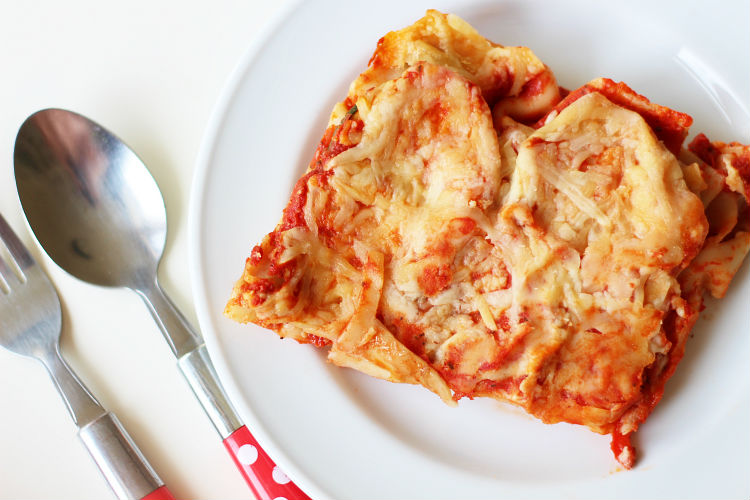 Lasagna consist of layers upon layers; I have four components in mine, which I make separately before I combine them and put the whole dish in the oven to bake.
Pre-heat the oven to 200°C.
Bring some water to the boil, add a little bit of olive oil, and place the lasagna sheets in in the water to soften. You can skip this step, the sheets should cook when you bake the lasagna, but my sheets had been sitting in an opened box in the cupboard for a while so I wanted to make sure they softened enough.
Cut your peppers into halves or quarters and grill them until they're soft. Cut your courgette into slices and grill those as well.
Heat up the finely chopped onion and garlic in a sauce pan, then add your passata (or tomato sauce) and the oregano, basil and some salt and pepper to taste. Heat over low heat to allow the flavours to mix.
Heat up about a tablespoon of olive oil in a sauce pan, then add the flour and keep stirring until it forms a thick paste. Then add the milk and continue stirring until the sauce thickens. Bring to a boil, then take off the heat. Stir in 2/3 of the grated cheese.
Now it's time to start assembling the lasagna! Begin by pouring a layer of tomato sauce into a baking dish. Cover the tomato sauce with lasagna sheets. How many you need depends on the size of your baking dish and the size of the sheets, I needed four sheets to fully cover one layer. Follow up with a layer of grilled pepper. Three peppers were just enough to make one whole layer in my baking dish. Next comes a layer of cheese sauce, I used mine up completely on this layer. Then comes another layer of lasagna sheets, followed by tomato sauce, and then a layer of grilled courgette. On top of that comes the last layer of lasagna sheets, the rest of the tomato sauce, and the rest of the grated cheese. Put the lasagna in the oven for about 20 minutes and you're done!
If your baking dish is a different size and you're left with ingredients, just keep layering them until you've used everything up. Always end with a layer of sauce and the grated cheese.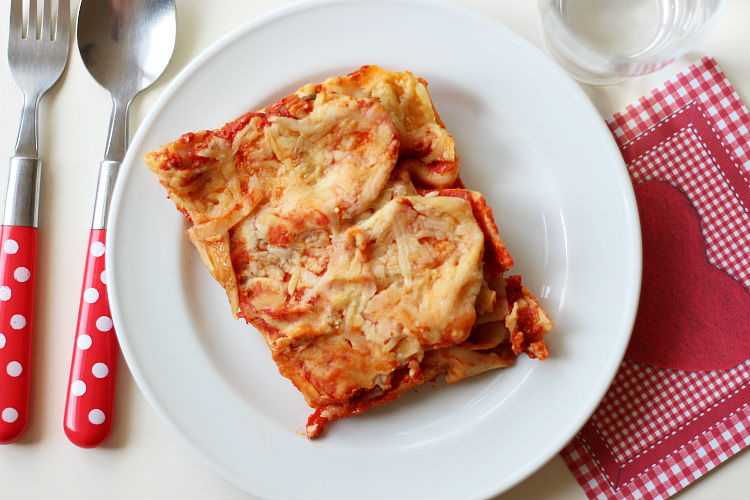 Enjoy your delicious home made grilled veggie lasagna, and let me know what you think when you try it out!