My Downsized Nail Polish Collection
Every now and then I get this unexplicable urge to clean and re-organise a very specific area of my house. It usually occurs when I should be doing something else, or after I've watched one too many decluttering videos on YouTube. One way or another, I found myself really fed up with my nail polish collection a while ago. I live in a tiny space so there's not much room for hoarding (although I do kind of make an exception for makeup). My nail polish lives in the bottom drawer of where I keep my makeup, and that drawer isn't particularly big. My polish hoarding habit is. The thing is; when are you supposed to throw away a nail polish? I store mine in a dark drawer so they don't go goopy for years. I literally still had nail polishes from when I was in elementary school, and the drawer was full to the brim so I hadn't really bought any new polishes in quite a while. I decided something needed to change, so I sat down with determination and weeded out about half my collection.
What I'm left with now is still a wide selection of shades, but no more dupes, super old ones, colours I don't like or never wear. And practically no glitter.
Dark Reds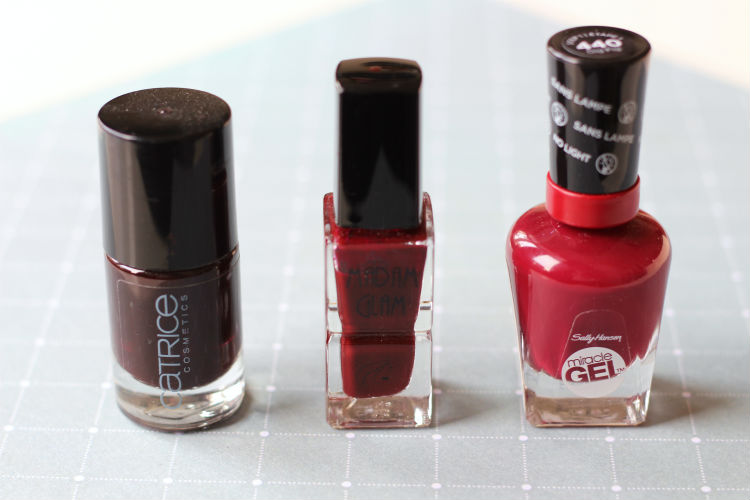 Starting with one of my favourite categories: dark reds! You'll see me wearing this a lot, especially during autumn & winter but really any time. I decided to keep three dark reds as it is something I wear a lot, and all three of them are distinctly different (ladies, back me up here. BF doesn't agree, haha!)
Catrice Ultimate Nail Laquer 090 The Devil Wears Red
Madam Glam Endless Passion
Sally Hansen Miracle Gel 440 Dig Fig
Bright Reds
Ok, I'll admit these are less distinctly different. But only on camera, that is! The first one is a beautiful bright red with tiny red glitter, that I love to wear around the holidays. In fact I kept it specifically for that purpose. The second one is the perfect creamy classic red, your typical femme fatale shade. The third one is a very unique colour that's stuck somewhere inbetween red and orange. I don't wear that one a lot but I kept it with the side-note that I need to wear that more. It's so pretty!
Catrice Ultimate Nail Laquer 550 Marilyn & Me
Madam Glam All Redy
Catrice Ultimate Nail Laquer 690 Fred Said Red
Purples
Now nobody can argue that these are all the same, right? I had a lot of purple polish but it's a colour I rarely ever wear, so I got rid of most of them. I decided to keep these three. The first one is a really nice bright purple that's super fun to wear in summer when you've got a bit of a tan on. The second one is, here we go, one I've had since elementary school. Yep, I kept it. I thought about this one for SO long, but you see… If you've been following me for a while I'm sure you've seen me in that silver/lilac bodice that I wear to fantasy festivals? This is the exact same colour. Perfect match. And I do wear it with that outfit. And I got it from my then best friend for my 12th birthday and it's nostalgic to me, ok? Hahaha!
The third one is a gorgeous nude-ish lilac that's very flattering on my skin colour and that I wear quite a lot in late winter/early spring when my pastel clothing comes out.
Essie 1018 DJ Play That Song
La Femme Beauty Nail Varnish 2 (?)
Madam Glam Sandman
Orange Tones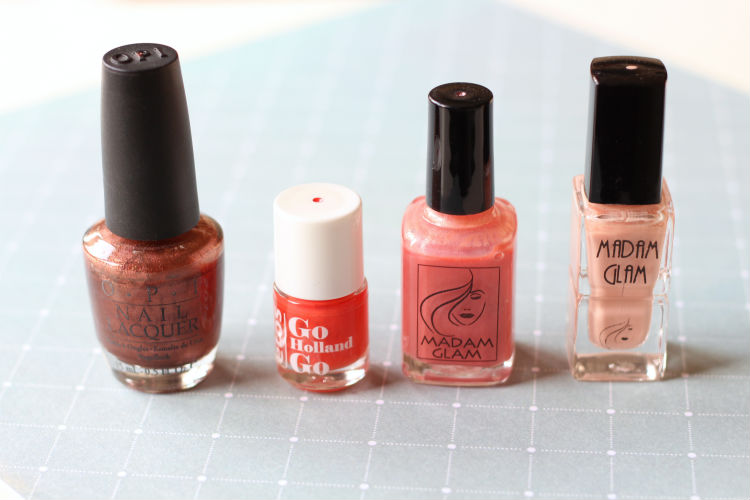 I don't wear very warm, orangy tones a lot, so I weeded out quite a few from the bronze and peach catergory as well, but decided to keep these. One beautiful, classic bronze from OPI. A perfect Dutch-royal-house-orange to wear on Kingsday or big sports events, one pinky peach and one peachy nude. Fair enough, right?
OPI Brisbane Bronze
Etos Go Holland Go Orange
Madam Glam Sangria
Madam Glam So Nude
Bright Pinks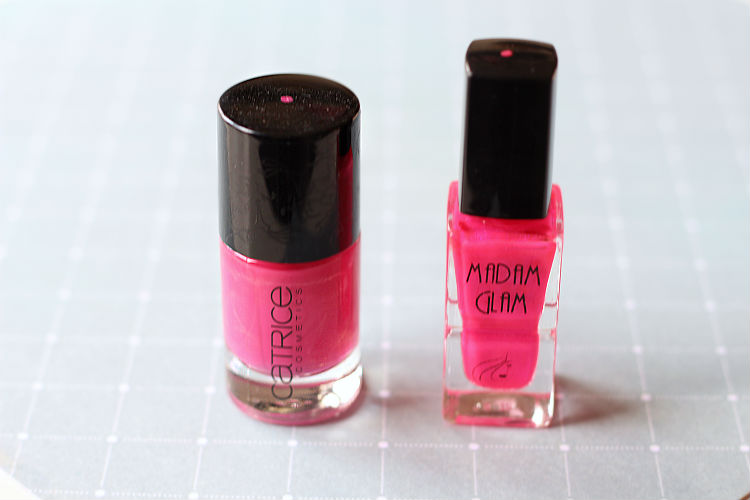 This category was dealt the biggest blow. I don't know why I had SO MANY bright pinks, when I rarely ever wear them. I got rid of all but these two. The first one is your typical fuchsia pink, that I had about 5 dupes of, and the second one is the brightest neon pink I've ever seen. Flashy for sure but really cool.
Catrice Ultimate Nail Lacquer Limited Edition Neo Geisha C02 Picked Cherry Blossoms
Madam Glam Hot Date
Soft Pinks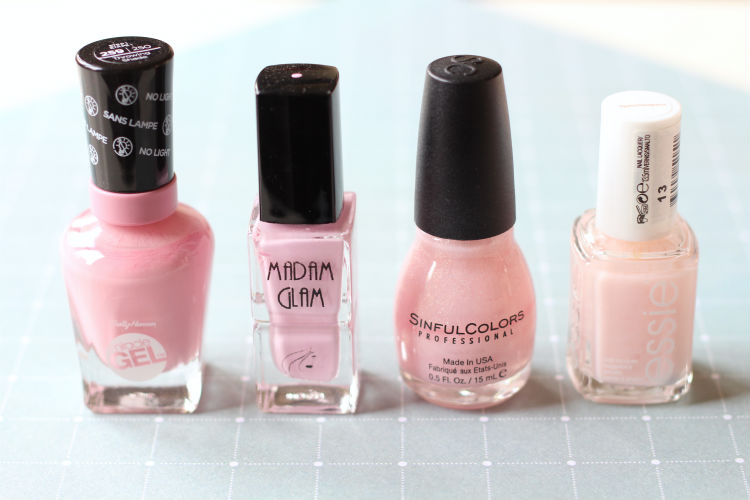 My second favourite category! I love my pastel pinks, along with nudes. I tried to only keep a few soft pinks and have no dupes. The first colour is a warmer pink gel polish, my newest addition to the collection. The second one is a much cooler pink.  The third colour has a slight golden shimmer in it, and the fourth one is a very sheer light pink I like to keep in my makeup kit whenever I have a client (especially when I do brides) in case somebody forgets to paint their nails.
Sally Hansen Miracle Gel 259 Throwing Shade
Madam Glam Happy Birthday
SinfulColors Glass Pink
Essie 13 Mademoiselle
Nudes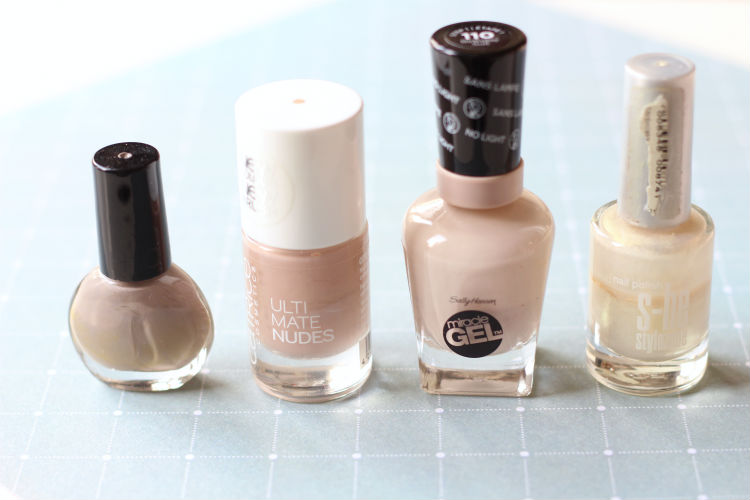 The nudes that aren't outright pink. Kind of. Haha! I love wearing these as well, they're suitable for any occasion and any season. I kept a greyish, brownish nude, a warmer nude, a cooler, more pink nude, and one nude with golden shimmer.
Sephora Lacquer Nail Polish L44 City Amazon
Catrice Ultimate Nudes Same Seine But Different
Sally Hansen Miracle Gel 110 Birthday Suit
S-he Stylezone 433
Golds
I don't know why I kept this many golds, guess I just couldn't part with them. Although essentially these are only two very different golds and a nail art set. The first one is a very warm, almost bronzy gold, while the second one is a much cooler, more mature gold. The thee polishes next to that are gold glitters, progressively getting finer. They make it really easy to do cool, simple nail art (like gold glitter tips <3)
Catrice Ultimate Nail Lacquer 910 Oh My Goldness!
Sephora Metallic Nail Polish M05 Fusion
Hope Girl Nail Travel Bling Bling Set Gold Shine
Greens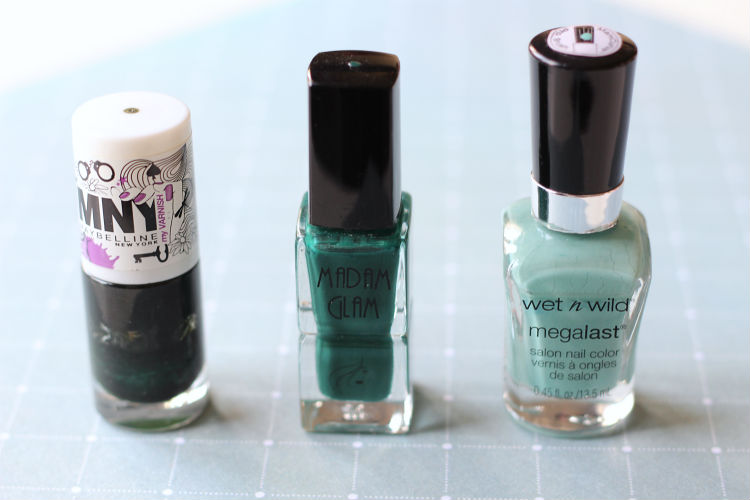 Green is one of those colours that I'm really drawn to in nail polish, but I rarely put on as it's a pain to remove. I had way too many green polishes so I'm proud of myself for slimming it down to three. The first one is a shimmery, dark green. The second one is more of a deep green with a hint of blue (?), it reminds me of marshes for some reason. And the third is the only mint I kept! Aren't you proud of me? I can't have been the only one that accumulated a whole collection of mint nailpolishes back when they were super popular. I still wear mine now that the trend is over but found myself reaching for this one the most, so this is the one I kept.
MNY my VARNISH 761
Madam Glam Heart Stone
Wet n Wild Megalast Salon Nail Color 218A I Need A Refresh-Mint
Blues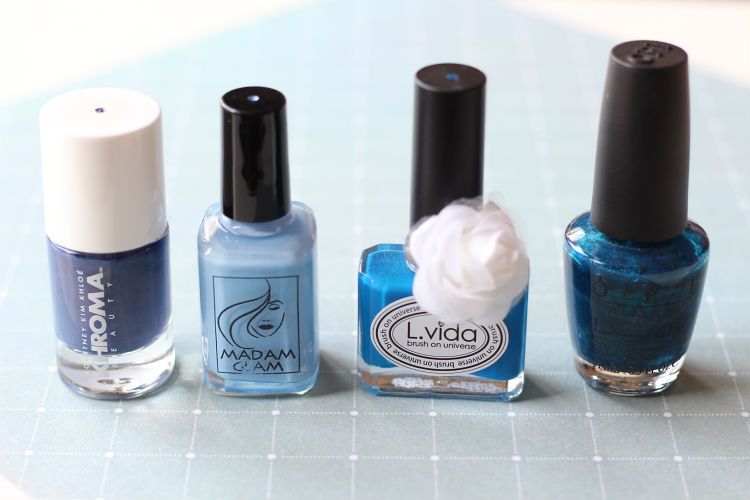 Same story as with the greens. Why did I have so many blue nail polishes? I kept a couple that I'm actually likely to wear, and they're all very different shades of blue. The first one is a purply, almost denim type blue. The second is a pastel, while the third one is a very bright blue. The last one is a GORGEOUS blue that looks like a shiny dung beetle on the nails. Doesn't sound very glamorous but let's admit those little guys are beautiful!
Khroma Beauty 812 Lapis
Madam Glam Sea, Swing & Sun
L. vida Brush On Universe Fashion Blue
OPI Yodel Me On My Cell
Top Coats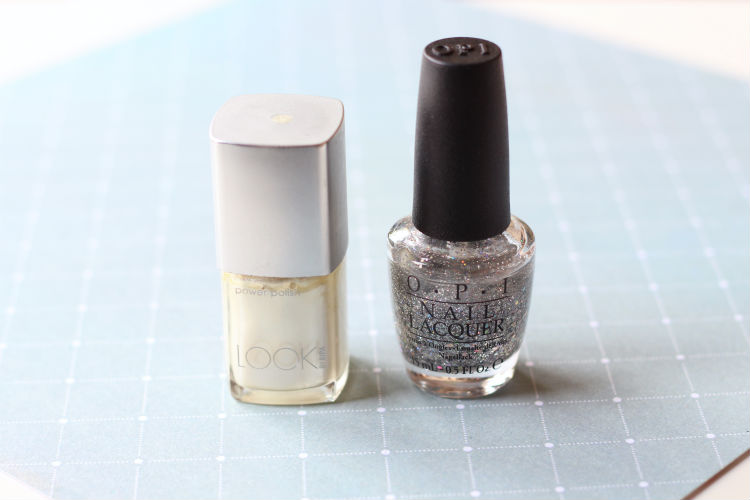 Obviously not the clear ones (I ended up keeping all my clear top coats, will use those up sooner or later), but I kept two polishes that are best worn over something else. The first one is a beautiful pearlescent colour that has next to no coverage but a gorgeous sparkle that works wonderfully over white, light pinks or nudes. The second is a flashy, over the top chunky glitter. It's good to have one of those, right? I do actually use this one every now and then, I wore it on NYE and I sometimes like to paint an accent nail with it.
LOOK By Bipa Power Polish 3 Shiny Snow
OPI In True Stefani Fashion
It seems like a large nail polish collection, spread out like this, and it is. It's definitely more nail polish than I need. But I'm so proud of myself for only keeping these and giving so many away (they have found very grateful new owners)! I think this is a lovely collection with more than enough to choose from and a little room for expansion. Perfect!