Artdeco Magic Fix Lipstick Sealer
Along with the lipstick and lipliner, there was one more lip product in the package I received from Artdeco. The one product I was most excited to try: the Magic Fix! This little bottle of liquid promises to seal your lipstick and make it longlasting, while also protecting it from bleeding,fading and transfering. I couldn't wait to put it to the test, so let's take a look at how it performs!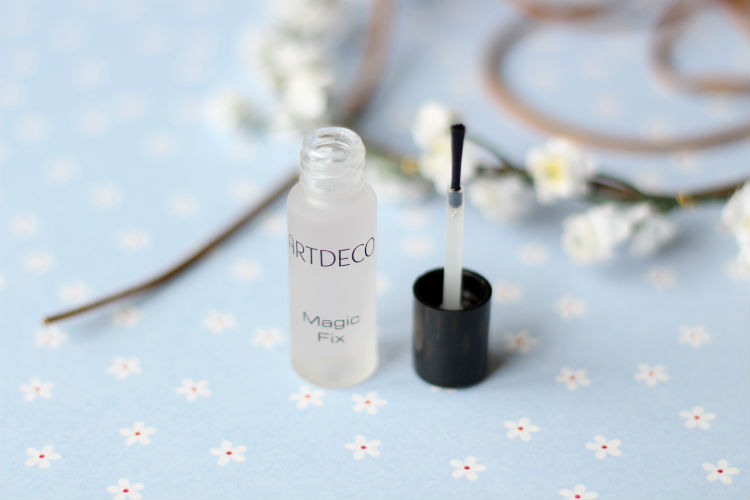 The product comes in a 5ml matte glass bottle, with a nailpolish-type brush for an applicator. The liquid strongly smells of alcohol, which isn't surprising as it's the first ingredient on the list.
Ingredients: alcohol denat., aqua (water), ethylcellulose, ricinus communis (castor) seed oil, silica, citrus aurantum bergamia (bergamot) fruit oil, lavandula angustifolia (lavender) oil, limonene, linalool
The lipstick sealer is mostly made up of alcohol, cellulose, and oils. I'm guessing it's the cellulose that does the sealing, and the oil that provides the promised nourishment.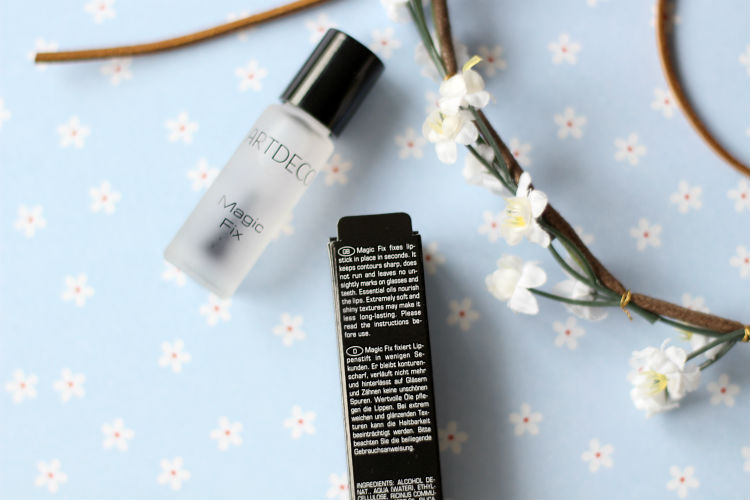 "Magic Fix fixes lipstick in place in seconds. It keeps contours sharp, does not run and leaves no unsightly marks on glasses and teeth. Essential oils nourish the lips. Extremely soft and shiny textures may make it less long-lasting. Please read the instructions before use."
Inside the box there's a little leaflet with instructions in several languages:
"1. Apply lip liner and lipstick as usual in one or two layers. Let the lipstick soak for a few seconds and then blot lips onto a paper tissue to take off surplus color."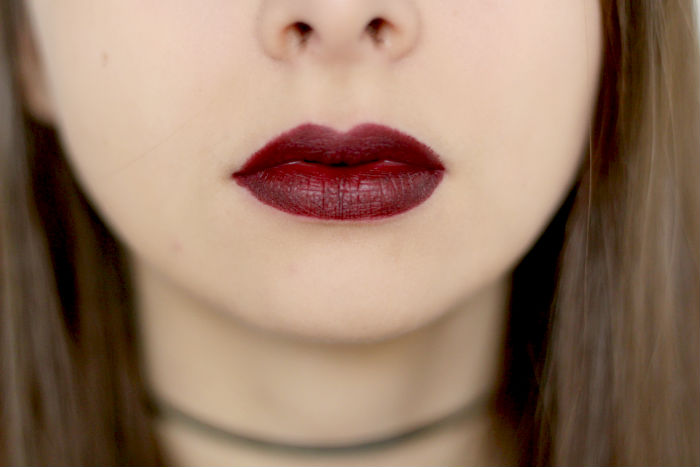 I decided to go for a nice dark colour with not too creamy of a texture. This is Essence Matt Matt Matt 08.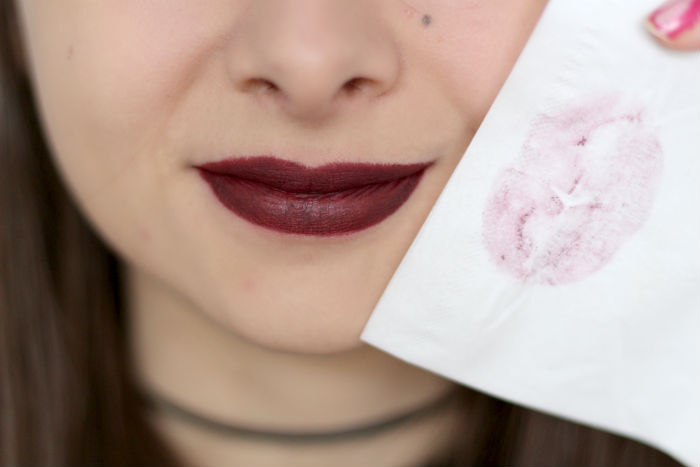 "2. Apply Magic Fix in one stroke exceeding the lipstick contour. This will prevent your lipstick from bleeding. You will feel a slight tingling sensation which is caused through the evaporating alcohol contained within the product.
3. Wait a few seconds – keeping your lips slightly parted – and allow Magic Fix to dry. On very creamy lipsticks, a second coat of Magic Fix should be applied. Let Magix Fix dry for a few minutes. Then moisten your lips slightly with your tongue."
Oh man, it stings. I don't have sensitive skin at all and even I found this quite unpleasant. Luckily the stinging doesn't last long.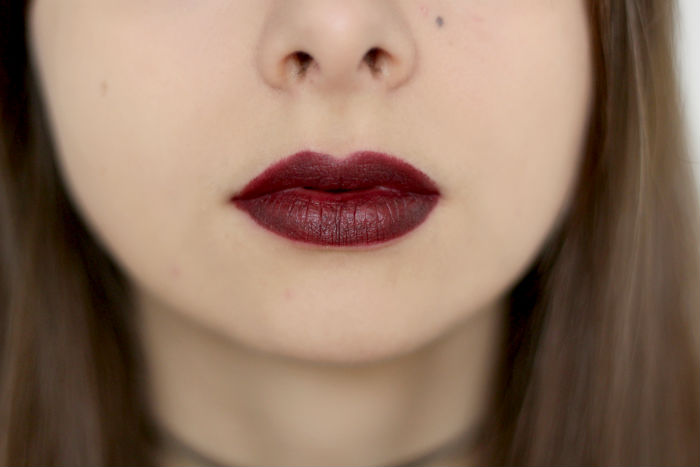 I wasn't able to coat my whole lips in one stroke. Not even close. The brush blurred the lipstick around the edges slightly through my going over it a few times, but the blurring is not too bad. After applying the Magic Fix, my lips felt very dry, but that feeling goes away after you lick your lips.
The Magic Fix can be removed with oil on an oil-based makeup remover, and the leaflet warns against eating oily food as that will remove the Magic Fix. I decided to eat a slightly oily meal anyway, just to see what would happen.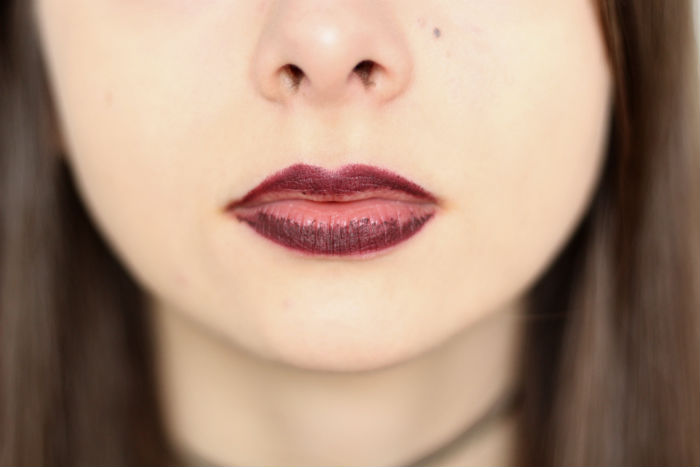 A chili-stuffed sweet red pepper with guacamole later, this is what my lips look like. What a strange look! You can see the Magic Fix was clinging onto my lipstick wherever it could, as it's either completely gone, or perfectly on. There's no fading anywhere. So even though this really doesn't last through a full meal, I'd say this is a good sign!
I put the Magic Fix to the test a second time, this time over my NYX Liquid Suede in Soft-Spoken. And I vowed not to mess it up with avocado-slathered chili. I have to say, it did well! It really stops lipstick from fading and bleeding; when it's on, it's on and it doesn't come off until you bring it into contact with oil.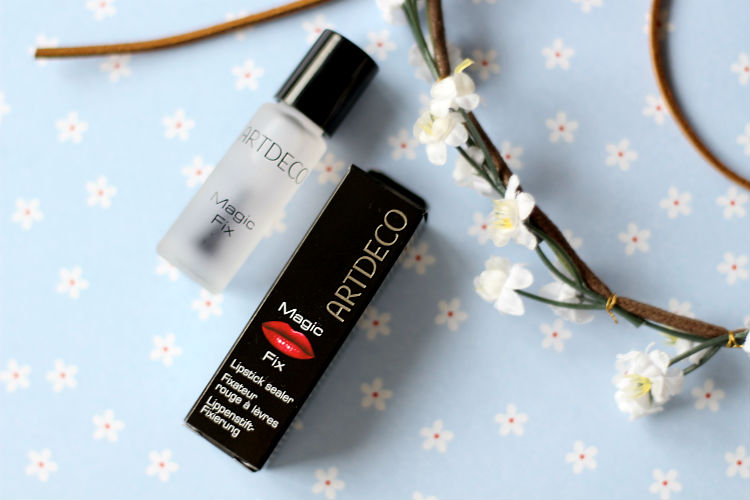 In terms of making lipstick more long lasting, I'm not sure how I feel about this. As long as you don't eat or drink too much, it's a little more longlasting than lipstick on its own. What it does do really well, is protect the quality of your lipstick. It really guards your lipstick from fading through talking etc, which would normally occur. However, the application is quite unpleasant. The brush is too small to use in one swipe, which means you risk fading the lipstick out around the edges when going over it. I could also do without the tingling and drying afterwards. So, does the product work? Yes, until you eat something oily. Is the unpleasant minute of application worth it? Maybe. I'd use it on a night out when I don't plan to eat too much and want to make sure my lipstick looks nice all night. I definitely wouldn't use it every day.
(PS: I went for a nice spring theme here. I'm done with winter.)