Bath & Body Works Candle Haul
The store I regret not having in the Netherlands the most isn't Sephora, nor Victoria's Secret… It's Bath & Body Works. Yep. Since my first days on YouTube, I've always admired the cute scented three-wick candles in pretty much every beauty guru's background. Elle and Blair Fowler's Bath & Body Works candle hauls were among my absolute favourite videos ever and I've always said if I ever made it to the USA, Bath & Body Works would be the first place I'd head to, to fill up my suitcase with their famour scented candles. A few weeks back, I got an opportunity to shop there from my little home in the Netherlands. A package forwarding company called myMallBox offered to let me try their service and have a package delivered from the USA to the Netherlands. As soon as I read the email I knew what I wanted to do with this opportunity, haha! I'll tell you more about how the service works later, first let's take a look at what I bought at Bath & Body Works (still can't believe I'm saying this. That place is like Narnia to me)!
White Tea & Pear Scented Candle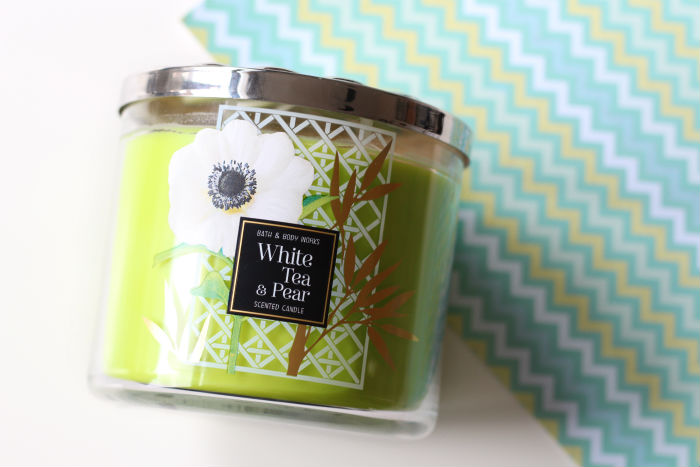 Fragrance notes: sweet white tea, crisp bartlett pear, sparkling bergamot
Ta-dah! Here it is, my first ever real Bath & Body Works three wick scented candle, in the flesh. I spent literally hours in the webshop, trying to decide which one to get. I went for this one in the end; the White Tea & Pear scent. The description sounded like heaven and I'm happy to report the real-life scent doesn't disappoint. It's a super fresh and light springtime scent that's very pleasant, exactly the way I like my home scents. You have no idea how excited I am to prop this up in the background of my videos, haha!
I love the jar itself as well, with the pretty lid and the cute design on the side. When I burn this up, the jar will definitely be repurposed one way or another.
White Barn Pure White Cotton Scented Candle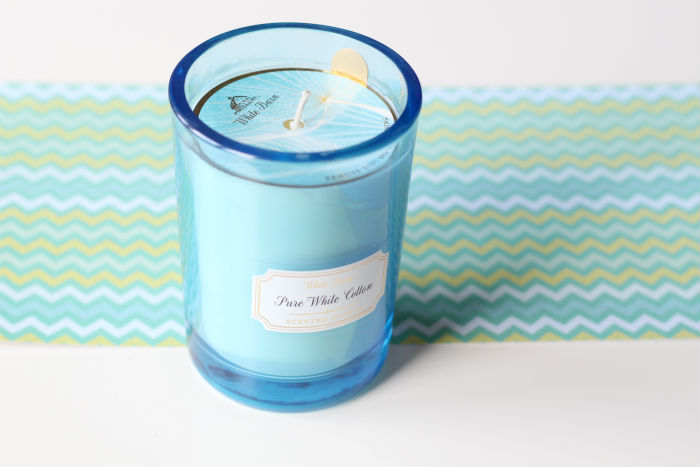 Fragrance notes: white cotton blossom, anjou pear, soft gardenia petal, warm vanilla
It's amazing how they manage to make the scents sound delicious. This is another very fresh, clean smelling candle, perfect for every day. This one-wick candle is a lot smaller than the three-wick candle and a lot more similar to the candles I'm used to finding over here in Europe 🙂 I'm in love with this scent! The jar it comes in is gorgeous as well, I love how classy the labels look on the White Barn collection.
White Barn Mahogany Teakwood Scented Candle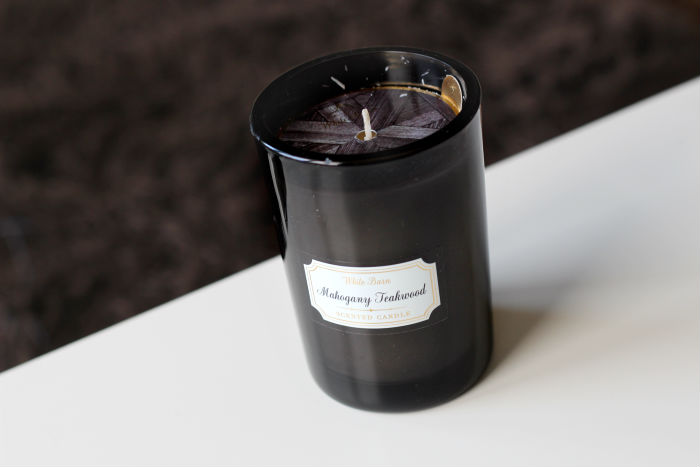 Fragrance notes: rich mahogany, black teakwood, dark oak, frosted lavender
I wanted to get something completely different as well, so… This candle smells like a hug from a man. It has all the notes you typically find in men's perfume, and I love it! The scent is very warm, woodsy and mysterious. When I'm not going for the fresh, white floral-type scents, this is exactly what I like in a scented candle. It's a really delicious blend.
Aromatherapy Sleep Lavender Chamomile Pillow Mist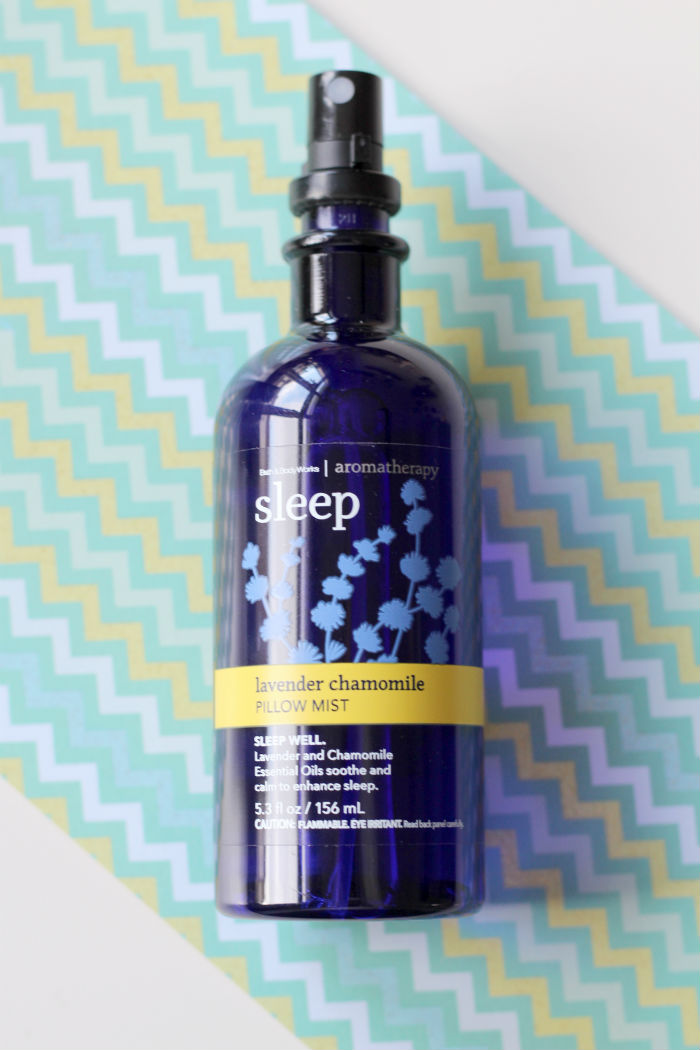 Lavender and chamomile essential oils soothe and calm to enhance sleep
Pillow mist is something I've been curious about for a while. You spray it on your pillow or sheets and the scent from the essential oils is supposed to help you relax and fall asleep. The Aromatherapy line happened to be on sale at the time I was browsing the website, so I decided to add this lavender & chamomile spray to my cart. I have an essential oil blend that contains lavender and chamomile that I love, so I thought I might like this one as well. And I do! The scent is very pleasant and relaxing indeed, I think this will be amazing when I'm having a bit of anxiety or after a stressful day.
I'm not sure whether I just got super lucky that I love all the scents I ordered, or that all Bath & Body Works scents are just amazing, but there's literally not one item in this haul I regret buying even the slightest bit.
MyMallBox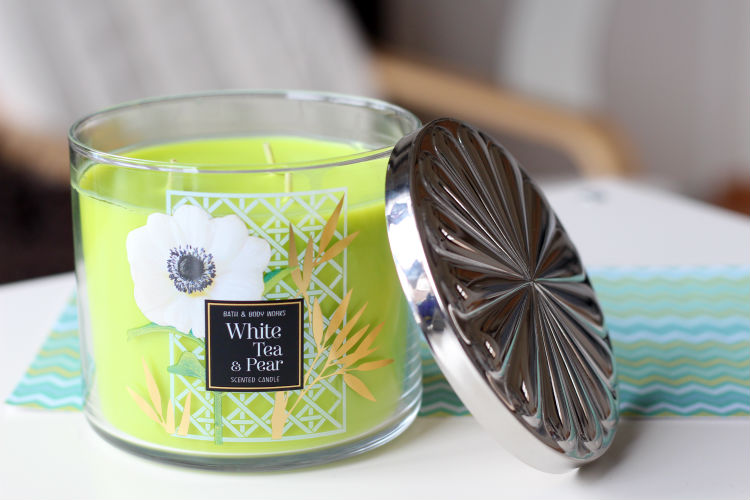 Alright, so how was I able to get these items to Europe? Like I mentioned at the beginning of this post, myMallBox offered to let me try out their package forwarding service. How it works is you sign up at their website, and you get assigned a suite at an address in Delaware, USA. You can order from any US webshop, and have the package delivered to your suite. MyMallBox can then combine or consolidate your packages to cut down on shipping costs if you like, and then they send the package to your home. This means you can order from US webshops from anywhere in the world, even if they don't offer international shipping! And I can tell you, having access to all of these stores that were completely out of reach before is loads of fun.
A word of warning: be sure to read the terms & conditions before ordering anything to make sure myMallBox can ship it overseas! I was a bit silly and didn't pay good enough attention… I ordered a few of Bath & Body Works' famous scented hand sanitizers along with the candles, without realising these are catgorised as "hazardous chemicals" and can't be exported… Oops! MyMallBox sent me an email to let me know they couldn't ship that item so it didn't come as a surprise, but it was still an inconvenience that could've been prevented had I read their list of prohibited items. Beware of that!
Also, read up on your country's import policy. I had to pay taxes for importing items from outside the EU. Be sure you know what you can expect beforehand.
When you're all read up on regulations on both sides, myMallBox offers a great opportunity for shopping in the US from your home. Their service was super quick, they reacted to all my actions within 24 hours (that is, asking for consolidation of the package and requesting shipment). Having something shipped overseas is of course a bit pricy, but myMallBox' rates are very competitive compared to other similar services. You can calculate the shipping costs beforehand if you know approximately how large and heavy your package is going to be, so you'll know what to expect. You can also choose from several different shipment methods. This company is definitely worth checking out if you're looking for a similar service!
If you're interested in trying it out, I have a referral code for you: if you sign up through HERE, you get $5 credit to your account, and so do I. Win-win, aye? 🙂
This post is kindly sponsored by myMallBox.