Ginger & Honey Marinated Tempeh
A while back I noticed I was eating quite a bit of soy. Soy milk is my favourite milk alternative, soy yogurt is my favourite yogurt alternative, most veggie meats are soy-based, I love me a big pile of edamame with my sushi… I remembered something about a controversy surrounding soy so I hopped online and read some different opinions on it. I concluded I wasn't eating that much soy, not enough for it to become a problem in any case. You'd need to eat a load of it to run into any issues. That's great to know, but I also found out that as with any food, the less processed soy is, the better. Many of the websites I visited recommended replacing tofu with tempeh. Tempeh is a brick of fermented soy beans, and it's one of the least processed and healthiest ways to eat soy. It's full of proteins and probiotics! I was pretty sure I'd had it before in my life but couldn't really remember the taste. I'd never prepared it myself, in any case!
So I went out and got myself a block of tempeh. I did another quick online search to see how people prepared theirs, and noticed it apparently does best in Asian-style dishes. Most people recommend marinating tempeh to improve the flavour, so I whipped up a quick marinade of things I thought would work well. I could hardly believe how amazing this came out! I feel like I hit the jackpot on my first try. This marinade is delicious, it has that amazing balance of sweet, sour and salty. I highly recommend you give it a try.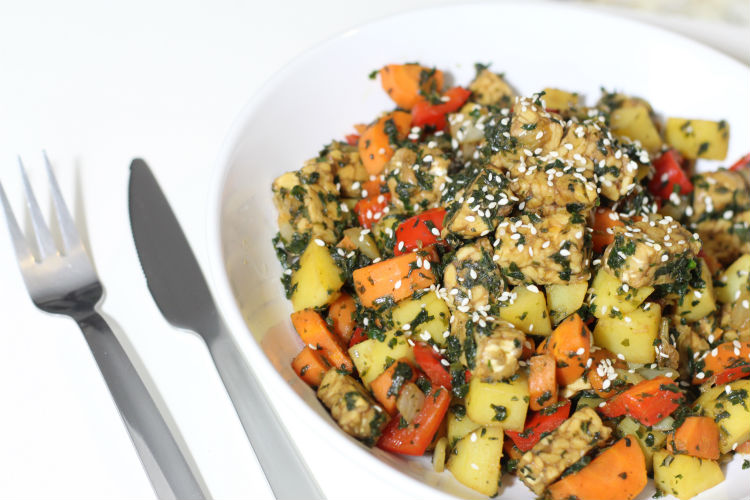 Ingredients
150g tempeh
2 tbsp soy sauce
2 tbsp balsamic vinegar
2 tsp honey
1 large clove of garlic
piece of ginger the same size as the garlic clove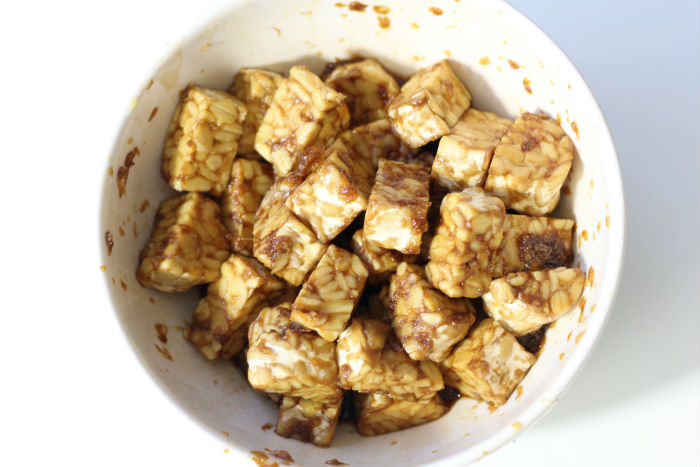 Combine the soy sauce and balsamic vinegar in a bowl. Add your honey, and grate in your clove of garlic. Peel the ginger and grate that in as well. Stir everything together well. Cut your tempeh into cubes and stir into the marinade. Let sit for at least 10/15 minutes, giving it the occasional stir. You can prepare all the other ingredients for your dish while you wait for the tempeh to marinate.
Stir-fry the tempeh in a bit of oil for about 5 minutes, with the marinade.
If you want to make this vegan, you can replace the honey with a tsp of sugar or a plant-based syrup.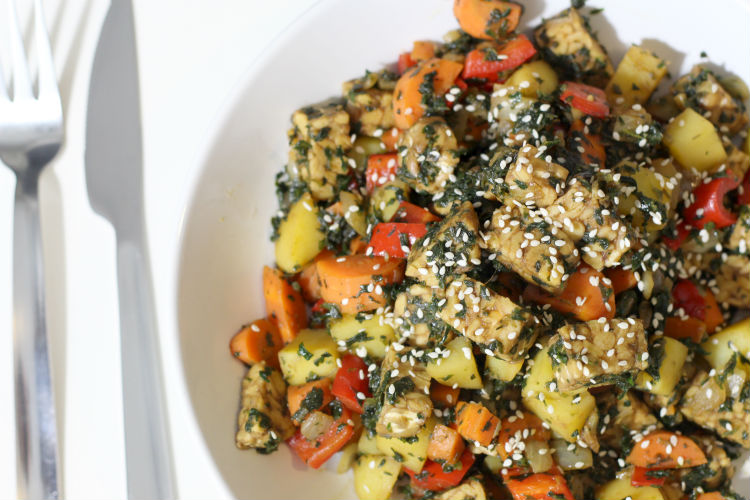 I paired my tempeh with some leftover veggies I had in my fridge, and combined everything together in a quick stir fry. The marinade gives off amazing flavour so you won't need anything else to flavour your dish. This would be amazing with some noodles or fried rice as well! You can definitely experiment with the ingredients you pair this tempeh with.
Enjoy!