l'Oréal Colorista Spray Review
A few weeks back I tried the l'Oréal Colorista Washout in #DirtyPink. Despite the warning on the back, I was stubborn, and wanted to see whether it would turn my dark hair pink at all. It didn't. However, there's still hope for us dark-haired ladies that want coloured hair without bleaching first. The Colorista range also contains a few coloured sprays, that offer one day of brightly coloured hair on any base colour. They wash out after one wash so they're super temporary. I'm going to give them a go today, and let you know what I think!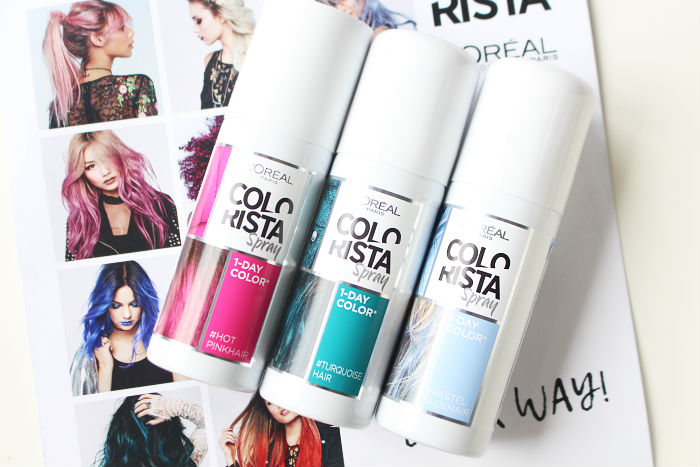 l'Oréal gave me three of the Colorista sprays: #hotpinkhair, #turquoisehair and #pastelblue hair. The pastel colours from this range are more geared towards blonde hair, but should still work on dark hair. I'm going to try them all! My personal little goal is to create the mermaid hair look, which I think is really cool. I'm naively going in without a plan and going to try to get the look by just spraying random strands of hair with the different colours. Let's hope that works.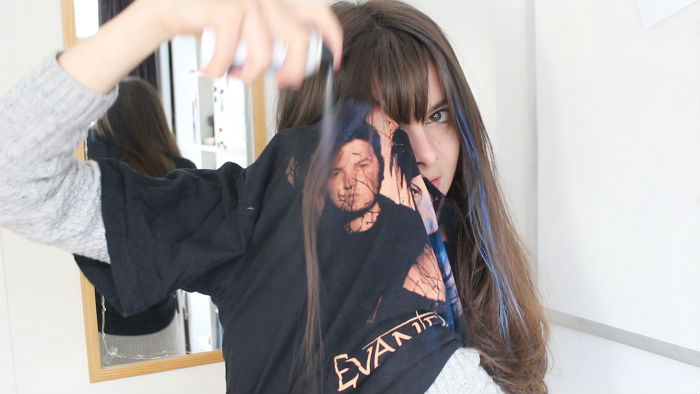 Starting with #pastelblue, as I'm most curious to see how this one will perform on dark hair. Before you get started, make sure to drape a towel over your shoulders or wear an old T-shirt. It's going to get messy. I donned my good old Evanescence hair dying tee, and used it as a spray shield.
Right away I was super impressed. Look at that colour payoff! For a colour that's made specifically for blondes, it performs incredibly well.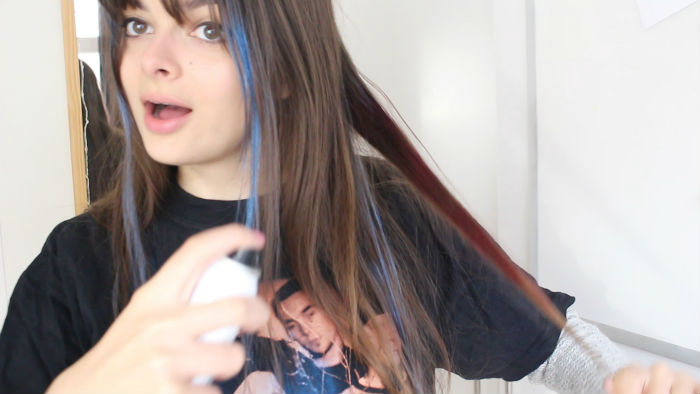 Let's try #hotpink, then. This one looks really good as well! It definitely comes out as a true pink. Much better than what the dye gave me, haha!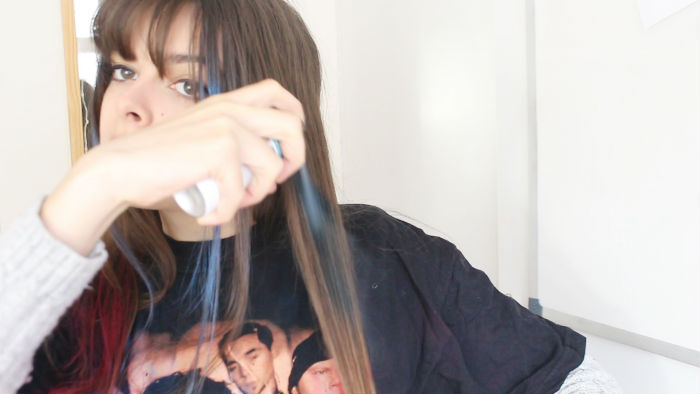 Moving on to #turquoise. Just like the other two colours, this one performs very well. It gives an intense colour payoff.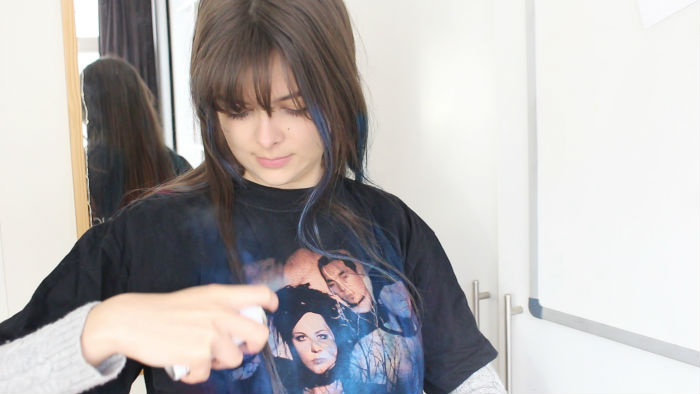 The spray comes out of a little nozzle, which makes it pretty easy to control where you're spraying. I found it easiest to spray from really up close as you lose the least spray that way and get an intense colour right away.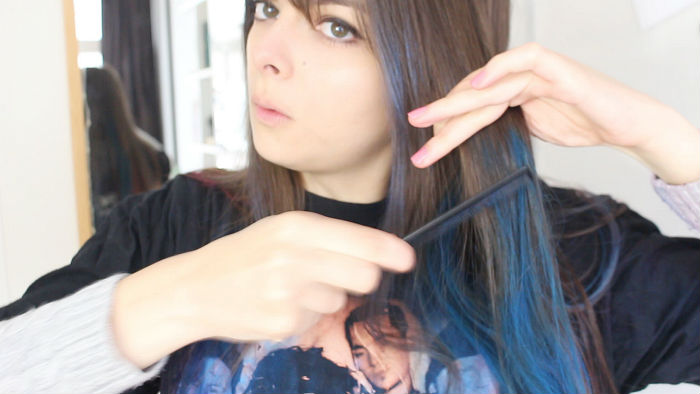 When you're done spraying, you're supposed to give your hair a minute to dry, and then brush it out. Be careful when doing this, the hair sticks together because of the dye and it's a bit hard to comb through. Also be sure to use a plastic comb that you can wash afterwards, you will get a lot of colour transfer. Brushing or combing the hair does make it look a lot better though, so I don't recommend skipping this step.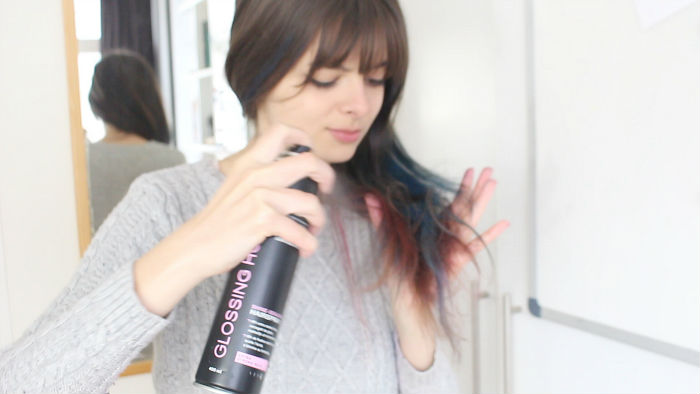 After combing, go over your hair with a layer of hairspray to seal the colour in and prevent it from transferring to your clothes.
And here's my finished look! Errr… Hahaha I'm pretty sure the "random strands method" isn't the right way to go about achieving mermaid hair. If you're going for something more complicated like what I was trying to do, it may be better to ask a friend to do it for you. Go in with a plan, people. If you just want to cover the bottom of your hair or some strands with one colour, you can do it yourself perfectly well. The spray is really easy and straightforward to use. The only thing I struggled with is getting it to "blend" nicely so it wouldn't look blotchy or have a straight line at the top. I think blending nicely should be possible to do by gradually spraying from further away as you move up to create a gradient, but that'll definitely take some practice (or experience with graffiti sprays).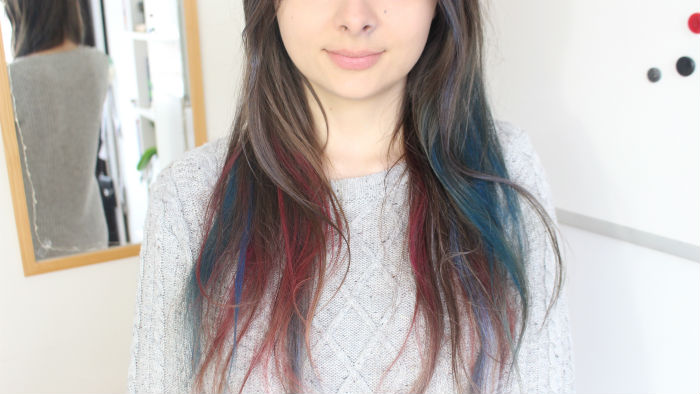 I'm super impressed by #pastelblue! I actually think that might be my favourite one, as it's the biggest contrast with my natural colour which really makes it stand out. The other two definitely look great too, though.
Don't wear light clothing under this, as it will transfer through friction or when it gets wet. I tried to fishtail braid my coloured hair before going out the door to get a bit more of a subtle look, but I'm afraid more of the colour ended up on my hands than what stayed in my hair. When I went to wash my hair in the evening, the colour was completely gone in three shampoos.
Final verdict? Positive! I think this is a very fun, easy and approachable way to have bright hair for a day. It's just a spray coating so don't expect it to last or not transfer. The colour payoff is amazing though, and makes it worth it in my opinion. I would definitely use this again!
l'Oréal Colorista Spray is available at drugstores for around €8.