Trying Pink Colorista Washout On Dark Hair
Last week, l'Oréal invited me to the Dutch launch of their new Colorista range: a set of hair dyes, temporary hair dyes, and coloured hair sprays to easily give hair a fun colour at home. I love this concept and I think they're right on time with launching this: fun, unnatural hair colours are very fashionable at the moment! I'm happy to see them so easily accessible in drugstores.
They gave me a few items from the Colorista range to try out, among which was this Colorista Washout temporary hair dye in the colour Dirty Pink. I was specifically given a goodie bag for dark hair so even though the packaging says this colour is meant for blondes, I was curious to see whether it would maybe work on my dark hair, even just a little. I decided to hold off trying the bright turquoise dye they also gave me a little longer and start by giving the more subtle Dirty Pink a try. Not just to see how it would show up on my hair, but also to try the dying process with a colour that can't go horribly wrong. Alright, let's go!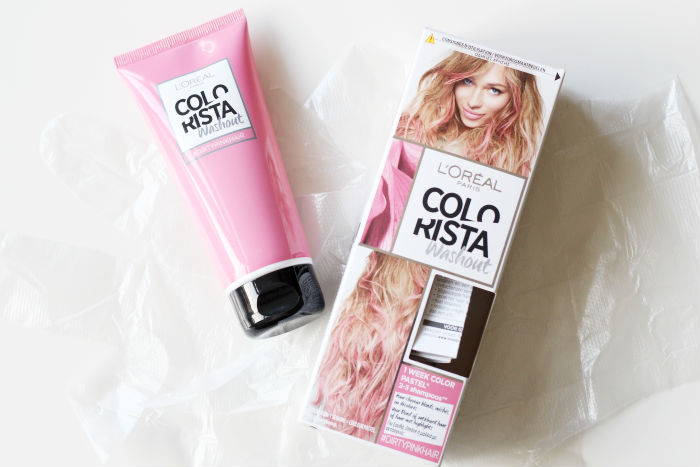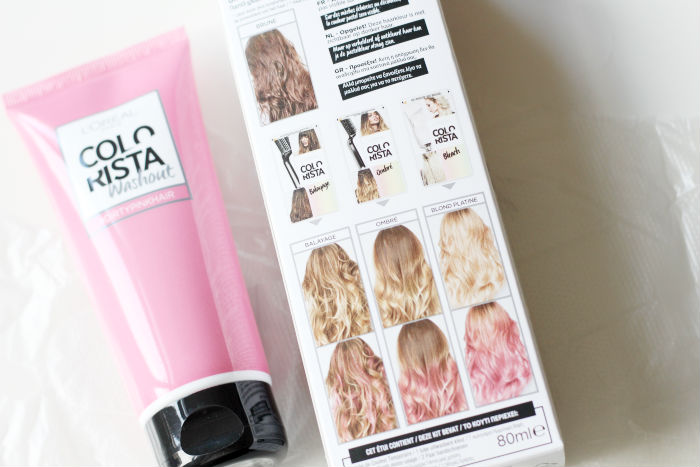 In the box, you get an instruction leaflet, two sets of plastic gloves, and the dye itself, which is just one tube that doesn't require mixing in developer or anything. On the back of the box they've demonstrated the colour and the different effects you can get by applying the dye a certain way. I'd love to go for a mix between the ombre and balayage, that's what I'm going to try to achieve. In the top left corner, you can see the warning that this won't really work on dark hair and a preview of what it'll look like on brown hair. This is the part we're ignoring 😉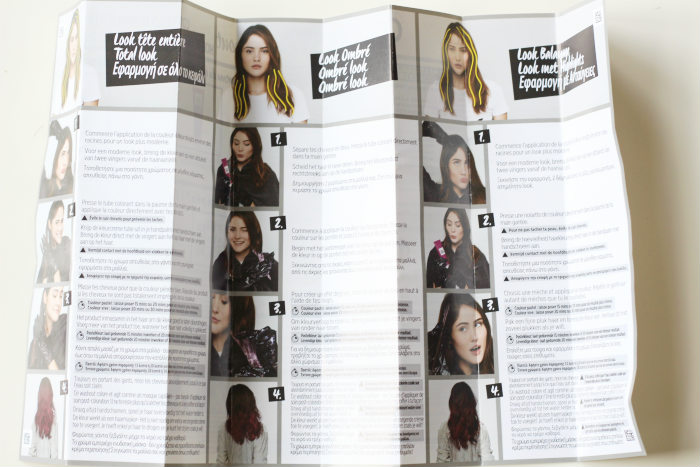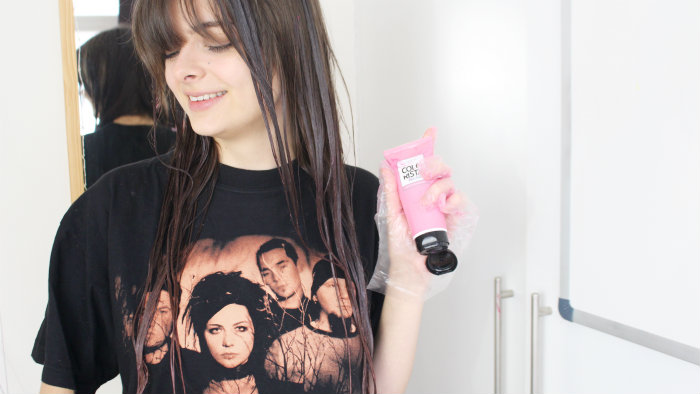 The instruction leaflet contains your standard warnings and tips that come with hair dye, and the specific instructions for applying the dye. It's all really straightforward: start with washed and dried hair, apply the dye wherever you want colour, leave it on for 20 minutes, and rinse out. The dye itself is a thick, dark pink lotion. It's really easy to work with, even though I wasn't really sure how much I was supposed to use. In the end I think I used about half the tube to cover my ends and some streaks going all the way up, to get that ombre balayage effect I was going for. Up until this point, I was still pretty hopeful. I could see the pink on my hair quite well while the dye was applied, and I thought it might just catch on my ends, which are quite a bit lighter than the rest of my hair. I left it on a little bit longer, around 25/30 minutes, and then rinsed it out.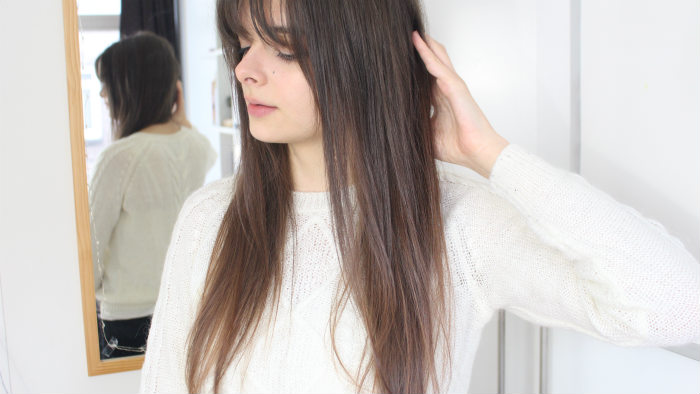 Aaaaaand here's the result. Hmpf. Well, lesson learned. If the box says it won't work on dark hair, it probably won't work on dark hair, haha! Although I have to say, I can definitely see a pink cast over my hair. It's not super in-your-face pink, but my usually quite yellow-toned ends have gotten more of a rose gold tone to them. Especially when the sun hits it you can see a hint of pink quite clearly. My recent Tea Time video was filmed the day after and I can personally see my hair is a different colour pretty well. I don't think anyone that doesn't know what my hair looked like before would notice, but I can tell!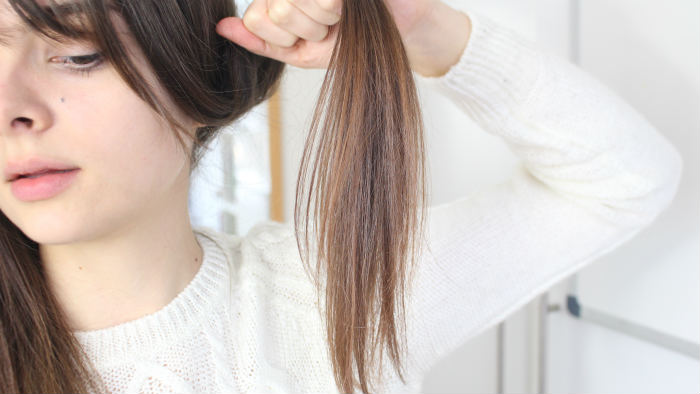 Here you can see a little bit of that rosy wash I'm talking about.
The dye is supposed to fade out within 2 or 3 washes on blonde hair, so it's not surprising that on me, it was pretty much gone after one wash. Sorry dark haired ladies, this is not the product that's going to give us pink hair without lightening first. This has however made me really excited to try out the pink Colorista spray, which only lasts one day but should in fact turn brown hair pink without any pre-treatment. And I feel confident enough now to try the turquoise washout. If you suddenly see me with blue hair, you'll know what's going on, haha!
Update: I've tried the turquoise Colorista Washout! See my review HERE.
l'Oréal Colorista Washout is available at drugstores for around €8.