Mexican Bowl with Green Rice, Sweet Potato & Smoked Beans
I've started following a few Dutch vegan food blogs lately. I don't know why I haven't ventured into this world earlier because reading a food blog that actually uses ingredients you can buy is a heaven-sent. There are so many vegan products in the USA that are really hard or downright impossible to buy over here, and it's so frustrating to run into them in a recipe you were really excited to recreate. So, local food blogs it is. Needless to say I've stumbled upon a wealth of amazing recipes and I've started slowly going through the ones I like. There's one blogger in particular who has a very similar taste and cooking style to mine: livingthegreenlife.nl. When I had to cook for a couple of friends a few days back, that's where I headed to look for a recipe. I found this one and decided to recreate her "delicious spicy sweet potato salad". And oh, was it delicious. I modified the recipe just ever so slightly and would like to share it with you today as my Mexican bowl with green rice, sweet potato & smoked beans.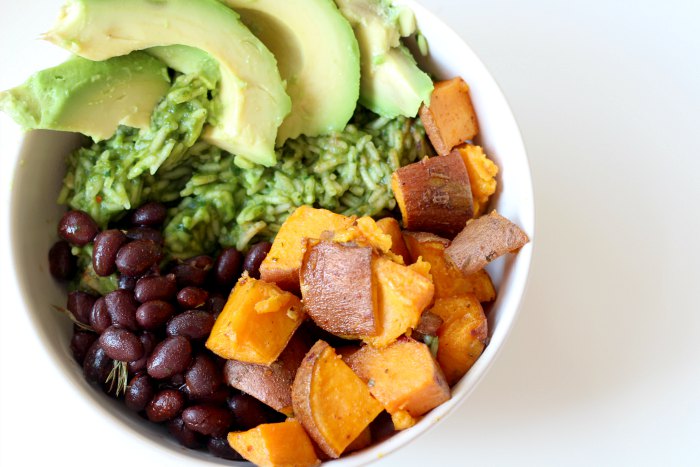 Ingredients
Green Rice
320 g rice
750 ml vegetable stock
2 large handfuls fresh spinach
1 red onion
1 clove garlic
Sweet Potato Cubes
4 medium sized sweet potatoes
2 tbsp olive oil
Tex Mex spices (my blend contains onion, paprika, garlic, chili, pepper, cumin, tumeric & ginger)
Smoked Black Beans
2 cans black beans (2x 400g, undrained)
Smoked paprika powder
Summer savory (optional)
1 avocado
Serves 4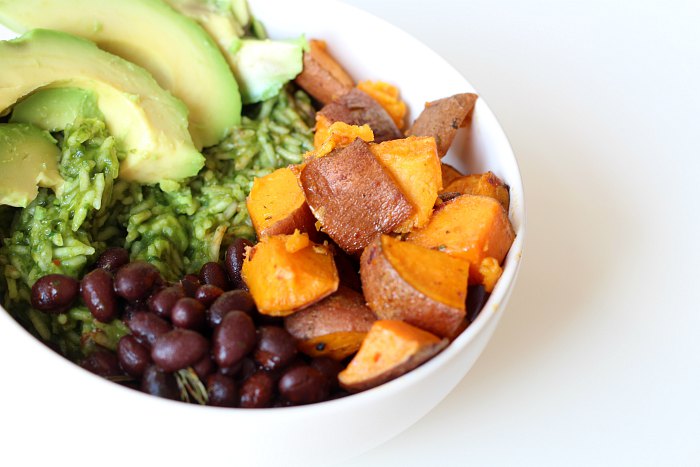 Pre-heat the oven to 200°C.
Wash & dice the sweet potatoes. Spread the cubes out on a baking dish, sprinkle with olive oil and tex-mex spices, and give a good shake so that all cubes are covered on all sides. When the oven is heated up, bake the sweet potato for approx. 30 minutes or until soft.
Put the spinach, rougly chopped onion, garlic and 250 ml of the vegetable stock in a blender or food processor and blend until smooth. Heat up some oil in a pot and sauté the rice for 2 minutes. Then add your spinach & broth mixture and wait for the rice to absorb it. When the mixture is almost absorbed, add the rest of the broth and allow the rice to cook on a low heat until it's done.
Heat up the black beans in their liquid, then drain and season with smoked paprika powder and optionally some summer savory.
Dress your Mexican bowl by filling 1/3 with green rice, 1/3 with sweet potato cubes and 1/3 with beans. Garnish each bowl with 1/4 of a sliced avocado.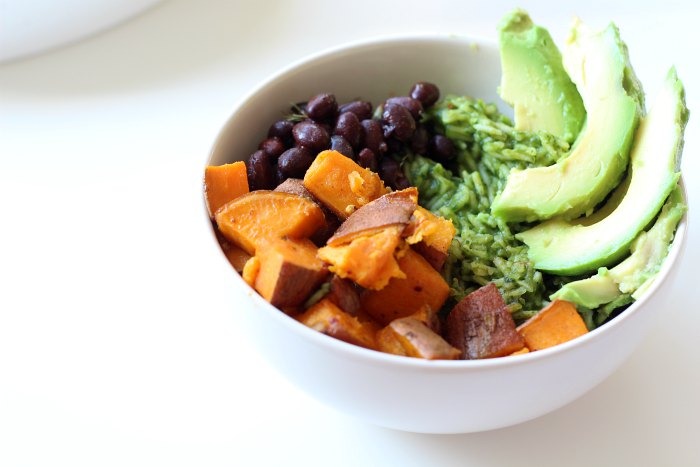 This Mexican bowl is total comfort food. Not just for the person who enjoys it, but for the cook as well, since this is super simple to make and takes very little effort. It's super delicious and really healthy. This is definitely a dish I'll be making a lot, I hope you love it as much as I do!