Neutralising Green Hair With Pink Dye
A little over two months back, I used l'Oréal Colorista Washout "temporary" hair dye in the colour turquoise. My hair turned green.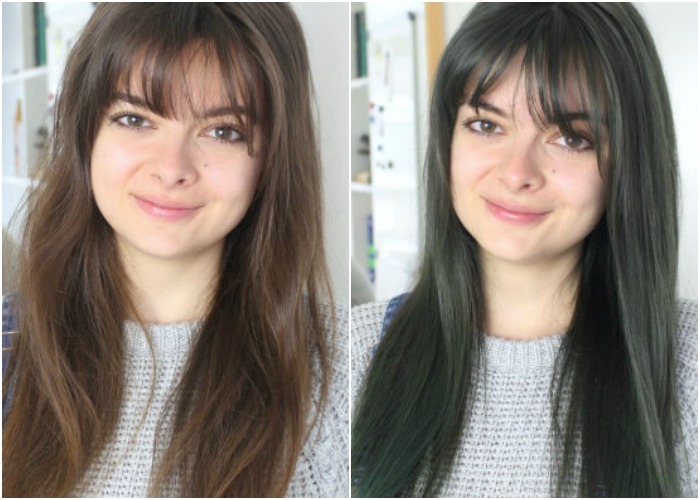 Even though I really liked the colour, I didn't actually want green hair forever. I trusted that the dye would fully wash out, as my hair is dark and has never been bleached or chemically treated. I documented the entire fading process of the colour, for the 15 washes that it was supposed to take for the dye to disappear, according to the packaging. After about 10 washes, when I washed my hair, the water was clear every time so I could tell no colour was coming out any more. I was left with pretty bright green staining on the lightest, driest parts of my ends, and a faint cool wash over my entire hair.
Last week, I tried getting rid of the colour and neutralising green hair with ketchup. Surprisingly enough, this actually made a difference: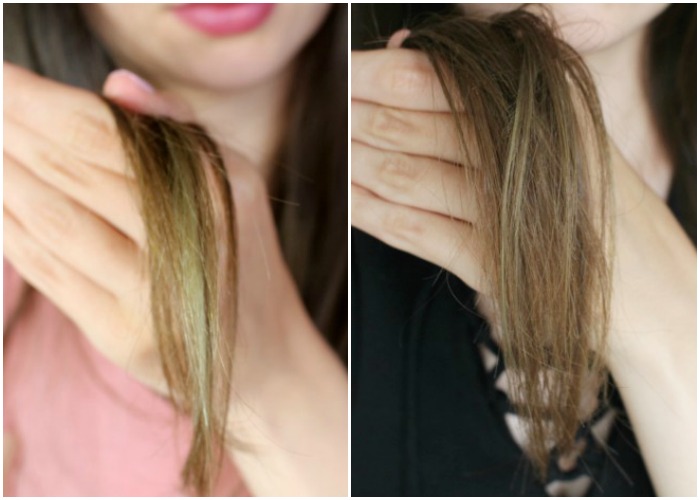 The difference was much bigger than I ever expected to get from ketchup, but there was still a hint of green in my hair. I wanted to go back to my old hair colour, 100%.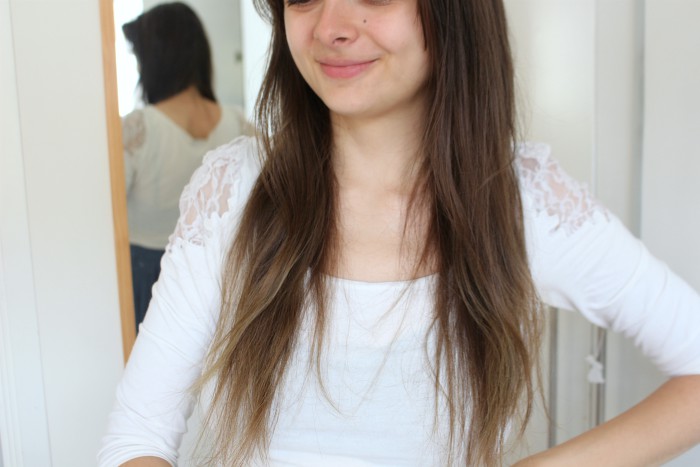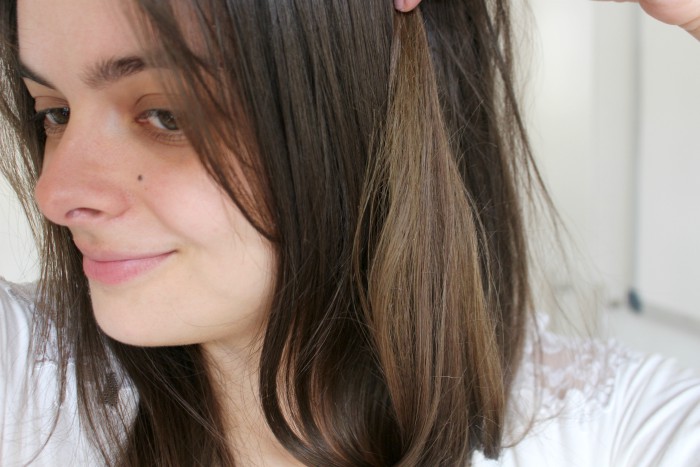 Post-ketchup, you can barely tell my hair is green anymore. It's just a tad cooler than it used to be, and there's still a few bits at the ends that used to be honey blonde, but have a slight green tinge now.
After looking for more DIY solutions online, I noticed that the most effective solution for neutralising green hair seems to be to dye over the green using a red-based colour. Just like you'd use green concealer to neutralise redness on the face.
I realised I still had a good amount of product left in my tube of Colorista Washout in Dirty Pink, which I had already tried and didn't really show up on my hair. I thought that might work and the fact that the pink doesn't show up on my hair, would actually be perfect. I don't want pink hair, I just want the green to go away.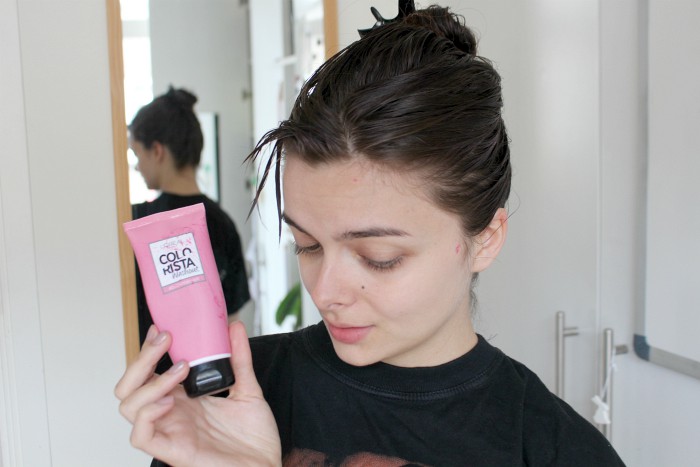 I squeezed everything that was left in the tube onto my hair. I focused on my ends first as those were the most green, but there was still enough left to pretty much cover all of my hair. I left it on for 30 minutes and then rinsed it out…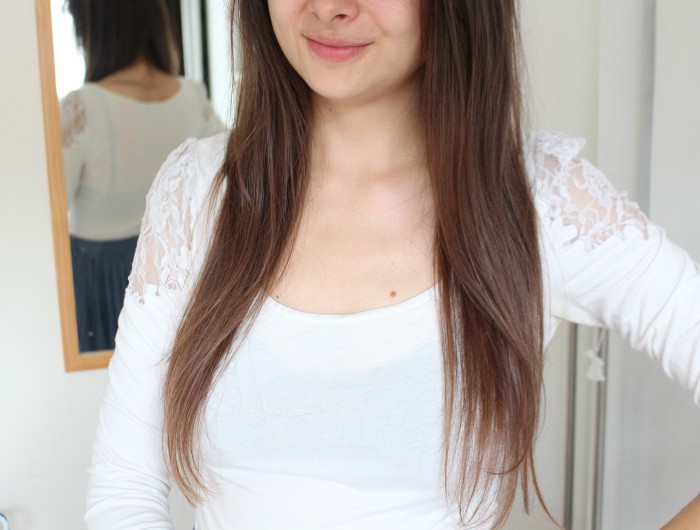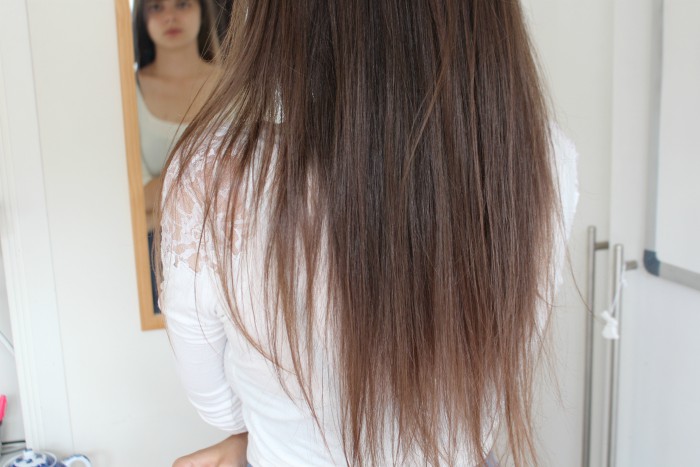 YES! The green is gone! My hair has a much warmer tone now, even warmer than my natural hair colour, but last time I used the pink it washed out in two washes. All there's left for me to do is hope that when the pink fades, it takes the green with it.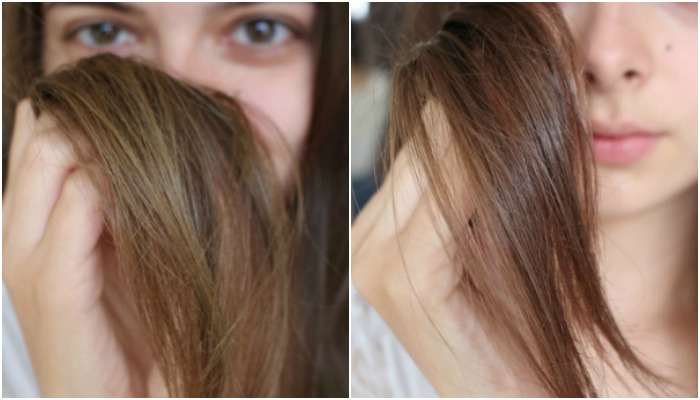 Look at this before and after! No more green whatsoever. I'm really happy this worked so well.
UPDATE: By the time this post goes live, I've already washed my hair three times and the pink is completely gone. I'm happy to say my hair has fully returned to its natural colour! I did trim a few cm off my ends before the pink washed out, but the honey blonde bits I do still have in my ends now are back to dark blonde. There's absolutely no green to be seen. Neutralising green hair: successful. Yay!