Pumpkin Sage Pie | Vegan Recipe
When I was in Edinburgh this summer, we sat down in a little restaurant called Mums Great Comfort Food to have dinner one night. The place was packed, usually a good sign, and I ended up ordering a pumpkin sage pie off the menu. My oh my, was it good! Deliciously soft pumpkin covered in a creamy tomato sauce, with a subtle hint of sage, and crispy puff pastry on top… After I came home I couldn't stop thinking about it, so I decided to cook my own. Of course I have no idea how they make the pumpkin sage pie at Mums, and I don't remember exactly how it tasted either, but what I do know is my own version is pretty amazing, if I dare say so myself. It's fragrant, it's full-bodied, it's healthy, vegan, and just plain delicious. Try it yourself!
Oh, of course it wouldn't be a Loepsie dish if it wasn't also impossible to photograph 🙂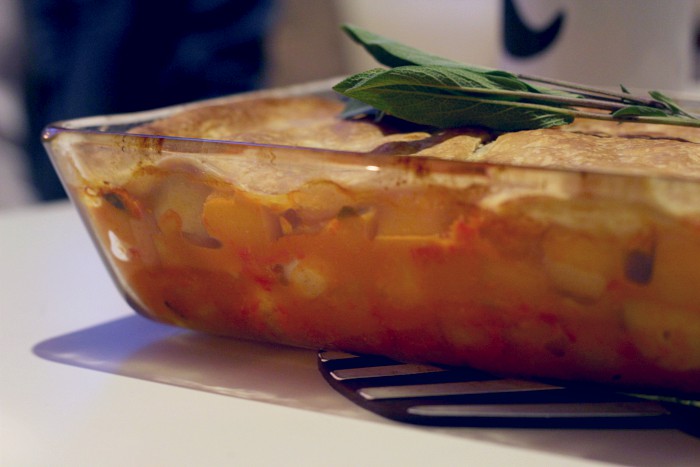 Ingredients
1 butternut squash
2 larger size potatoes
2 onions
1 sweet pepper
2 cloves garlic
70g tomato puree
1 vegetable stock cube
15g fresh sage
3 sheets puff pastry
Serves 3
Pre-heat the oven to 220°C. While it's pre-heating, place the butternut squash in there for 10 minutes to soften a bit.
In the meantime, prepare the sauce. Rougly chop the sweet pepper, the garlic cloves, and half of one of the onions. Heat up some olive oil in a saucepan and sautee the onion and garlic for two minutes. Add the pepper, and cook until it starts to soften. Then add the tomato puree, the vegetable stock cube, and enough water until you get a yogurt-like consistency (about half a cup). Cook for 5 to 10 minutes, then turn off the heat. Blend the sauce (with a handheld blender, or transfer to a large blender) until smooth.
In a large pan, heat up 2 tablespoons of olive oil. Cut the remaining onions into quarters, then slice them into rings. Sautee the onion until it goes clear. Dice your potatoes, and add to the pan to cook. Meanwhile, peel the butternut squash, remove the seeds and cut into cubes. Add those to the pan as well. Wash the sage, roughly chop it, and add to the pan. Allow everything to simmer until the potato is almost cooked.
Stir in the sauce, transfer the entire filling to a baking dish, and cover with puff pastry. Bake for 25 minutes, or until the pastry is golden brown.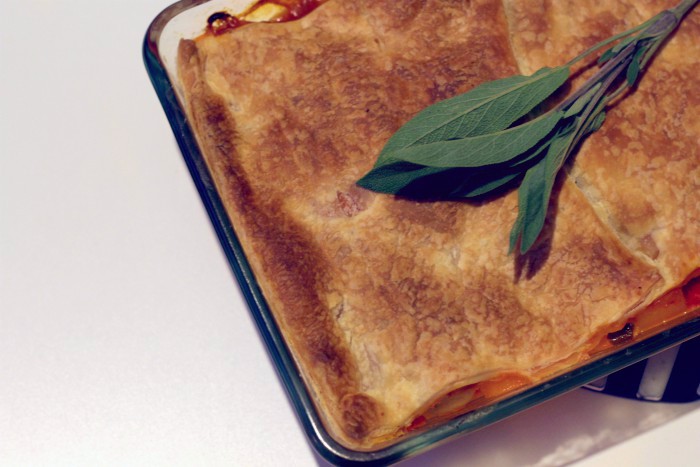 Now this is comfort food, if I've ever had it. The sage gives this pie the most amazing smell, and the flavour is perfectly autumnal. I decided to only cover the top and not make a pie base, because a base usually comes out quite mushy and just isn't worth it for me. I'll take only the crispy bits 🙂 I will definitely be making more pumpkin sage pie in the coming weeks, can't get enough of this!
I really hope you'll love this one as well!