Loaded Jacket Sweet Potato | Recipe
Ah, sweet potato. I was going to say it's a summer favourite of mine, but I'm going to have to be honest and admit it's a year-round favourite, actually. One of the things I love the most about sweet potato is you can just cut it into whatever shape, throw it in the oven for a few minutes, and it comes out delicious no matter what. In this recipe I'm going to take that idea to another level and just bake the sweet potatoes as they are, to create a delicious loaded jacket sweet potato. Top it with some fresh veggies and guacamole and you're good to go. Minimal effort, maximal results!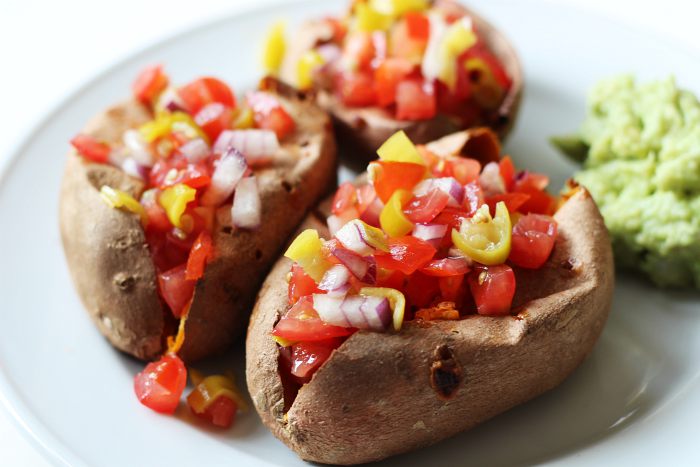 Ingredients
3 small sweet potatoes
75g tomato
3 pickled jalapeños
1/4 red onion
1/2 avocado
1 clove garlic
1/4 lemon
1 tbsp olive oil
salt
pepper
paprika
Serves 1
Pre-heat the oven to 200°C.
Wash your sweet potatoes and place them on a baking tray. Prick the tops of the potatoes with a fork, then bake them for 45 minutes to an hour or until they're soft.
Meanwhile, dice the tomato, pickled jalapeños and onion. Save half of the onion for the guacamole, and combine the rest with the tomato and jalapeños. Sprinkle with some olive oil and put aside.
Mash up the 1/2 avocado with the rest of the onion, a minced garlic clove, the lemon juice and a pinch of salt and pepper.
When the sweet potatoes are done, take them out of the oven, slice the tops and push down on the sides to open up the potatoes. Sprinkle the inside with a bit of olive oil, then season with a pinch of salt, pepper and paprika. Fill the jacket potatoes with the tomato mixture, and serve with the guacamole.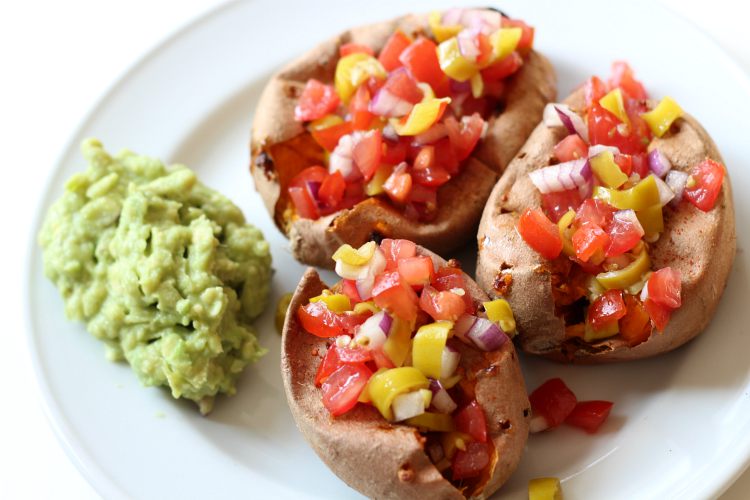 This dish is perfect as a lunch or light dinner, although if you're having it for dinner I'd recommend making a bit more. It's a super simple dish but really healthy and yummy. Enjoy!