Mediterranean Pasta Salad | Recipe
Granted, this is not the most photogenic dish I have produced. But what it lacks in looks, it makes up for in flavour. This mediterranean pasta salad is possibly the most delicious pasta salad I've ever made. It's absolutely perfect for bringing to a (veggie) barbecue, a potluck picknick, or as a stand-alone dish on warm summer nights. It features some of my favourite flavours from the Mediterranean, is entirely plant-based, and is super quick and easy to make. In the summer when it's really warm outside, I just don't feel like standing in a hot kitchen for too long so I'll reach for uncooked food more quickly. That means lots of crispy fresh veggies, but also some of those delicious pickled or oiled treats from jars. Let's keep it realistic, yeah 🙂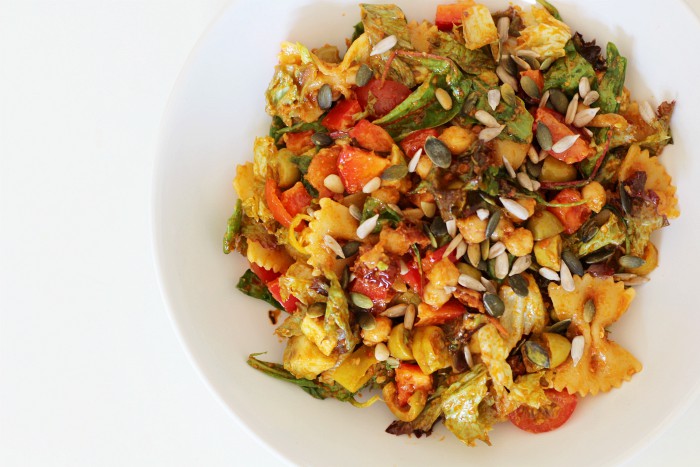 Ingredients
170g farfalle pasta
75g mixed lettuce (I use a blend based on rocket)
1 red bell pepper
1 avocado
125g cherry tomatoes
1/2 red onion
130g chickpeas
60g pitted olives
60g sundried tomatoes in oil
60g pickled jalapeno peppers
135g vegan red pesto
2 heaped tsp nutritional yeast
20g mixed seeds
1 lemon
small handful basil
Serves 2 as a full meal, or more as a side dish.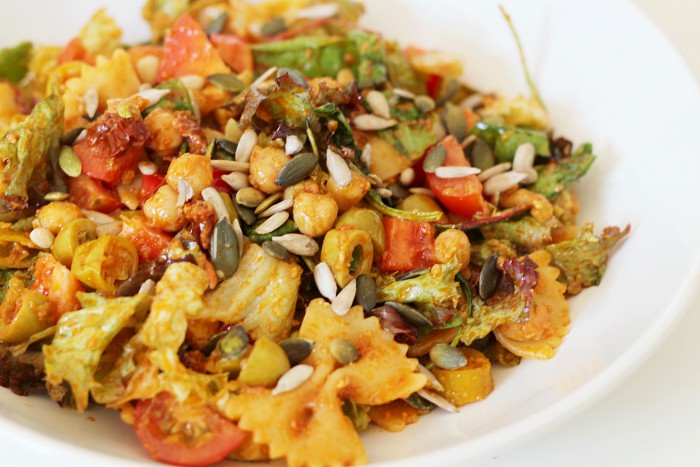 Start by rinsing your chickpeas and placing them in a bowl. Squeeze the juice of one lemon into the bowl, then finely cut the basil and add to the bowl as well. Give everything a good mix and allow to marinate as you prepare the other ingredients.
Cook your farfalle (or any other type of short pasta) according to the instructions on the packaging. When it's done, drain and rinse the pasta under cold water to cool it down. Put the pasta in a large salad bowl, and cover with the red pesto. When using vegan pesto, I like to add two large teaspoons of nutritional yeast to add a bit of cheesy flavour. Mix the pasta and pesto well.
Cut your bell pepper and cherry tomatoes into small cubes and finely dice the 1/2 onion, and add to the salad bowl. Add your chickpeas to the bowl, along with the basil and lemon juice.
Then, cut your olives in half, slice up the sundried tomatoes and cut the pickled jalapenos into rings. Add those to the bowl as well, and stir everything until all ingredients are covered in pesto.
Dice your avocado and add it to the bowl along with the mixed lettuce. Gently stir again to re-distribute the dressing, but be careful not to break the lettuce or mush the avocado.
Top off the salad with the mixed seeds, and you're ready to serve!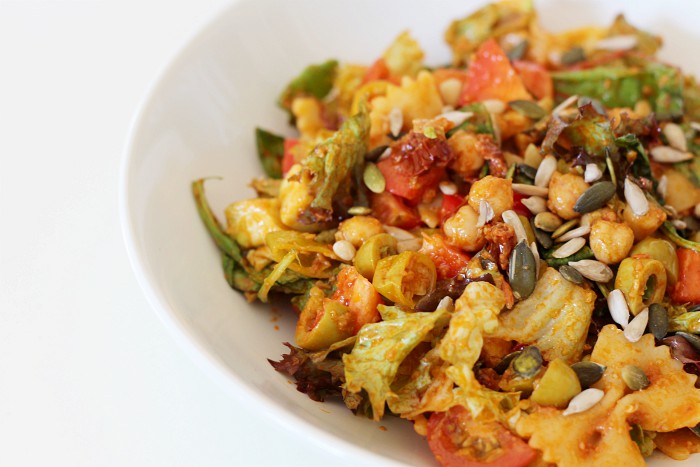 Of course, as with any recipe, you can leave out any ingredients you don't like, add something you do like, or change the quantity of the ingredients. I feel like the salad is nicely balanced this way but taste is a personal thing 🙂 Always keep experimenting, and enjoy your mediterranean pasta salad!