My Everyday Look For Autumn
I'm sure I don't need to tell you autumn is my favourite season, when it comes to fashion and beauty. There's nothing I look forward to more than wrapping myself in burgundy, preferably head to toe. Ok, maybe not completely. Wouldn't want to miss out on how amazing it looks combined with black. I love wearing dark, muted colours, and in autumn they just seem a lot more fitting. My makeup can't stay behind when the seasons change, of course. I've dug up my dark lip colours from the bottom of my lipstick drawer and let me tell you, it's good to see them again. I've got myself a nice little collection of dark reds, plums and berry tones that I can't wait to wear.
This summer I adopted a very simple, minimal makeup look. Usually when autumn comes around, I slowly start to add more items back into my daily routine. My skin goes a bit paler (which for me means GREEN), I get a nice little red Rudolph nose, and I feel like I can just get away with a few more products. This year I've managed to still keep it pretty minimal now that autumn's rolled around. I suspect I'll be going heavier as we get closer to winter, but for now, I'm happy with just a few items. Here's what I'm using at the moment!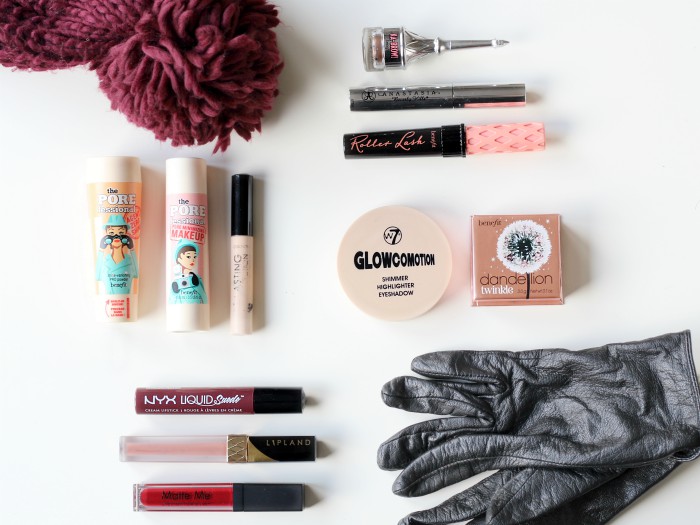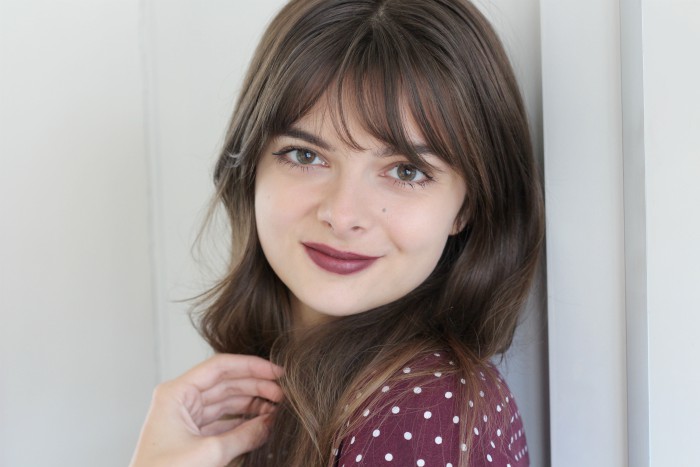 Face
Benefit The Porefessional Pore Minimizing Makeup no. 1
Collection Lasting Perfection Concealer no. 1
Benefit The Porefessional Agent Zero Shine
W7 Glowcomotion Shimmer Highlighter Eyeshadow
Benefit Dandelion Twinkle
In summer I used to only wear a bit of concealer underneath my eyes. Now that the air outside is cold and windy, I do feel like a bit of a base is needed. Benefit The Porefessional Pore Minimizing Makeup is a new product which I'm not entirely sure how to define. They call it face makeup to minimize the appearance of pores, I guess it's pretty much a light coverage foundation? I've been using this on my T-zone, and it's absolutely perfect for me right now. It does everything I want: neutralise and perfect the area that needs it. It provides just enough coverage to get rid of the redness while looking very natural, and the pore minimizing effect is quite amazing indeed. I top it up with the Agent Zero Shine powder (which comes in the best packaging for a loose powder ever), and combined with my favourite Collection concealer, that's my base taken care of.
I'm still not a big fan of blush, but I'll take a good highlighter any day. Right now I've been alternating between the W7 Glowcomotion, a champagne coloured highlight, and Benefit Dandelion Twinkle, a much more subtle pink highlighter. I'm wearing that one in the photos.
Eyes
Benefit Ka-Brow! no. 3
Anastasia Beverly Hills Clear Bow Gel
Benefit Roller Lash
I've switched to a bit of a heavier brow for autumn. In summer I tend to pin my bangs back when it's too hot to wear them down, but now I'm wearing them every day and my eyebrows need a bit more help to pop. They provide a bit of much needed definition to offset a dark lip, when I'm not wearing eyeliner. It's likely I'll start wearing eyeliner at some point soon, but I can't be bothered with it at the moment. I like the fresher look with no eyeliner!
Lips
NYX Liquid Suede Vintage
Lipland Liquid Lipstick Aventus
Sleek Matte Me Fired Up
Lipstick is my favourite thing about my whole routine right now, and something I like to switch up every day. I usually pick out something that goes with the clothes I'm wearing that day, but these are my favourites at the moment. I probably wear Vintage the most! That's what I have on in the pictures as well.
I'm really happy with this routine! Apologies if it's a bit Benefit-heavy, they recently sent me a press package which pretty much doubled my makeup collection (small bloggers represent!) and their products are genuinely great 🙂
How does your makeup routine change when the leaves start to fall? I'd love to hear!