De La Merche Vintage Soaps
A few months back, I received an email from a lovely lady introducing me to a concept she was working on, for a new vintage cosmetics brand. The idea sparked my interest right away and as soon as the brand launched, I was lucky enough to receive a beautiful set of De La Merche luxury belle époque inspired soaps.
De La Merche is a brand inspired by the owner's great grandmother Merche, who had to flee Spain after aiding the resistance in WWII. She brought her olive soap recipe with her to Brazil, where it was eventually perfected by her great granddaughter. The soaps are all vegan and cruelty free, contain moisturizing olive oil and cupuaçu butter, and don't contain any BHT, parabens or mineral oils. There are two soap collections currently available: the Cities of Brazil line, and the Remarkable Ladies line. I received the latter.
Remarkable Ladies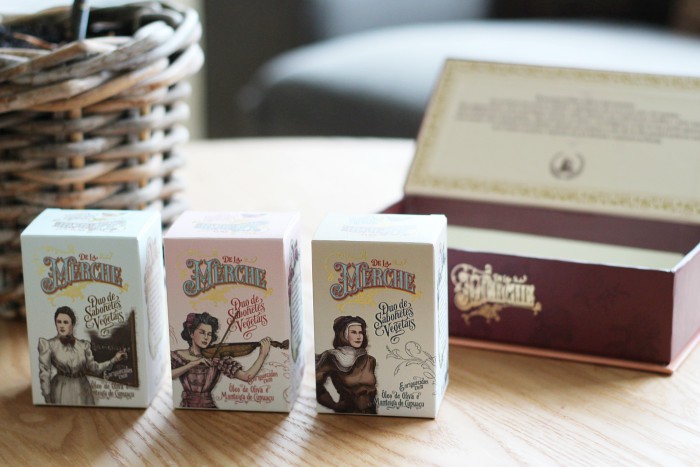 The Remarkable Ladies collection is inspired by courageous women who wrote history and caved the path for modern women by exploring the previously off-limits fields of art and science. Can we take a moment to appreciate how beautiful this packaging is? The soap set comes in a gorgeous deep red illustrated box.
The first thing I saw when I opened my package, was this dark blue box with beautiful golden lettering, wrapped in a gold ribbon.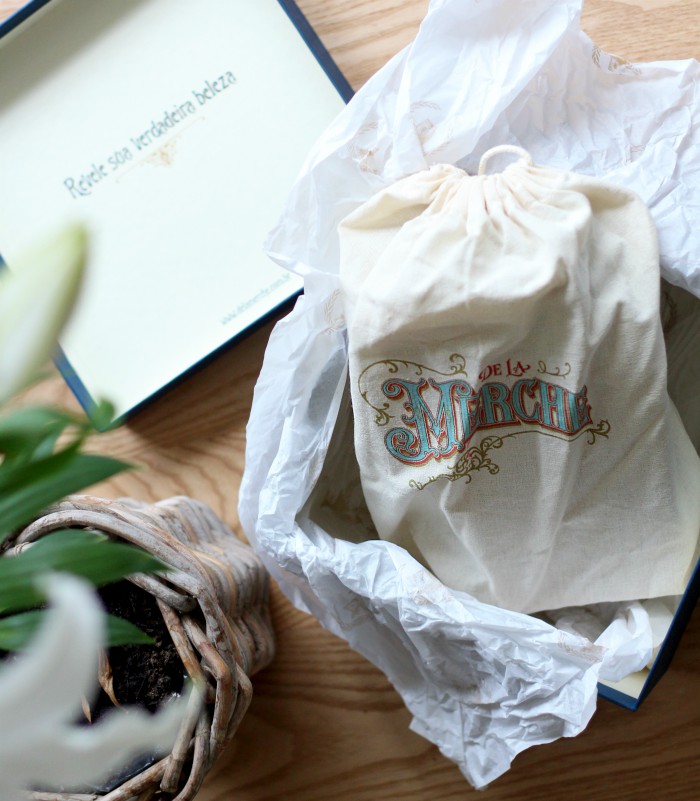 When you open the box, there is a sustainable cotton dust bag inside with the De La Merche logo. Everything is wrapped in beautiful tissue paper with the logo printed all over in gold. I absolutely love how much thought went into every little detail of the packaging. Inside the drawstring bag, you'll find the red box with the three soaps: Audacity, Sensibility and Knowledge.
Audacity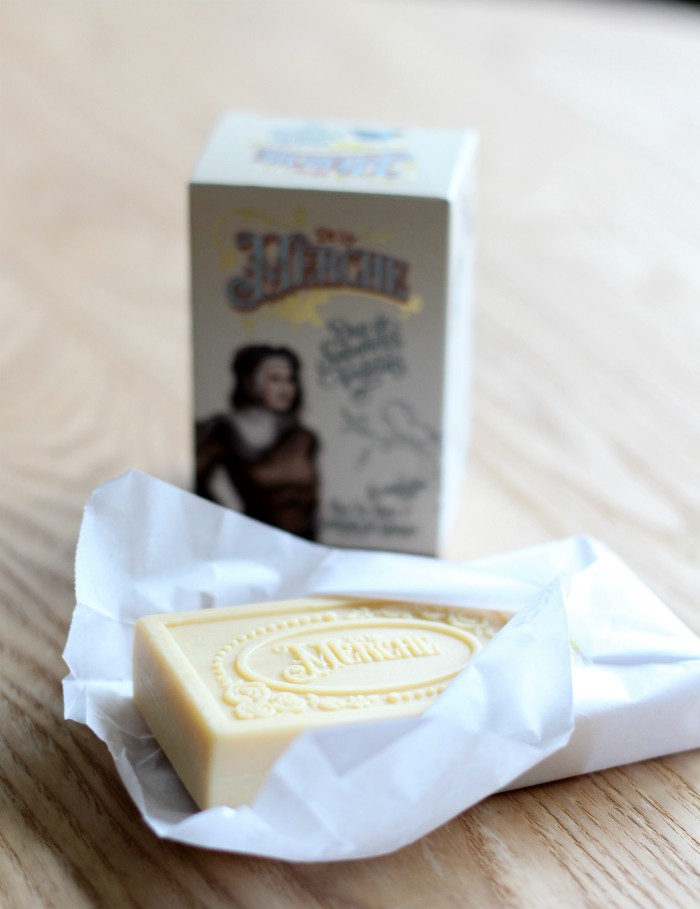 The Audacity soap is inspired by women like Amelia Earhart, the first female aviator to fly across the Atlantic Ocean alone. The soap itself is yellow, and features the loveliest perfume. I wish I was better at describing scents, luckily the De La Merche website provides some help:
The challenge of venturing into the heavens, seas and desert sands is made present in this soap of sophisticated background notes resembling leaves, herbs and delicate flowers.
The scent is absolutely wonderful, I can't stop smelling it as I'm typing this description. I'd describe it as a classic soap scent with woodsy undertones.
Sensibility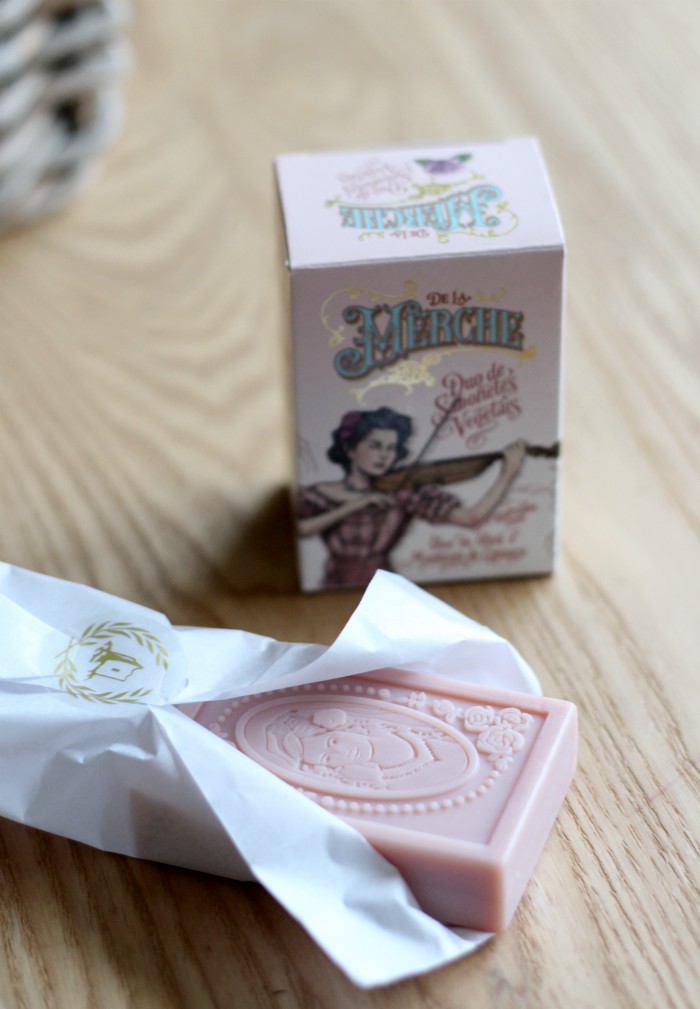 Sensibility is a celebration of women in performing and fine arts. This bar is pink and has a distinctly floral, very feminine scent:
Predominantly floral notes mark our most feminine soap, revealing the softness of the violet and the sweetness of the fruity aromas present in the red fruits.
Again, a scent I can't stop sniffing. This is another very classic soapy scent in the best way possible. It reminds me of grandmothers, which I love. The portrait on the bar of soap is that of Merche, in case you were wondering!
Knowledge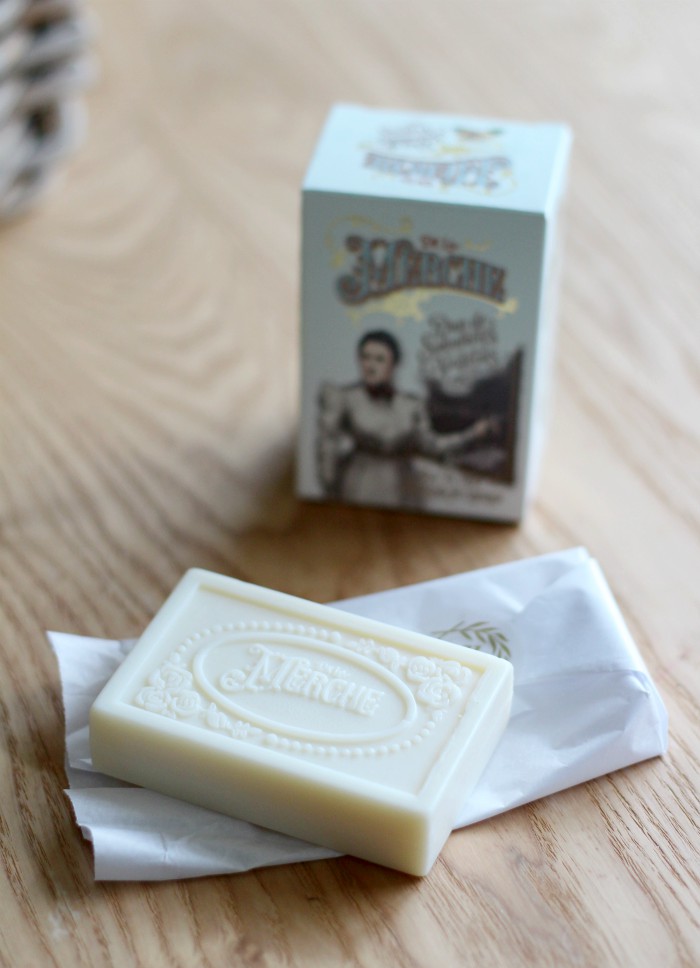 The last soap in the collection, Knowledge, is inspired by women like Marie Curie, who made great contributions to science. This soap is white and has the freshest scent of the set, it reminds me of the delicate scent of clean laundry:
Citrus and fresh notes explode in the search for solutions to the enigmas of nature and the own soap that produces with its essence an instigating and pleasant sensation of mystery.
In case I haven't stressed it enough: these perfumes are SO GOOD! I currently have some bars of this soap placed in my closet and linen drawer so that all my clothes will catch the scent.
The De La Merche Remarkable Ladies collection is absolutely wonderful, and I think it would make a perfect gift for any lady who is into the belle époque or vintage lifestyle. Or just any lady really, haha! The amount of thought that went into every element is amazing, and I'd like to congratulate the owners on creating someting so beautiful. De La Merche is a Brazilian brand, you can check them out on their English website here.