January Is The Worst Month | Loepsie's Life
Greetings to you, my lovely readers! Last week I was sitting here, laughing in the face of blue monday, but alas… It seems to have hit me a day late, and lasted a whole week for good measure. This past week wasn't great for me, even though I had no reason to feel down whatsoever, and so it happened that I ended up fulfilling my last new year's resolution much sooner than expected. I had told myself that if at any point this year I felt like I could use a bit of help in the emotional department, I'd go ahead and get it. So here we are! I went to see the doctor and we're currently looking for a therapist who would be a good match for me. Going into the process I was expecting to be really nervous about the whole thing, but actually I just feel relieved and excited to finally start working on my anxiety issues with a professional. I'll keep you updated on how it goes!
I feel like a part of why I'm struggling a bit at the moment is that I still haven't been able to regain a structure and/or routine after the move. I used to rely quite heavily on my routine and not having one is starting to get to me. Right now it feels like all I do is take care of the rats and do house work, and I'm having a hard time with finding a good work/life balance. I do feel like I've been able to cut down on the rat care last week though, by moving everybody into a new large cage, as you'll see in my photo diary. Less to clean, woop! Let's take a look.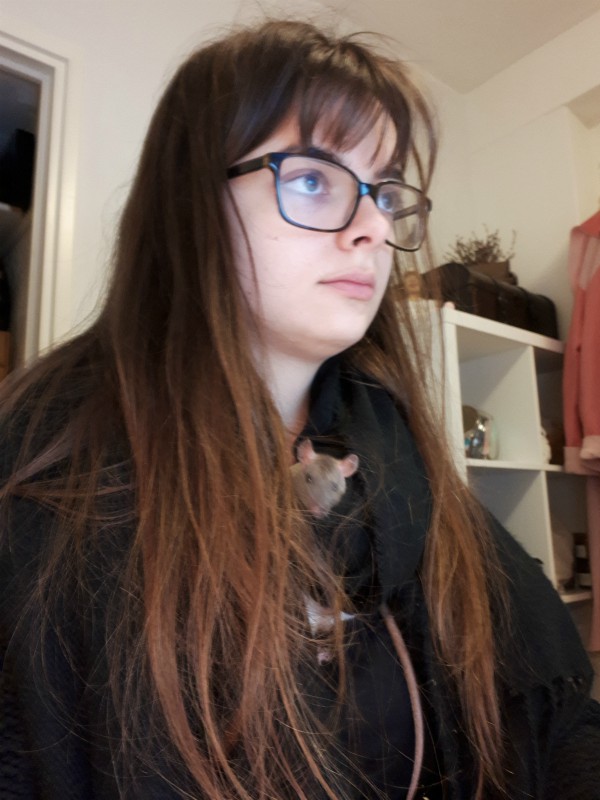 Monday, typing up my photo diary with little Diarmuid and Pádraig hanging out in my scarf. These boys are so cuddly! I wish I could stop them from growing up so fast, it seems like every time I look they've gotten a bit bigger.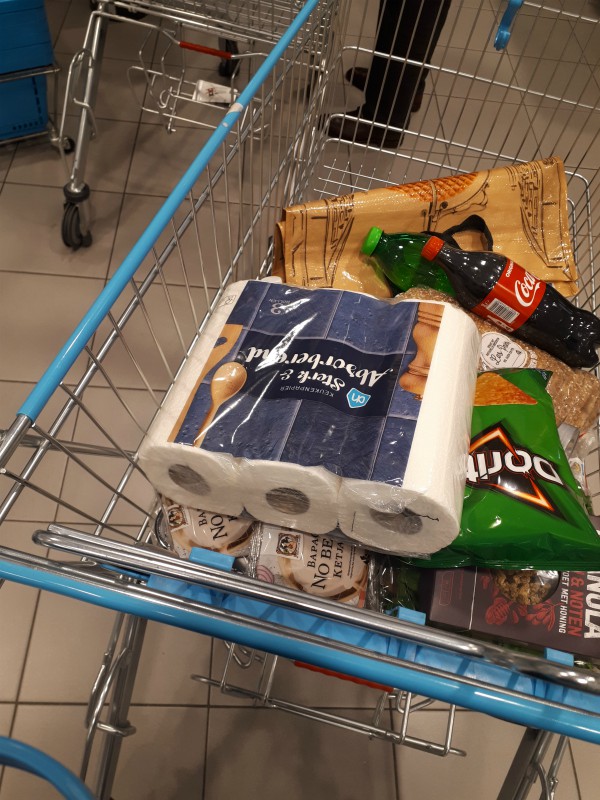 It was raining all day so I only made it to the grocery store at the end of the afternoon, and by then it was super crowded. I just managed to get all of my things and cook a quick dinner before I needed to head out to dance class.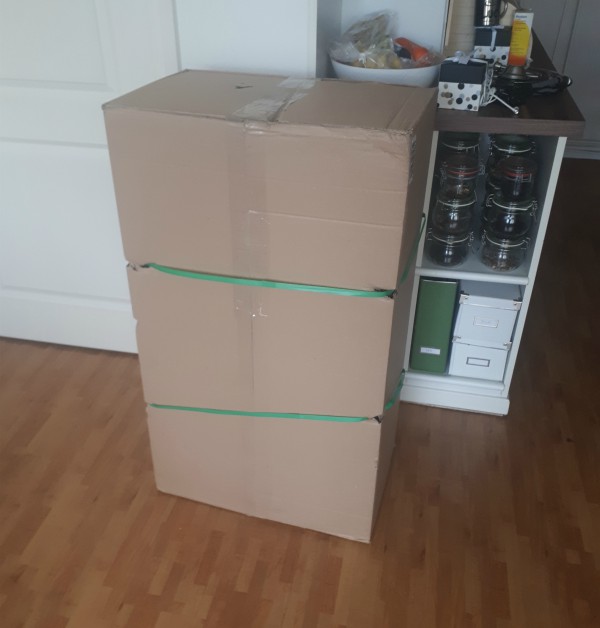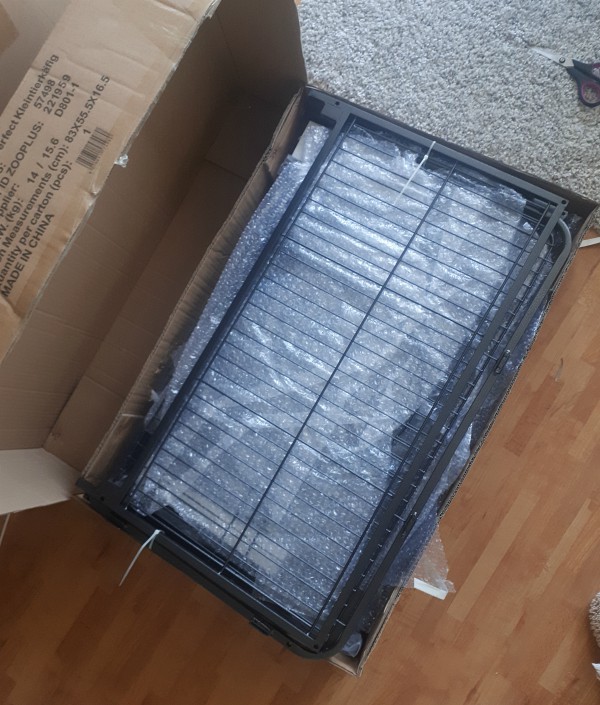 The new cage arrived! Since the rats moved here, we've been meaning to buy a new cage for them. Now we can leave the old cage at my parents' house so that the rats can stay here if Robbert and I go away for a few days. Affordable, decent sized rat cages are pretty hard to find though, so we ended up going for one that's a bit bigger than we initially wanted. It came in a huge box, which luckily had two much smaller boxes inside. Assembly will have to wait until the weekend, so I just opened one box to get a quick sneak peek. Looks good so far!
Another mini food haul to get us through the weekend. I didn't buy a lot this week as we were using up some stuff we still had in the pantry and fridge. I got tissues, avocados, juice, cauliflower pizza bases, vegan mayo, spicy hummus, a carrot and dried garlic.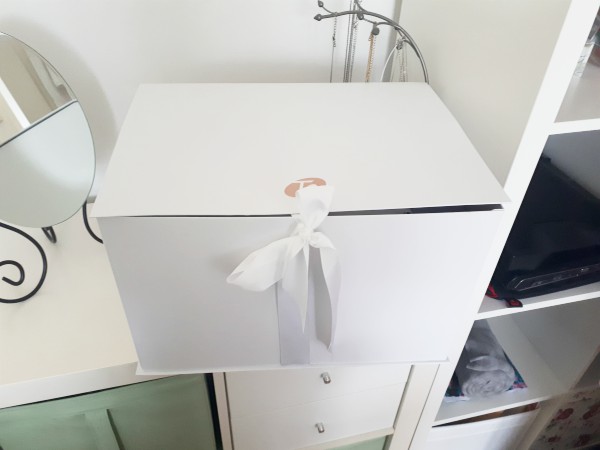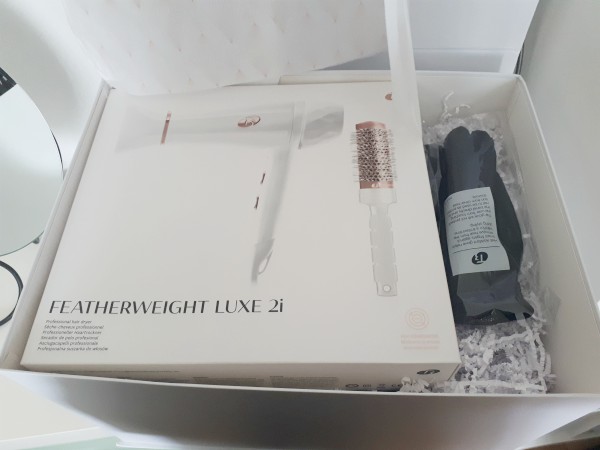 I received a giant package from T3 Micro! They sent me a bunch of absolutely gorgeous hair tools. There's this blow dryer, but also a curling iron with lots of interchangeable barrels. Everything is white and rose gold and so beautiful. Thank you so much, T3! I'm sure you'll see me use these in a video soon. The rats love those little paper thingies, by the way 🙂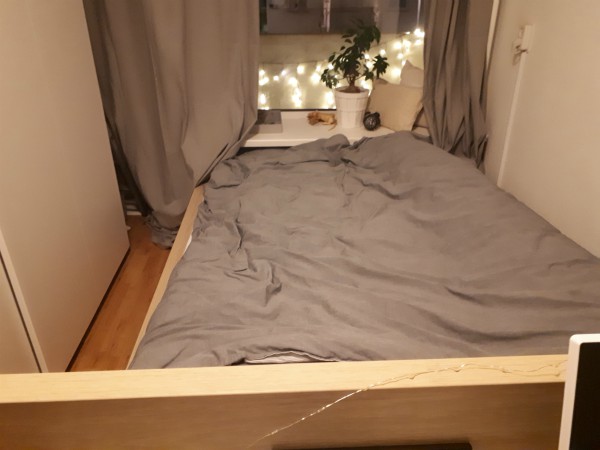 I got tired of feeling down, so I called a movie night to cheer myself up. I lit the candles around the house and turned on all the lights, made some nice food…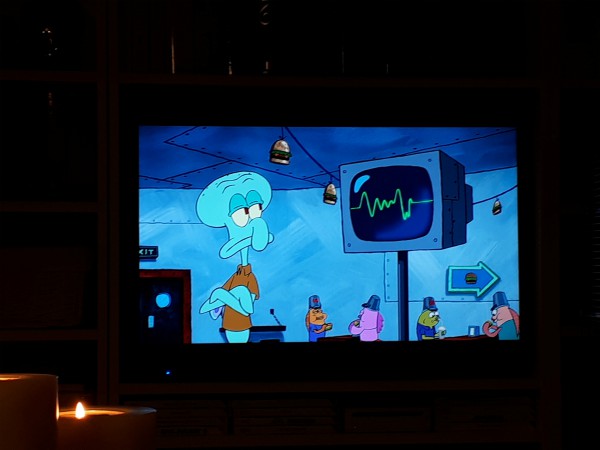 Then I put on a face mask and watched a bunch of movies with Robbert. He put the Spongebob movie on for me (apparently it's on Netflix in Dutch, haha) and then we watched a Dutch romantic comedy. Nice and light-hearted!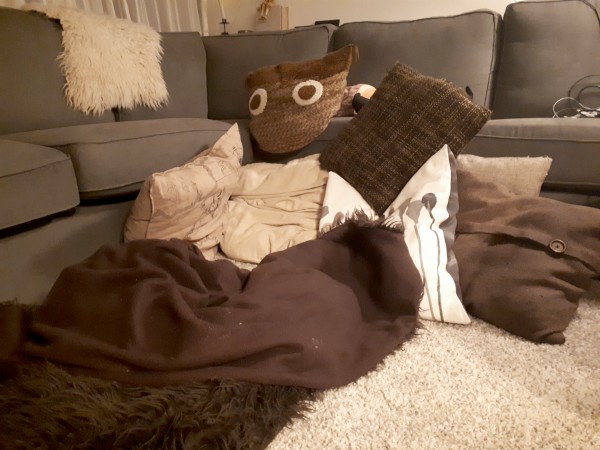 The next day I filmed a video, and in the evening I wanted to do something fun again. We gathered all of our cushions on the fuzzy rug and watched Netflix under a blanket, enjoying the cauliflower pizzas. We started watching Homeland.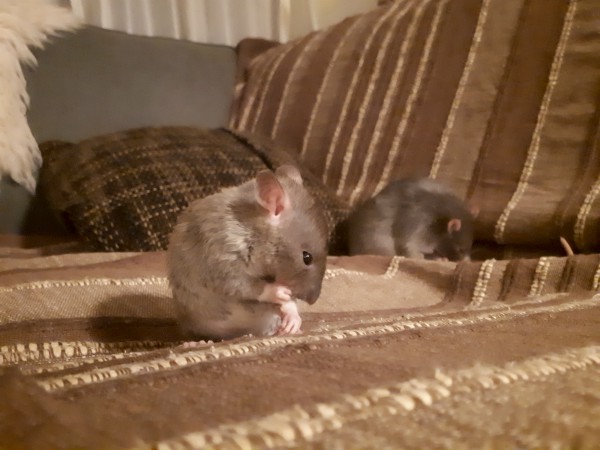 Be still my heart, look at them! The boys are becoming great friends and it makes me so happy.
I'm so glad the sun is out for longer again. Looking at the sunrise in the morning is currently one of my favourite things to do, especially when it's extra beautiful. It was this day, I just couldn't capture it well through all the trees, haha! I can't wait to see what the view from our window will be like when the leaves start growing back in spring.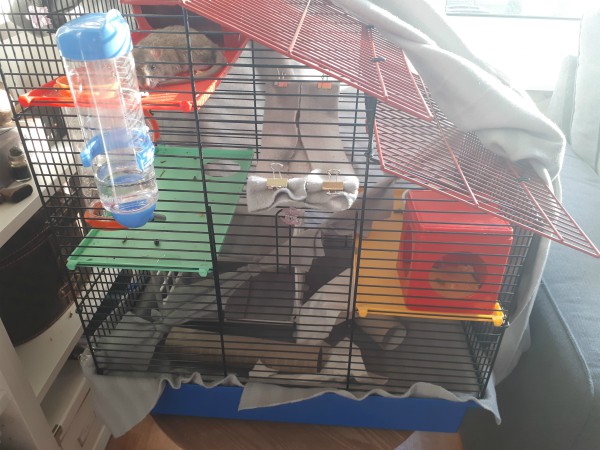 A bit of an interior update for the babies. Only a few more days left in this cage, before they move in with the grandpas!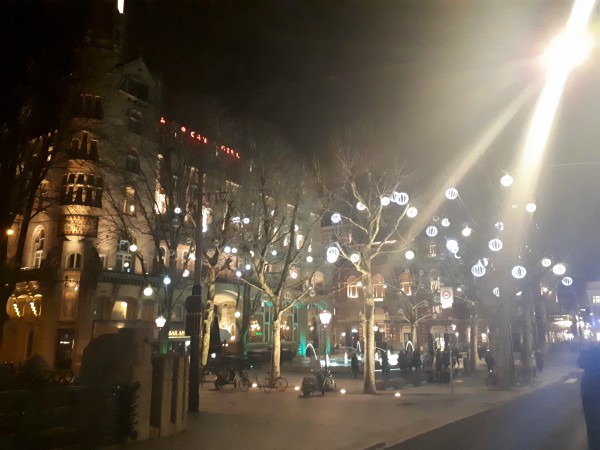 I met up with my friend on Friday and we headed into central Amsterdam to…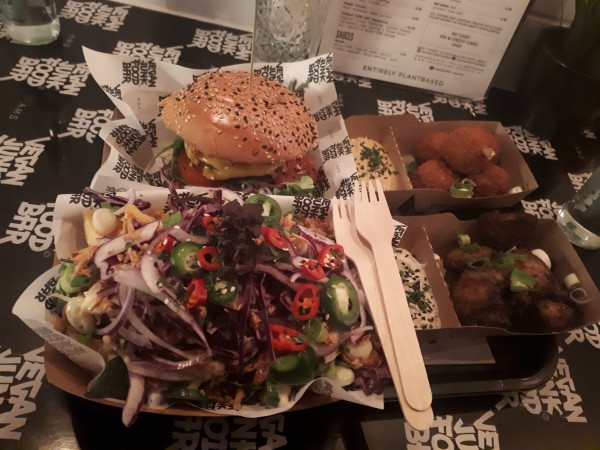 Have dinner at the Vegan Junk Food Bar! We ordered all the food. So much food. And it's all so good, ahh! Love this place.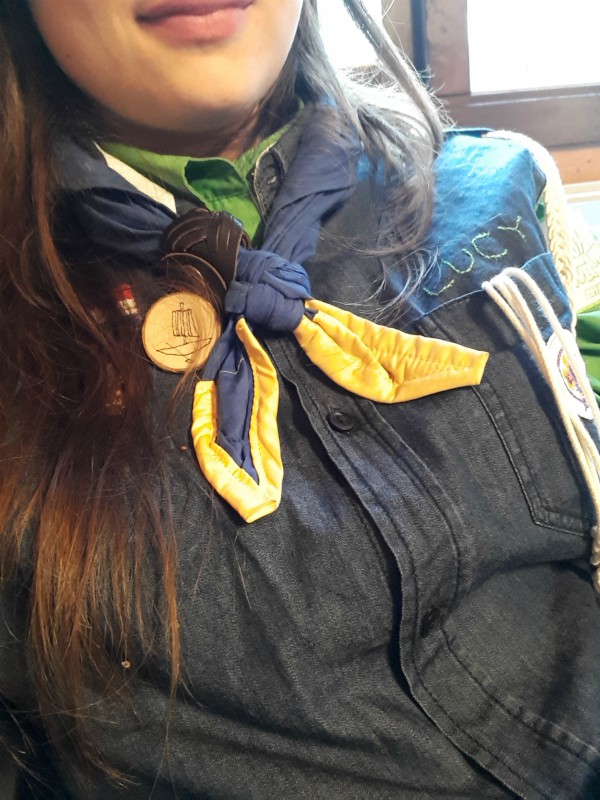 Next morning I headed over to scouting help out with the little kids. They all put on large fluffy socks and we played a bunch of indoor ice skating games, it was lots of fun. Unfortunately the only photo I have of this day is this very unflattering one, so it'll have to do 😉
In the afternoon we headed over to Robbert's family for dinner and to watch Wie Is De Mol together. We used to do that every week when Robbert still lived there, so it was really nice to go back and do it again!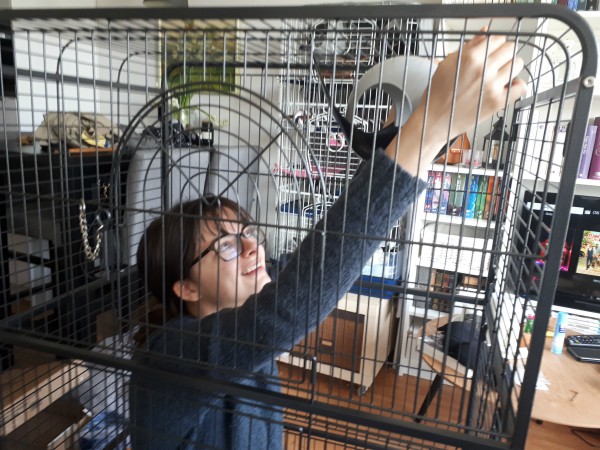 On Sunday we assembled the new cage. I wasn't expecting it but setting up the cage actually took up all day. Especially the interior was a lot of work. This thing is so giant I easily fit inside, haha!
My dad and brother brought over the vintage sewing machine, and I started working on the hammocks and bedding to go inside the cage. People with sewing experience: yes, I did pin the ribbons on the wrong side of the hammock, I did sew it and only realise when it was too late, haha! Rookie mistake, I've lost my sewing mojo 🙂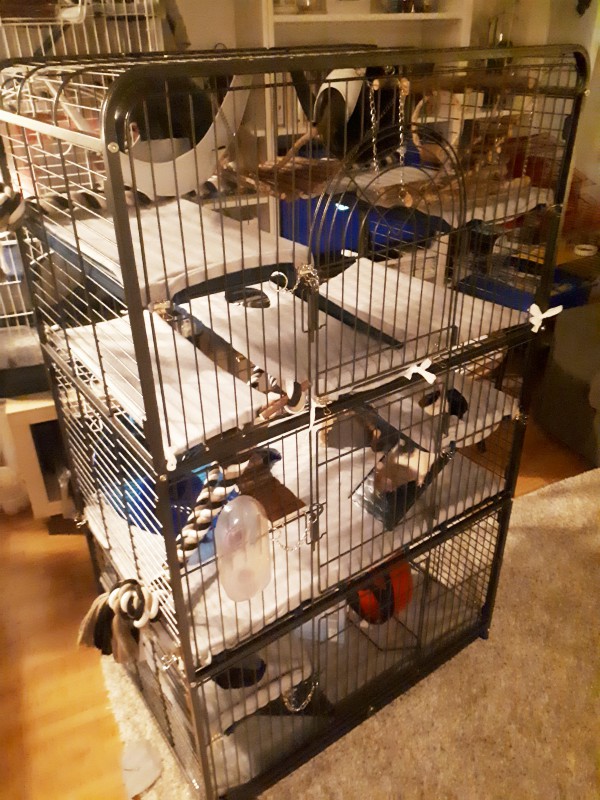 I did manage to make everything (properly) in the end though, and the cage came out great! I'm glad most of the interior is one colour now, and so is Robbert, as this gigantic cage is now a prominent feature in our living room. We put the rats in for a test run when everything was done. The old boys needed a few minutes to adjust to the new system with the holes, but the little ones loved it right away. When I disassembled the other two cages yesterday I moved all the accessories into this cage so it's fuller now, and all the rats love it. They have so much space! I'll show you the final result next week.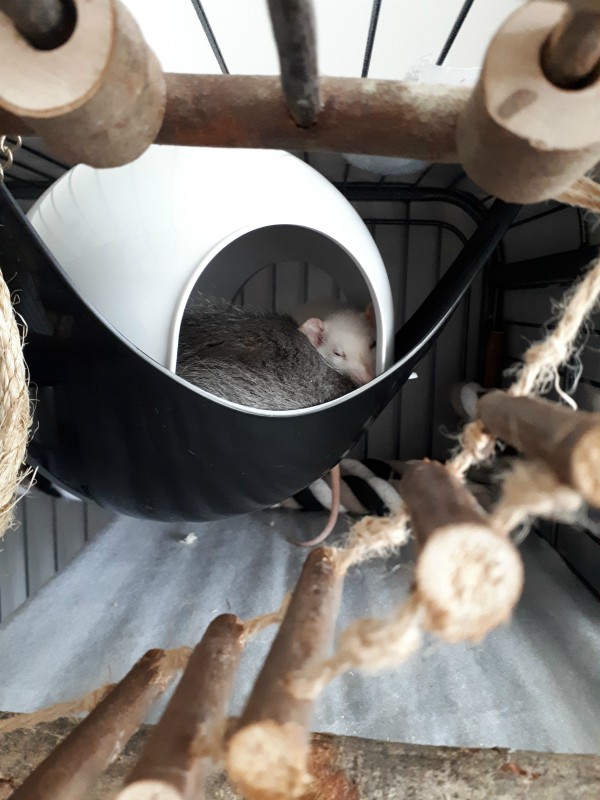 Here's a little preview of Llewelyn and Pádraig chilling in their new sputnik 🙂 I'm so glad they all get along so well!
What were you up to this week? And do you agree with me that January is the least fun month of the year? I'd rather we just skip it (and February) and move straight on to March 😉