Hello Sunshine | Loepsie's Life
Greetings on this lovely Monday, my dear readers! Last week was absolutely perfect. I had a really good week, got lots of work done and managed to spend a lot of time with friends. I didn't take as many photos this week as I just wasn't on my phone as much (whoa, right?), but let's take a look at what my week has been like!
Saturday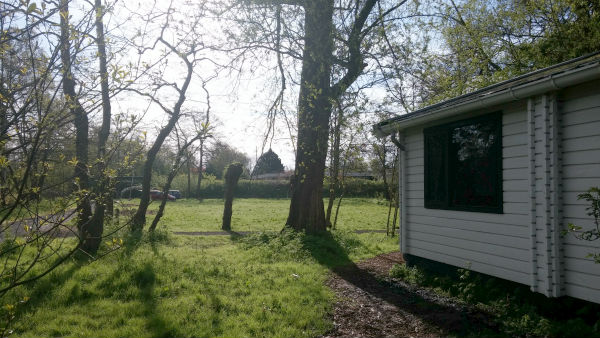 Scouting time! The weather was really nice so we took the kids outside for most of the time…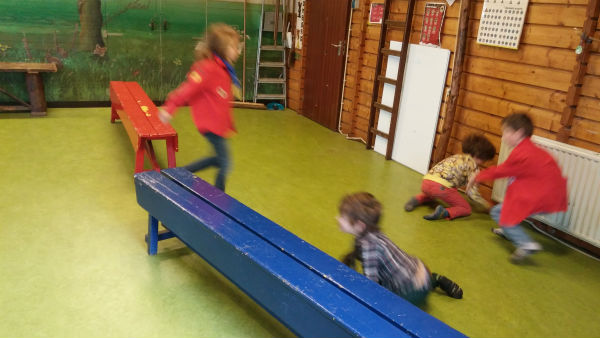 But we also played inside! Here's a shot of bunker dodgeball with 6-year-olds 🙂
After scouting we stayed for a long time to plan the "Wie is de Mol" camp that's coming up. I'm super excited for it!
Sunday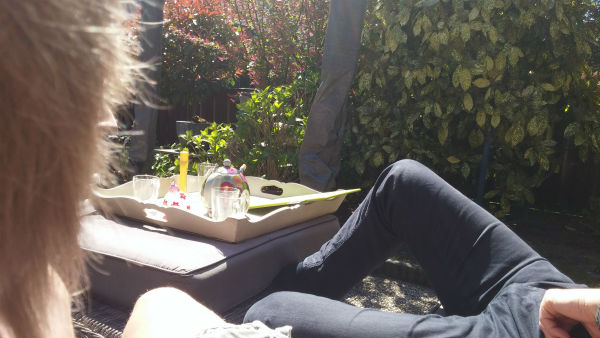 Sunday was the first day of truly warm and beautiful weather. Robbert and I slept in for a bit, then did some more Wie is de Mol preparations and then sat out in his parents' back garden with his family for hours. It was so nice to feel the sunshine properly for the first time this year and it made every one super lazy, haha! I went home to my parents' in the afternoon to give Robbert some space to work on his thesis and get some work done myself too.
Monday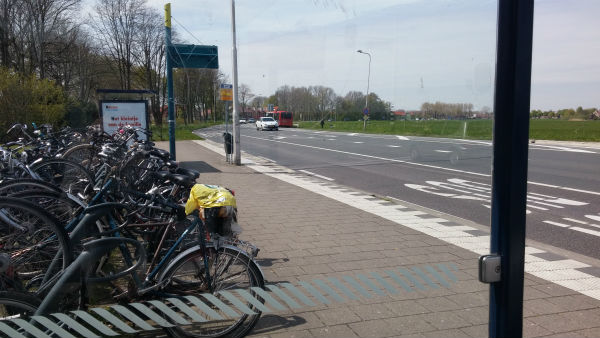 Monday morning I drove around for a bit again. My parents are having me drive every week so that I'll get more comfortable with driving, and I have to say it's working. I'm getting used to it more and more and am almost at the point where I kind of enjoy it now, instead of being all shaky from the stress and adrenaline. We're getting there!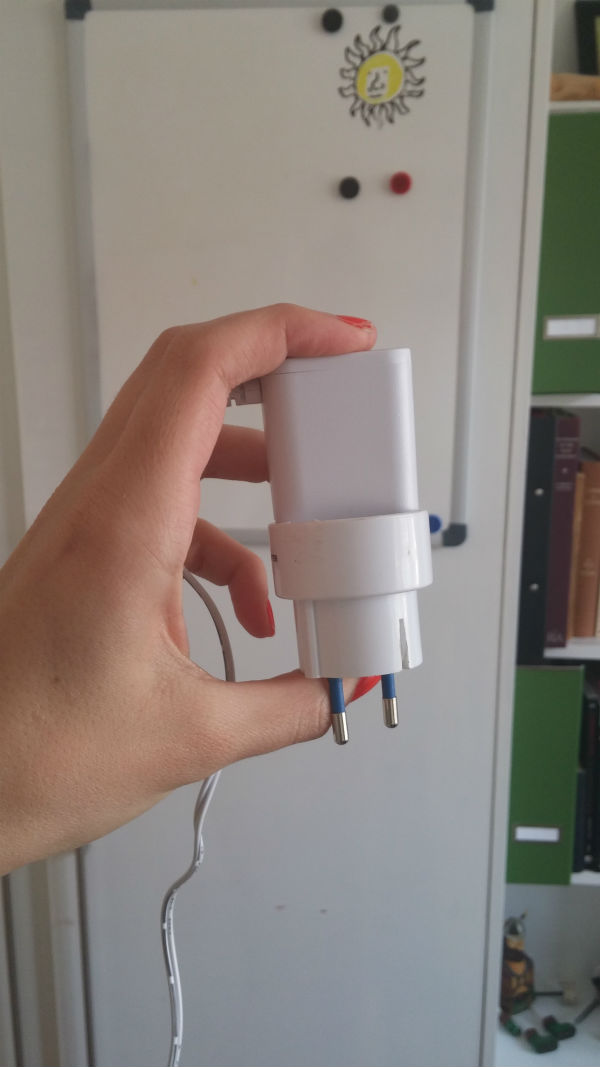 When I came home I saw my much anticipated press sample had arrived from the US. It's an aroma diffuser that vaporizes water with essential oils to spread a lovely scent without any fire or chemicals and I was super excited to try it. I'd been warned I'd need an adapter but that was fine because I have one from when I received a hair straightener and curling iron a while back, I was just going to use that again, but then this happened… It doesn't fit!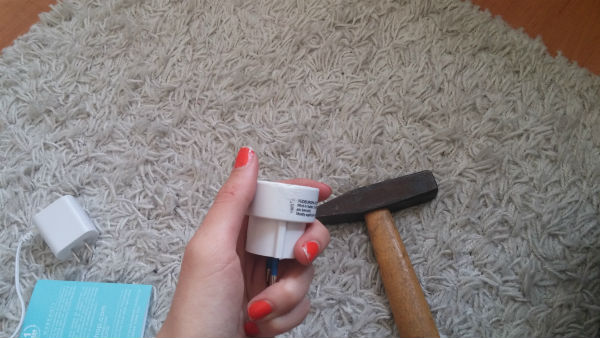 I was so bummed that I STILL wouldn't be able to use my vaporizer, that I tried to break the plastic off the adapter so that I could use it anyway. This plastic. So. Strong. It was impossible to break, no matter what I did, haha! I decided to stop and just order another adapter online when I hit my thumb. Ehem.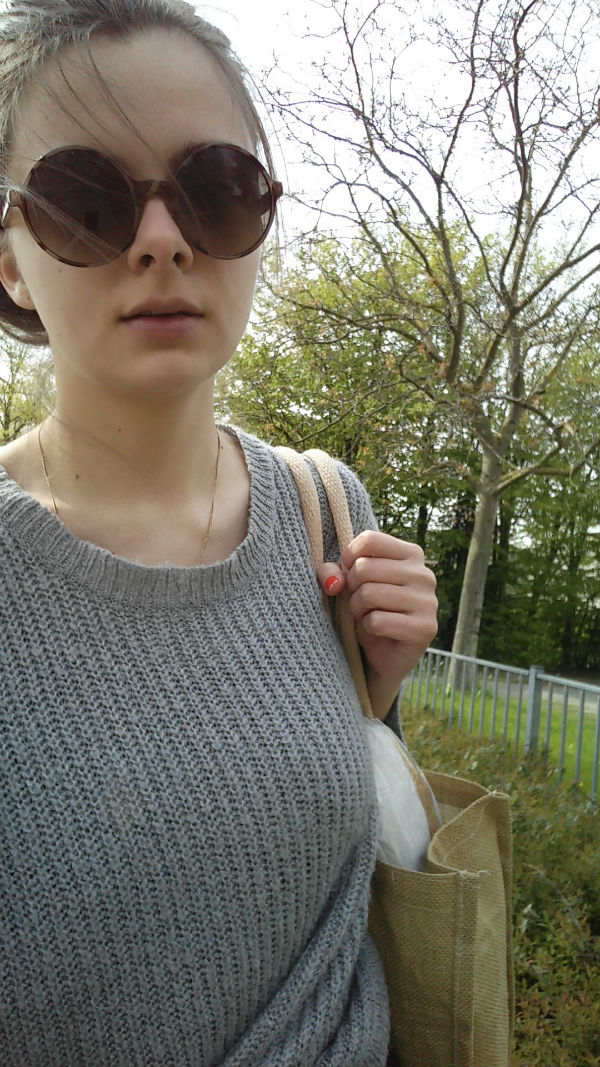 Alright then, grocery time!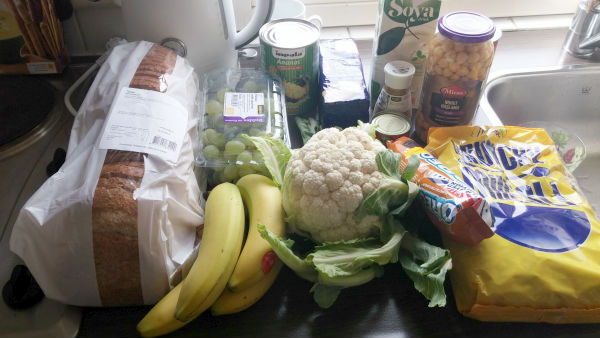 I got bread, bananas, grapes, pineapple, crackers, cauliflower, curry spices, soy milk, chickpeas, peanut butter oreos, coconut milk and muesli.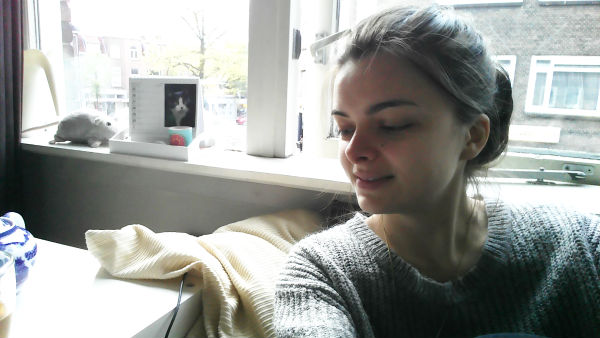 The weather was still very nice, so after I'd cleaned the house I opened up the window and sat in front of it while I did my work. I really wish I had a balcony!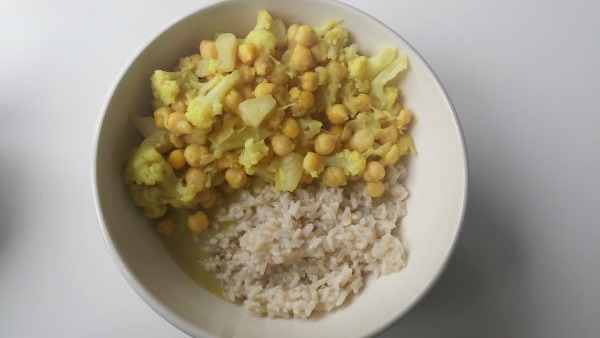 I made this delicious curry that night. It was so good! Luckily for me I'd made two portions so I could enjoy it again later this week.
Tuesday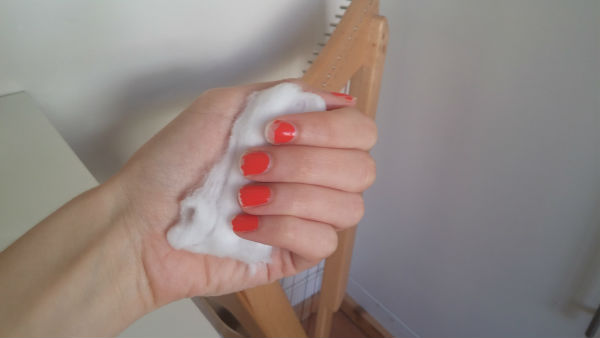 Time to finally get rid of that Kingsday orange! About time, after a full week…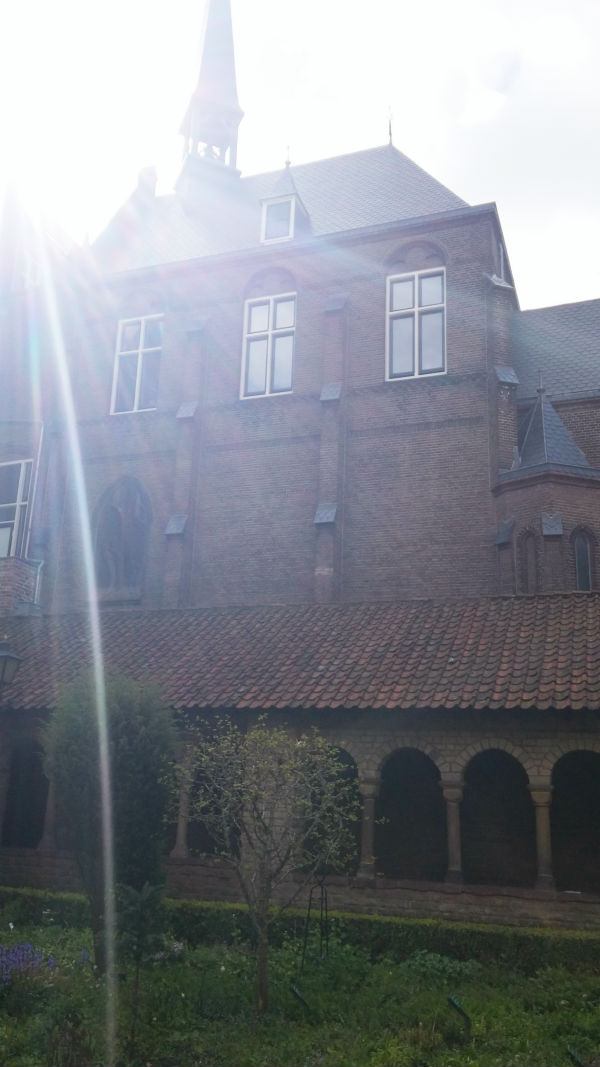 I headed into town on Tuesday to help some friends out with a project. It took the greater portion of the day but I had a really good time, we saw a lot of Utrecht which is always nice since this is seriously one of the most beautiful cities in the Netherlands. I'm always up for a walk through town, especially when it's followed by a delicious lunch on a sunlit terrace.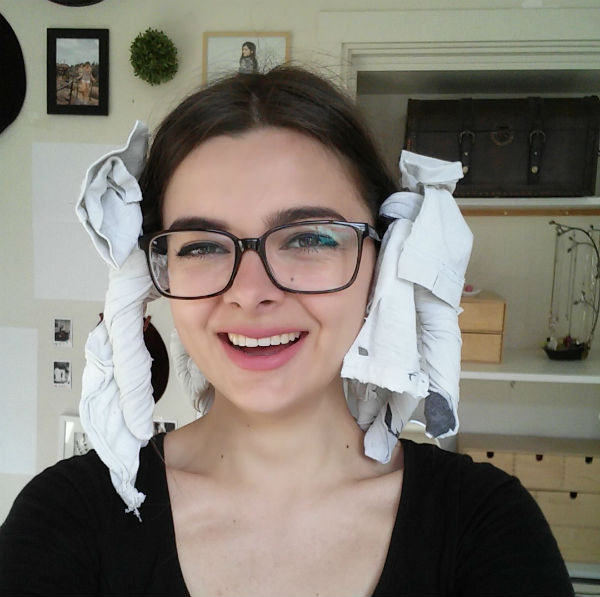 I arrived home just before the sun hit my room (I get super bright direct sunlight in the late afternoon which is impossible to film in) so I could film a portion of my rag curl video. I didn't really know what to do with myself like this, haha! It's a really… unique look.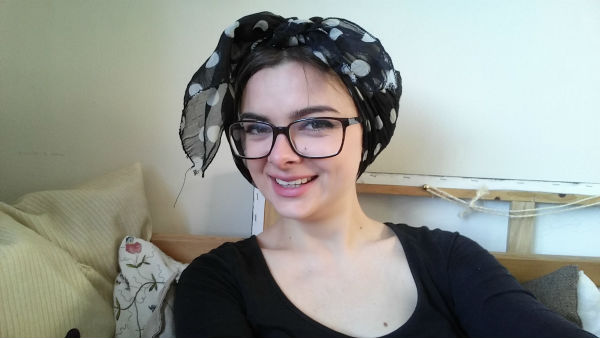 I ended up tying a scarf around it in case the mail man came (I was expecting that adapter to arrive) or I ran into a neighbour in the hallway.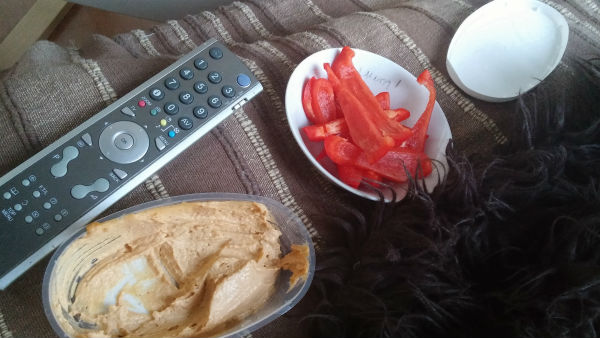 The lunch I had was so big, I had a falafel burger with fries, that I decided to just have a sandwich and some bell pepper with hummus for dinner. Nice and light!
Wednesday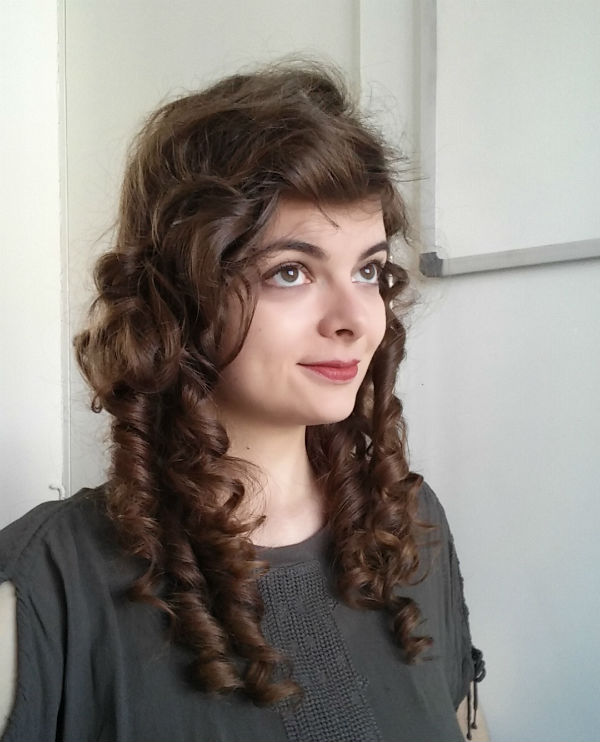 On Wednesday morning I took out the rag curls and took the opportunity to film a Beauty Beacons video. Some people already commented that the curls reminded them of this person under that rag curl video, haha! This video will be up coming Sunday 🙂
The amount of times I spill tea is insane…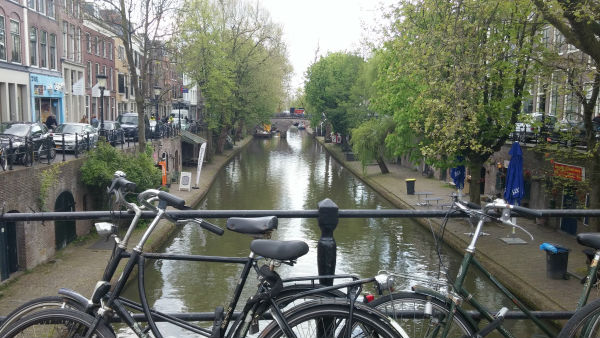 My friend Lisa was in Utrecht for one more day before flying back to the UK, so we wanted to meet up for some tea. Back into town I went! We found a really nice café and chatted for a while, we had a really good talk and it was so nice to see her. I do miss her, but I'm glad she's having such a great time on her travels!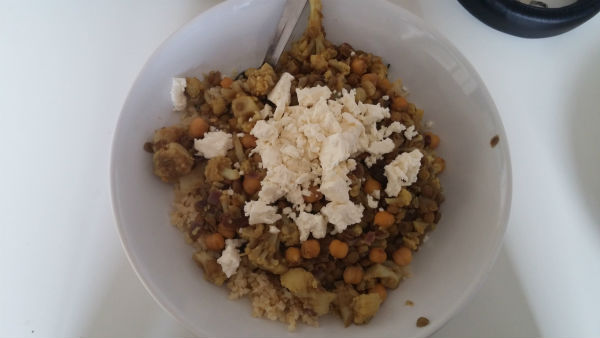 When I came home Robbert arrived, and so did my adapter, haha! I made a morrocan stew with bulgur for dinner and we watched the new episode of Game of Thrones. That thing that happened? I knew it was coming (so obvious) but I was kind of disappointed in the way it happened. Too easy.
Thursday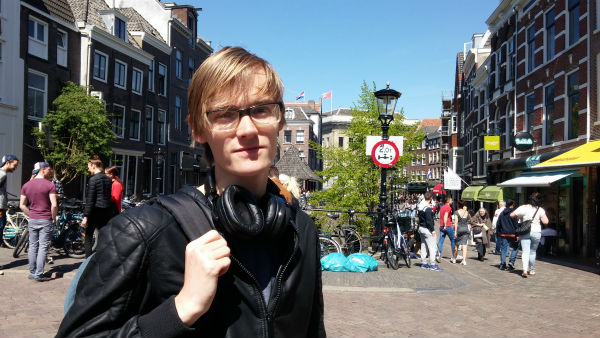 On Thursday morning we went into town AGAIN, haha! This time it was to take some outfit shots. Robbert went on to the train station to head over to his friends' where he would stay the weekend, but we got some really nice photos first. Some days it's a real struggle to get nice shots and some days we're done within 10 minutes. This was one of those days, haha!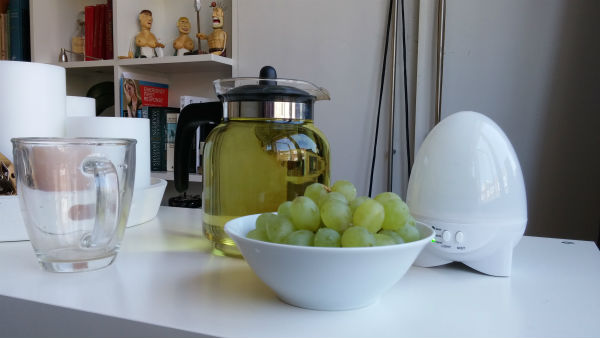 THAT SUNSHINE! The weather was so un-typical for the Netherlands, bright blue skies and super hot temperatures. I sat in front of the open window again, with a pot of minty herbal tea that I allowed to cool down, some fresh grapes, and jasmine and bergamot essential oils in my diffuser.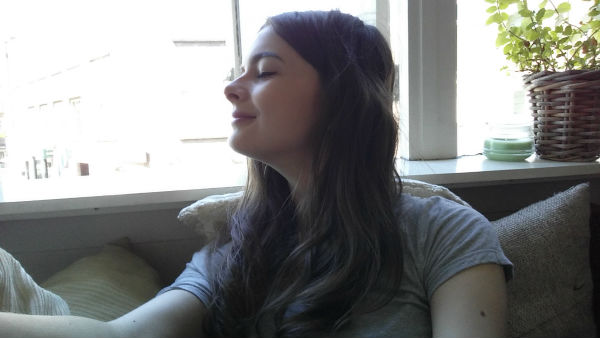 I got a lot of work done, too 🙂
Friday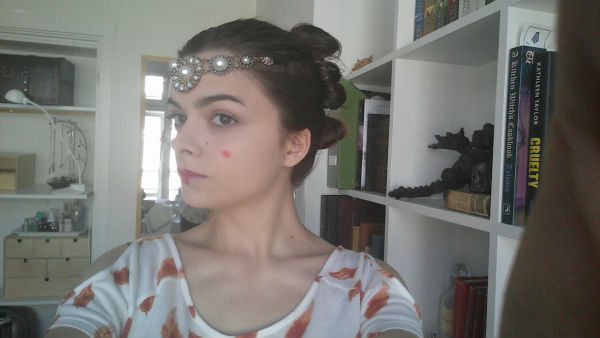 I filmed the Padmé Amidala video! It took a lot of research as I haven't seen the Star Wars movies and the plot is apparently super complicated haha! This lady also wears about a thousand different looks so it was hard to choose one. I went with this and it was really fun to do!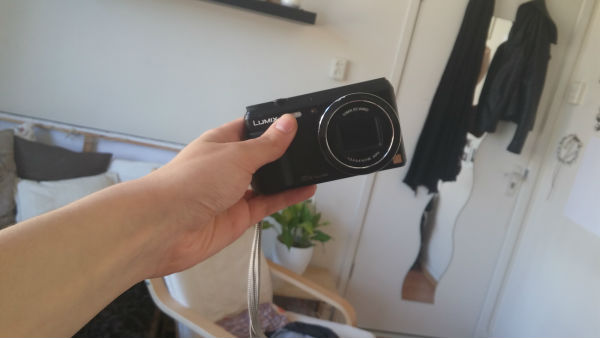 I decided to vlog all of Friday for my Dutch channel. Felt like taking my camera along on a random day!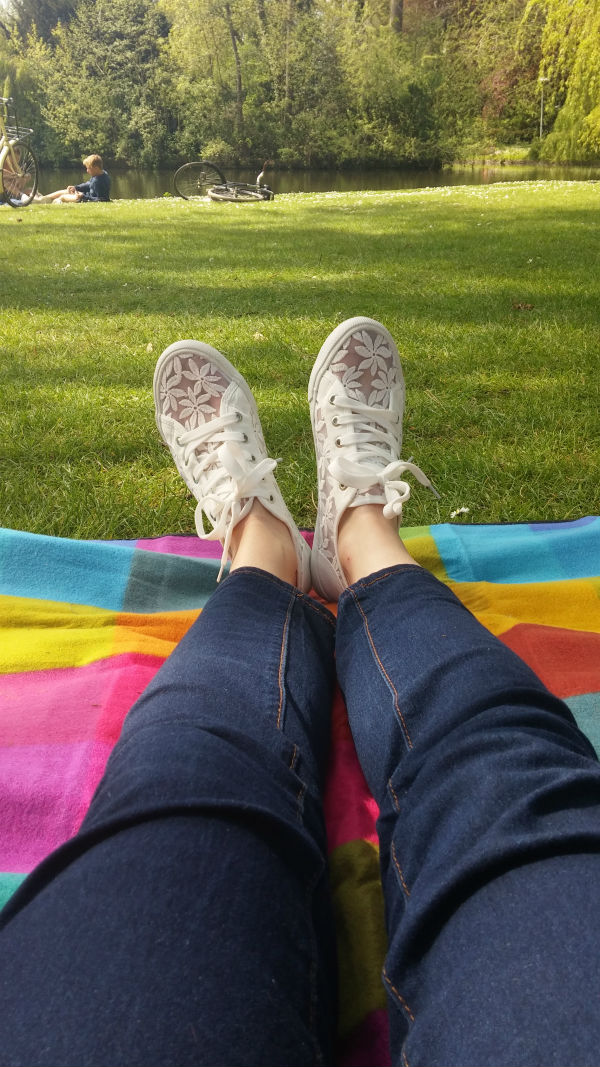 After I finished the Beauty Beacons video, I couldn't stand it any more and had to go outside for a bit. It was 24 degrees out!!! I took my picnic blanket, a book, some water and a bunch of grapes and went to the park to relax for a little bit. I wore these shoes for the first time! I got them at Primark a while back and wasn't sure how I was going to combine them when I got them, but today's outfit was the perfect one for them. They did give me blisters.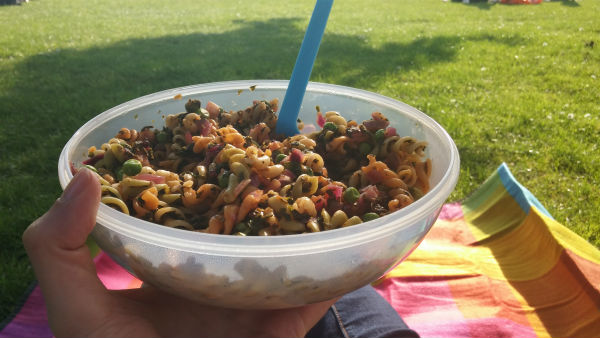 I went back home after about an hour to do some more work. I really wanted to go back outside though since it was so nice, so I decided to take my dinner and eat it at the park. I'd brought more books with me but I barely ended up reading as there was a guy playing Irish songs on the lute just a short distance away from me. I loved it so much, I found it hard to sit still and I got this gush of missing Ireland so badly again.
Funny story though, the very next day my friend in Dublin messaged me saying they'd be able to have me over for a couple of days in June. So I sat down and booked me some tickets right away at a really nice rate. That means I'M FINALLY GOING BACK TO IRELAND! I'll be going to Dublin in early June and I'm so ridiculously excited guys, you have no idea. I'd been talking about going back for over a year and now it's finally happening… I can hardly believe it!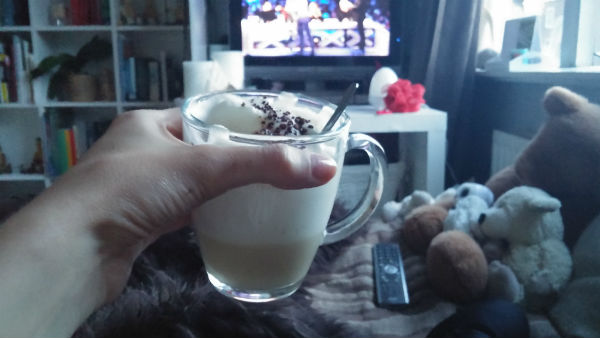 Ok, back to Friday. I came home from the park after having sat there for well over an hour, and packed my make up train case with my bridal kit. I was going to do a try-out session on a bride the next day and would have to leave very early so I did all the prep on Friday. Afterwards I sat down with a nice cup of homemade flavoured moo (steamed milk with coffee syrup, discovered it at the Elephant bar in Edinburgh years back) and watched some TV before heading to bed.
I had such a great week guys, I was super productive in the mornings and evenings and got to relax super intensely in the afternoons, it was lush. I hope your week was great as well and I hope you have a really awesome one ahead of you!