Real Techniques Miracle Complexion Sponge
Since I became interested in makeup, I've seen a multitude of foundation application techniques come and go. The flat foundation brush, the stippling brush, airbrushing, dense flat-top brushes, and lastly the egg-shaped sponge. We're branching out to other odd foundation application tools (sillicone in all shapes and sizes) but so far, the egg-shaped sponge is holding its own really well. I know I'm certainly still hooked on mine! I've been using the Ebelin make-up sponge, which is a very close Beauty Blender dupe, for a year with pleasure. I bought a pair of Ebelin sponges for my good friend a while back, and as we started talking about how it compared to other brands, I mentioned I'd never used the Real Techniques Miracle Complexion Sponge before. It's a very popular sponge and she wanted me to try it out, so she gifted me one to test. Let's see what I think of it!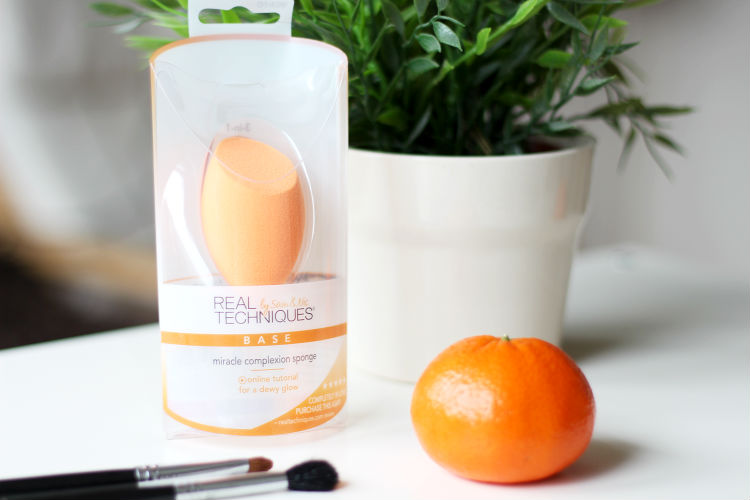 Real Techniques is of course the makeup tool brand of Sam and Nic Chapman, the Pixiwoo sisters on YouTube. It's an immensely popular brand and rightfully so, as their makeup brushes are amazing. Their powder brush is one of my all time favourite brushes, and all the other brushes I've tried from their line have been great. I have high hopes for this sponge!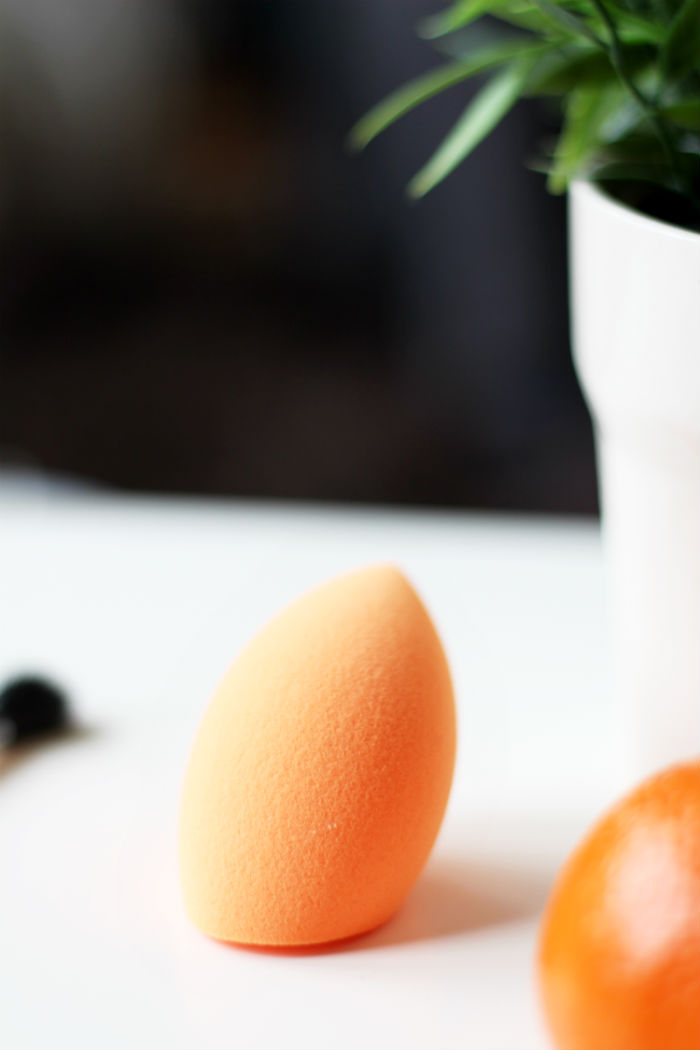 The sponge is a muted orange colour, and has the typical pointy egg shape. This particular sponge also has a slanted edge, which sets it apart from other similar sponges. To be honest, I'm not really sure what the added value is of the straight side. I don't know what I can use it for, that the side or point can't do.
Dry, the sponge feels firm but soft to the touch.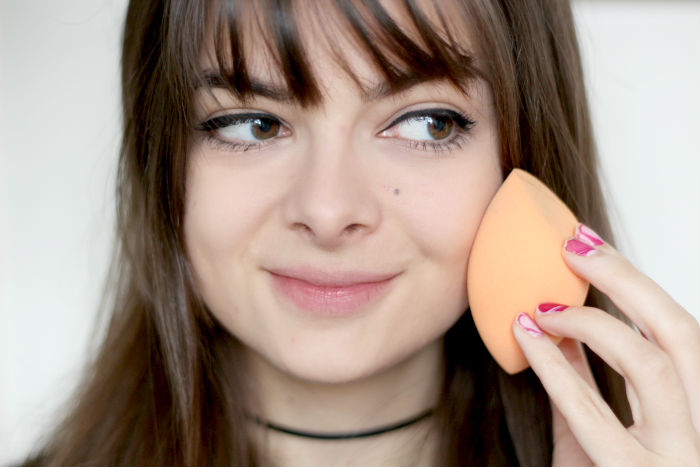 I ended up using the side of the sponge to apply foundation on larger areas and blend…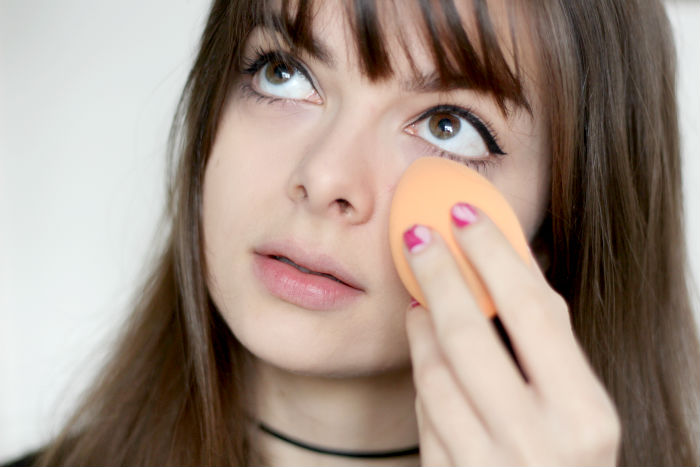 The tip to blend my under-eye concealer and apply foundation near my nose, and to blend my cream highlighter…
And the straight side to blend my liquid bronzer.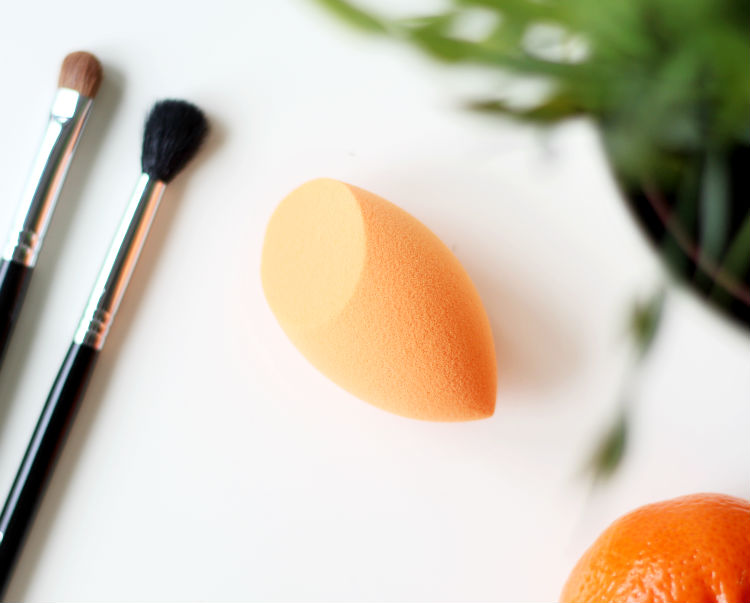 After having used it, I still don't really think the straight side is necessary. It's practical if you want a super straight contour, but that's not a look I personally go for. I prefer to use the larger rounded side of the egg to blend foundation, so I could've done without the slanted side.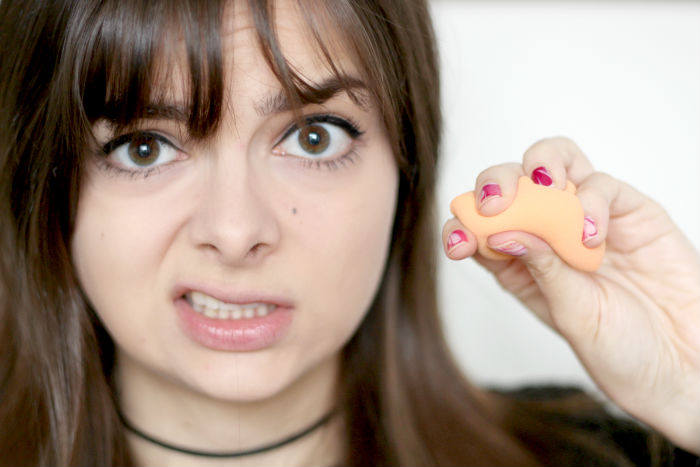 Now, for the texture of the sponge… I found it a little bit too flimsy when used wet. It's very, very soft, to the point where I found it hard to make it bounce off my skin nicely. Too soft is better than too firm, but I was expecting something a little bit different.
The sponge is definitely not bad. It's gentle on the skin, doesn't soak up too much product, and it's a nice size. However, as I don't know how to work the shape and it's a little too soft for my taste, I have to say I prefer the Ebelin sponge, which has a much lower price too (€2,45 vs. €7,99 for the Real Techniques Miracle Complexion Sponge). The Real Techniques sponge is easily available in more countries though, so that's definitely a plus. I'm pretty sure I'll warm up to this one as I use it more. It's worth a try if you ask me!