Last Normal Days In Utrecht | Loepsie's Life
Happy Monday, everybody! I hope you've had a wonderful weekend and are ready to tackle a new week. I know I sure am! I spent the past two days doing practically nothing. Getting some rest was great and much needed, as tomorrow is the day the moving madness officially begins. My moving plan is all ready and I made it nice and detailed to make sure I don't forget anything. To be honest with you, as excited as I am to finally move, I can't wait to get this over with. Unpacking, organising and decorating is something I look forward to, but packing up and the actual moving process… It better be finished soon. I am glad I finally get to actually do something hands-on, though. I'll start filming my moving vlogs tomorrow as well (including the neighbourhood tour in Utrecht) so know those will be up soon! 🙂 But first, let's take a look what I was up to last week.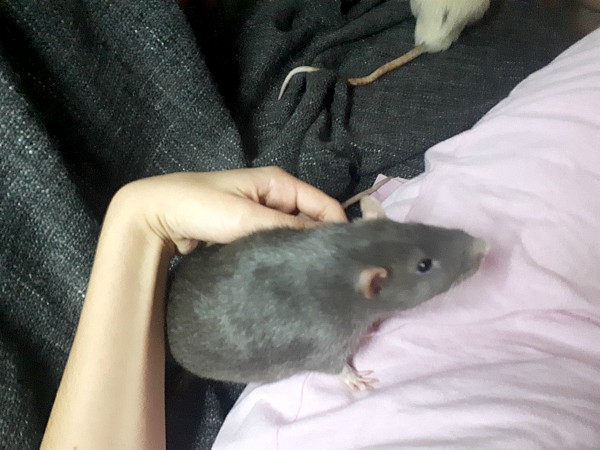 On Monday, Llewelyn gave us a little scare. When I woke up in the morning I noticed he was acting strange. After a quick Google search and call to the vet we figured he was most likely in pain, but he had no visible wounds and didn't squeak when I touched him. The vet suggested we wait it out for a bit, but he didn't get better and he wouldn't really eat so I made an appointment. We took him to the vet in the early afternoon and she couldn't see, hear or feel anything wrong with him either, so she gave us some pain meds for him. After he took the pain meds he was able to sleep for a few hours and when he woke up he had an appetite again, and looked a lot better in general. I had him next to me on the couch and kept close watch all day, so I didn't get much done besides typing my photo diary. I decided to stay the night, even though he looked well again by evening time. Next morning he was still good, everything was back to normal! We think he may have fallen in the cage and hurt himself, he's a clumsy little furball. Luckily we got out of it with just a few grey hairs on my end. Oh, the life of a pet mom 😉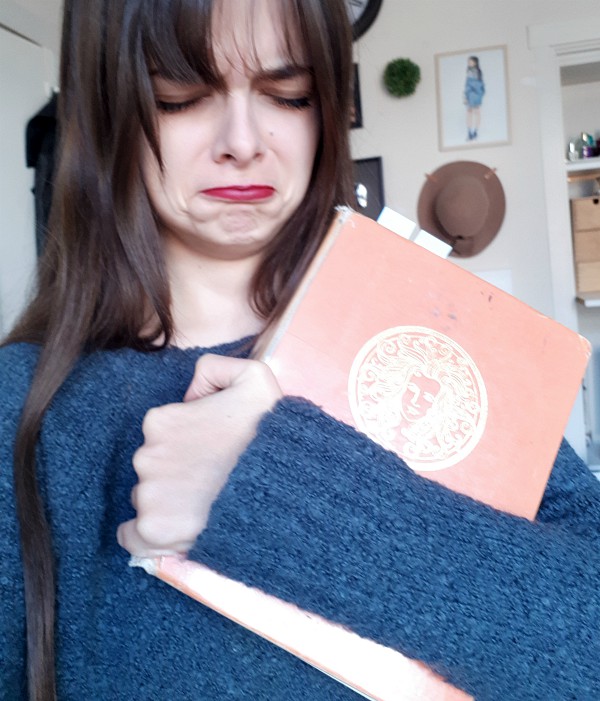 I stayed for a few more hours to make sure Llewelyn was definitely ok, and then I headed home to Utrecht. Tuesday was the designated time to take care of some chores and run some errands. One of them was to return Fashions in Hair to the Utrecht University library. This book is my holy grail for pretty much all my historical videos. I've had it on my shelf for many months in total (maybe years, even), and I'll miss it dearly. I do plan to purchase it some time in the future but it's quite an investment so I've been putting it off. One day, one day!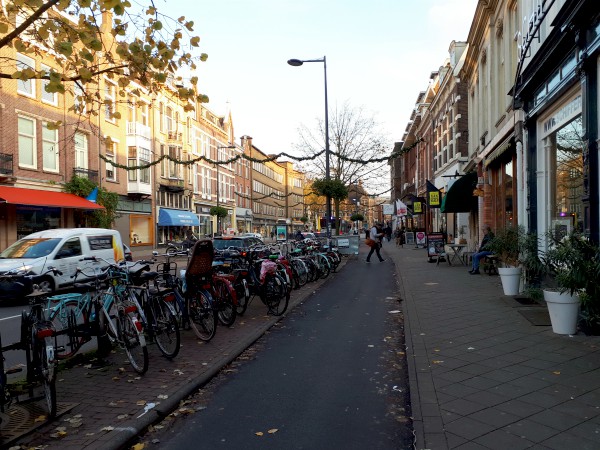 I visited a few stores in town before heading back home with my purchases and groceries.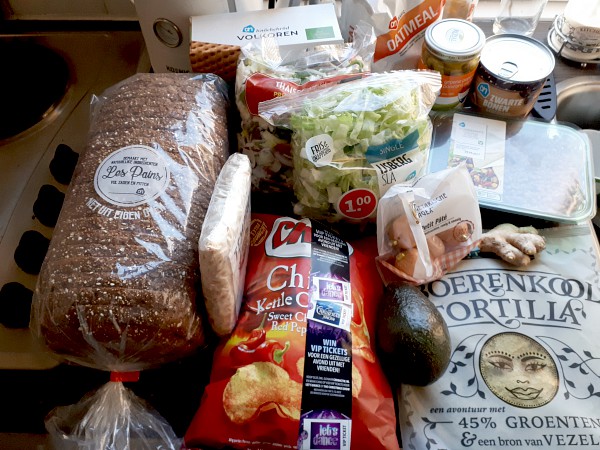 This week I got dark bread, crackers, chopped veggies, tempeh, sweet chilli crisps, lettuce, veggie paté, avocado, oats, pickled green peppers, black beans, veggie minced mock meat, ginger and kale wraps.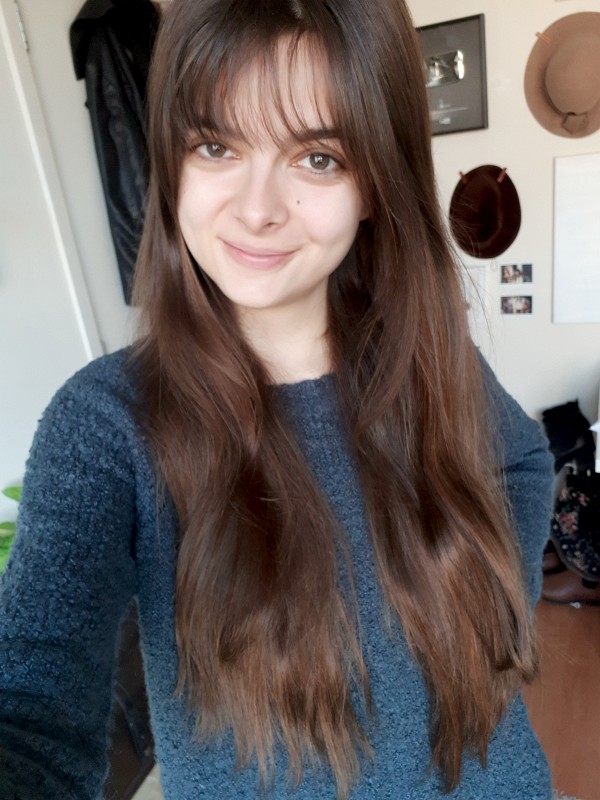 I also went to pick up a package from the post office, which contained my new set of Zala hair extensions. I'm over the moon with these- look how perfectly they match my hair! They are exactly my hair colour, including all the green and red tones that make my hair look a different colour in every light condition. I've actually been wearing these out and that means a lot, I usually don't do that.
Robbert came over in the afternoon, as did my friend, and we played our last session of Dungeons & Dragons. The last one in a while, at least. She's going abroad for a few months and that makes Robbert and me the only party members in the Netherlands, so we've decided to take a little break until she comes back.
I filmed a food diary this day, in case you haven't seen that yet!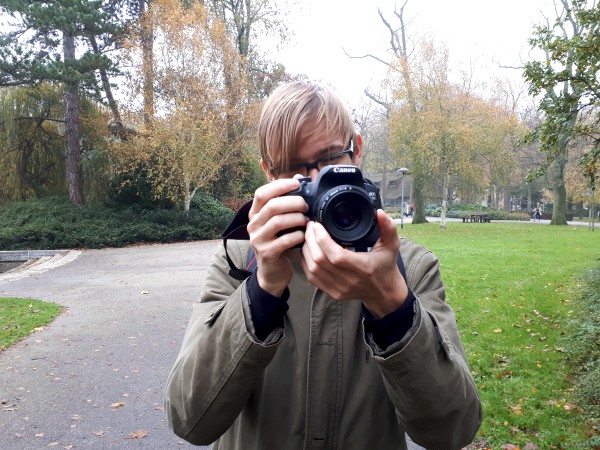 On Wednesday Robbert and I went out to take some outfit photos before he left for work. This is probably the last time we take photos in this park *sob*. I am excited to explore and look for good shooting locations in Amsterdam, but I'm pretty sure we won't find anything as good as my little park here. I'm going to miss it a lot!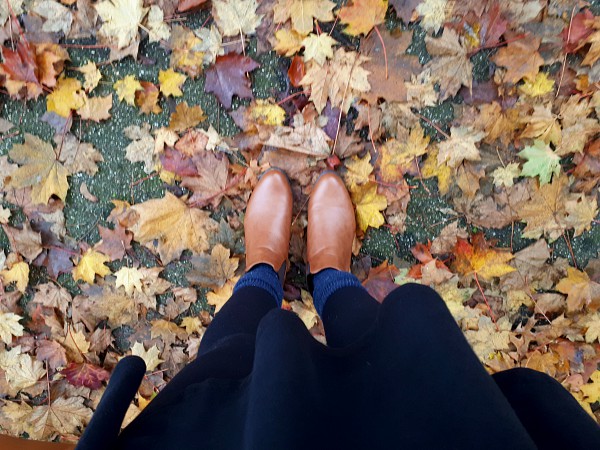 So much love for autumn aesthetics, and my new brown boots.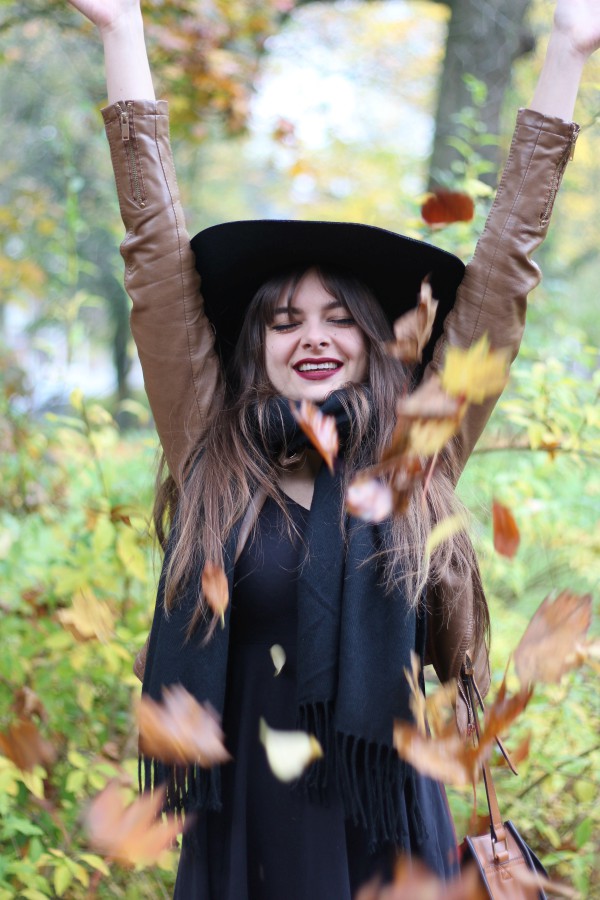 The weather was absolutely perfect for this shoot 🙂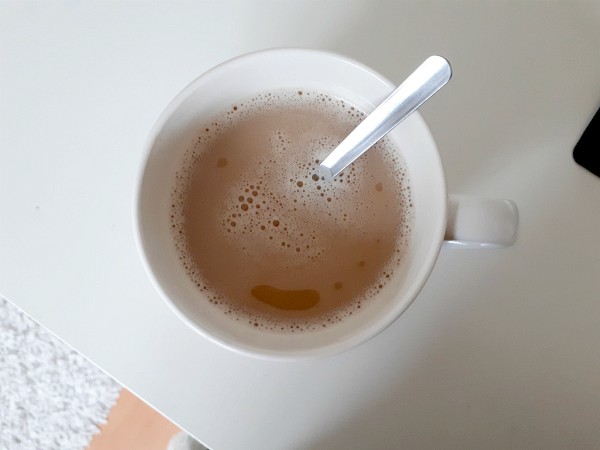 An oatmilk chai latte to warm up after. Yummy yummy!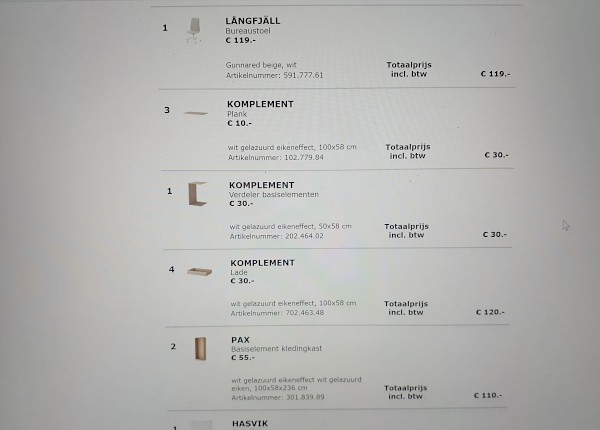 We finally bit the bullet this week and ordered the majority of our furniture. I can't wait to start assembling all of this! I love assembling IKEA furniture. With some music in the background and plenty of snacks it makes for a fun activity. Even though I'm sure I'll get tired of it this time, considering we have to build pretty much everything we'll have in the house, haha! Bring it on.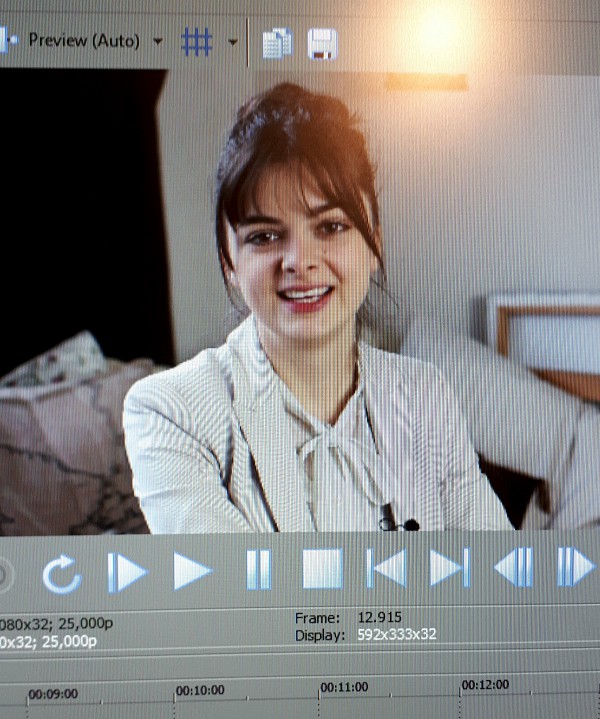 On Thursday, I spent all day filming a Style Revival video. When I sat down to edit in the evening, I noticed… The notorious stripes-on-camera effect. Noooo! My cardigan looked like it had a magical dancing swirly print and it was horrible. To be honest though, I am a bit surprised that this has only happened to me once in all these years. I just don't wear stripes a lot, haha! I ended up re-filming all the talking scenes next day, and I'm glad I did because the video came out a lot better the second time anyway.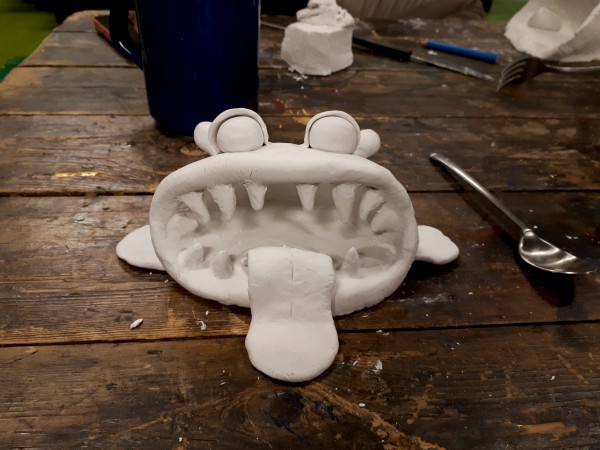 In the evening I went to scouting. The teens and I made pinch pot monsters out of clay! Mine turned out quite adorable, if I dare say so myself. It's drying now, but I should be able to take it home on Friday.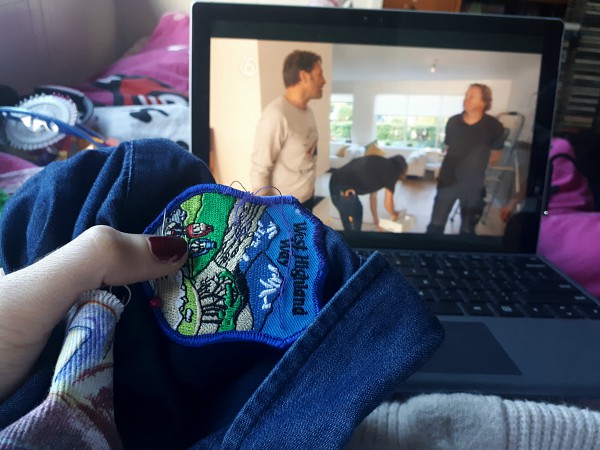 On Saturday, I took nearly all day to just relax and do absolutely nothing. Well, I did attach some badges to my scout uniform while watching home improvement shows, haha! Here you can see my West Highland Way badge which I'm particularly proud of, as I'm sure you can imagine. In the afternoon I went over to the neighbouring town to have dinner at Robbert's.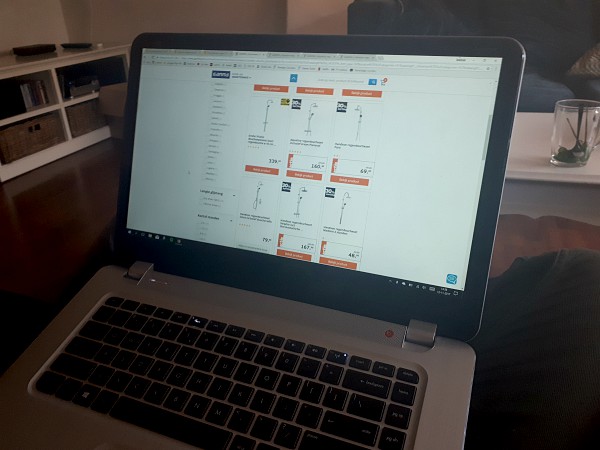 The next day we spent most of the day sorting through and packing Robbert's stuff. He's going to be in London for a few days at the end of this week, so we had to get everything done a bit sooner in order to be ready for the move next week.
We're planning to buy a new tap for the shower, and apparently they're on offer now so we picked one out. I now realise I truly underestimated how much moving entails. Every little detail requires thought, and that's moving into a tiny rental apartment! I can't imagine the amount of work that goes into buying a house and moving there.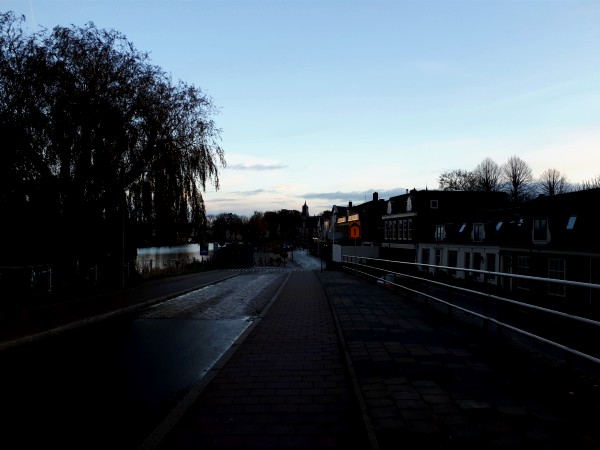 In the afternoon Robbert's room was filled to the brim with boxes, bags and things, it seemed best if I left to free up some space, haha! I headed back to my parents' house and here we are today.
I have one more video to edit and a few photos for blog posts to take tomorrow, and then I can finally start packing up my things. Robbert is coming over to help me disassemble some furniture before he leaves, and then it's up to me to get everything ready for the move. It's going to be eventful, but I'll keep you posted. See you soon!