Spicy Tempeh Noodle Bowl Recipe
Since discovering the amazingness that is tempeh a few weeks back, I've been constantly looking for new ways to incorporate it into my diet. This fermented loaf of soy is an incredibly healthy source of protein, and even though some people need a while to get used to the taste, I fell in love with it straigh away. I shared a recipe for an amazing tempeh marinade a while back, and today I'm going to share a different way I like to enjoy it. This is a dish that packs a bit of a punch as it features sambal oelek, an Indonesian chili paste that's very popular over here in the Netherlands. This spicy tempeh noodle bowl is perfect for the warmer months as it's quite a light dish.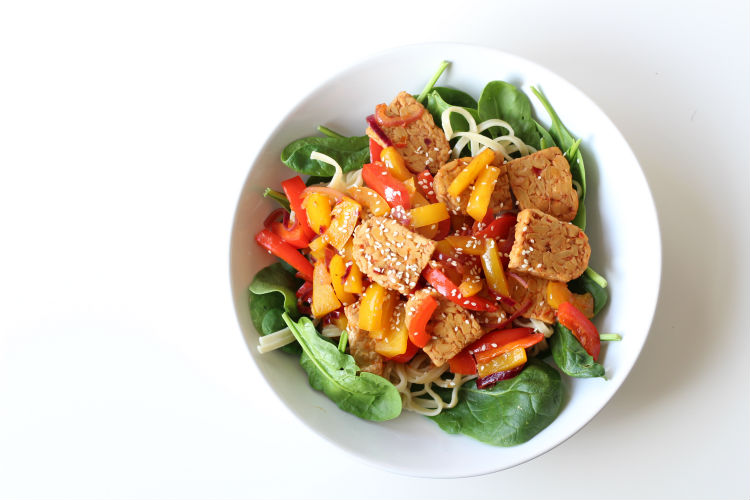 Ingredients
200g tempeh
150g noodles
2 bell peppers
2 handfuls raw spinach
1  onion
1 clove garlic (pressed or grated)
6 tbsp soy sauce
2 tsp honey or syrup of choice
2 tsp sambal oelek (raw chili paste)
Sesame seeds
Serves 2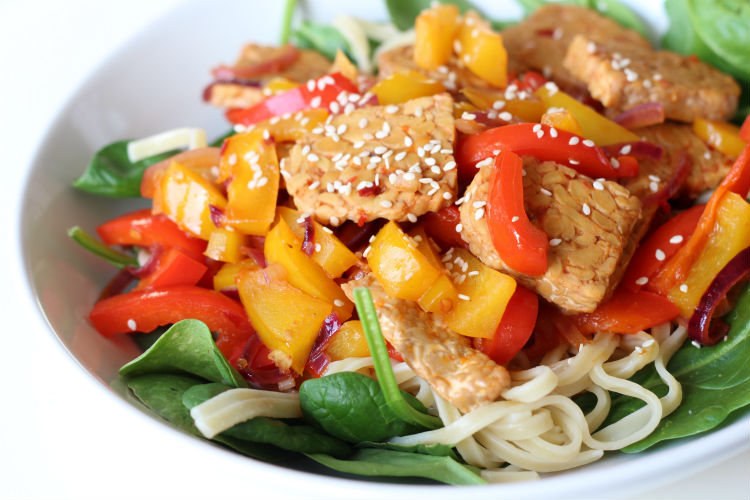 Start by preparing the marinade for your tempeh. Combine the soy sauce, honey/syrup, sambal and garlic in a medium-sized bowl. Give it all a good stir, before cutting the tempeh into slices and adding it to the bowl. Stir everything together to make sure all of the tempeh is covered. Allow the tempeh to marinate while you prepare the rest of the dish, giving it an occasional stir.
Bring 1/5 liter of water to a boil and cook the noodles for 8 minutes, or however long the instructions on your package say. Meanwhile, slice the onion and peppers into strips.
Heat up some oil in a wok or large pan, and sauté your onion for a short while. Before it goes soft, add your peppers and the tempeh including its marinade. Cook for around 5 minutes.
To serve, start by laying down a foundation of spinach in a large bowl. Drain the noodles, and lay them on top of the spinach. Then lay the tempeh and veggie mix on top, and sprinkle a pinch of sesame seeds over to finish the bowl. Bon appétit!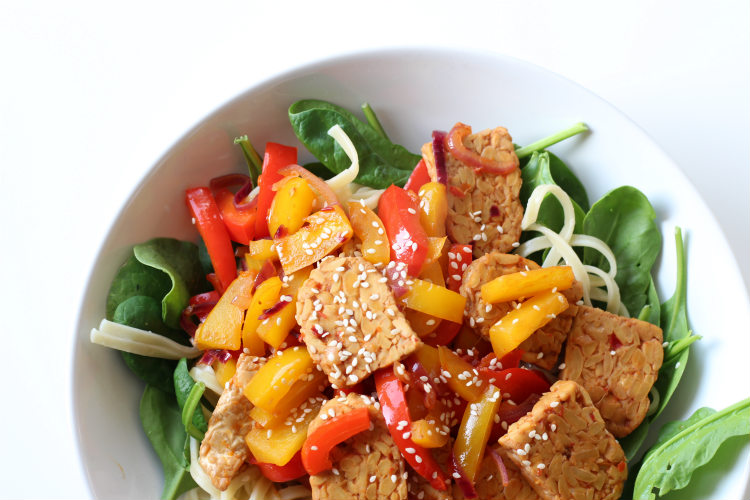 You could choose to cook your spinach with the peppers and tempeh, I just really prefer the taste of raw spinach. Either is great! Also, if you don't like your food too spicy, half the amount or completely leave out the sambal oelek. You can also subsitute it for a piece of ginger the same size as your garlic clove, to give the dish a bit of a gentler kick.